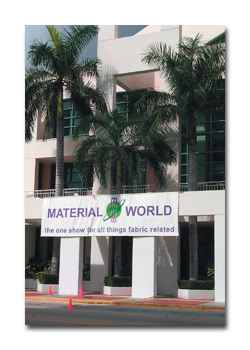 M
aterial World returns to the Miami Beach Convention Center, Wednesday, March 16, through
Friday, March 18, 2005. An official event of the American Apparel and Footwear Association (AAFA),
Arlington, Va., the exhibition will showcase Spring/Summer 2006 trends, once again offering the
sewn products industry a convenient venue for sourcing, fabric, trim and trends. Further expanding
the international exhibitor base, Material World also will run concurrently with Technology
Solutions and will feature a new Global Pavilion.
"From design to delivery, Material World truly offers a one-stop product and service resource
for all members of the sewn products industry," said Tim von Gal, executive vice president, Urban
Expositions, Marietta, Ga., producer and manager of Material World and Technology Solutions. "The
exhibition offers our private-label retailers and branded-apparel buyers direct access to global
and local chains of commerce, as our international exhibitor base makes Material World the industry
marketplace for shopping a complete line of fabric, trim and sourcing opportunities."
According to the organizers, Material World once again will bring together product
introductions and innovations from leading companies in North, Central and South America; the
Caribbean; Europe; and other regions. The companies will represent every sector including yarn;
fabric; trim; components; educational institutions; contractors; manufacturers; technology;
full-package providers; services such as freight forwarders, financial, and color and trend
forecasting; and associations; among other sectors.

Technology Solutions

Technology Solutions, the annual conference and exposition for information technology that
enables today's sewn products industries, returns to the Miami Beach Convention Center for its
third edition. It will run concurrently with Material World.
"Working closely with leading industry associations like AAFA, AAPN [American Apparel
Producers Network, Atlanta], and NTA [National Textile Association, Boston], we continue to
strengthen the offerings of this important industry event to make sure we are bringing together all
segments of the supply chain in one place, at one time," von Gal said.

Global Pavilion

Urban Expositions and the ASAP Global Sourcing Show, a division of Cyber Merchandise
Exchange, El Monte, Calif., have entered into a marketing alliance designed to further expand the
international exhibitor base of Material World. As part of the alliance, participating countries
including China, India, Pakistan, Korea, Japan, Hong Kong, Taiwan, South Africa and others will
have their own country pavilions within a Global Pavilion at Material World, giving attendees the
chance to explore the full range of fabrics, textiles, company production strengths, pricing
structures and capabilities each country offers.

AAPN Sponsors Sourcing Executive Roundtable And Reception At
Material World

The Atlanta-based American Apparel Producers Network (AAPN – an organization that links
every part of the supply chain including brands, retailers, manufacturers, private-label designers,
contractors, suppliers, yarn, fabric, mills, trim, technology, transportation, industry travel and
global trade – has developed a strong relationship with Material World and its organizers over the
past several years.
"In 2001, AAPN was the first apparel trade organization to endorse Material World," said Mike
Todaro, managing director of the network. As it turns out, the same week AAPN's Executive Director
Sue Strickland went looking for a tradeshow to endorse, Material World's Tim von Gal began a search
for an apparel organization to endorse his show – that their offices are seven miles apart in
Atlanta helped.

Mike Todaro, AAPN's managing director


Reception Networking

Strickland had the idea three years ago to organize a small reception the evening before
Material World for AAPN members and their customers.
"In 2002, we had 125 people. In 2004, it was up to 270. This year, we'll max at 300," Todaro
said.
AAPN is taking this year's reception to the next level and renting Casa Casuarina (the home
of the late fashion designer Gianni Versace), on Ocean Drive in Miami Beach.
According to AAPN, the reception has become such a success that sponsors and members don't
want to miss it.
In 2005, for the first time, the reception is for AAPN members only. "Because many of the
industry's key sourcing executives have joined AAPN, this is a member benefit of growing
importance," Strickland said.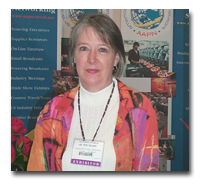 Sue Strickland, AAPN's executive director


Sourcing Executive Roundtable

"In 2003, we decided to invite our guests, the sourcing executives, to a private, closed-door
meeting. We scheduled it for two hours before the reception, and we had our senior sourcing member,
Kim Krummell of Timberland, kick it off. Last year, nearly 50 sourcing executives came to the
roundtable and then upstairs to the reception," Todaro said.
The 2005 AAPN Sourcing Executive Roundtable will be held Tuesday afternoon, March 15, at the
Park Central Hotel in Miami Beach. According to AAPN, the purpose of the roundtable, as in previous
years, is to harvest from this distinguished group of attendees a list of the issues,
opportunities, challenges and constraints to sourcing. Following the roundtable, the group will
make its way to the AAPN reception.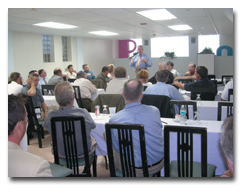 AAPN's Sourcing Executive Roundtable gives sourcing executives an opportunity to discuss
pertinent issues.

"This year, we changed the roundtable format slightly. I have asked two impartial, highly
experienced and successful industry leaders to moderate this session. They are Susan Ganz, CEO and
owner of Lion Brothers Co. Inc. [Owings Mills, Md.]; and Keith Crisco, CEO and owner of Asheboro
Elastics Corp. [Asheboro, N.C.]," Todaro said. "Their job will be to get the issues on the table so
AAPN can run with them for the rest of the year, as we have done for the past three."
"Material World has become everything we hoped when we found one another," Strickland said,
"a three-day network event for our 365-day-a-year network process."

February 2005