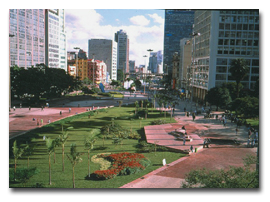 T
he land of the sultry samba and booming bossa nova will welcome the world of textiles
next month when the International Textile Machinery Trade Fair (ITMEX Americas) opens its doors on
Monday, February 21. After an extensive global marketing and promotional campaign by organizers,
more than 600 international exhibitors and more than 25,000 visitors are expected to converge on
the 100,000-square-meter Ahnembi Park Exhibition and Conference Hall complex, located close to
downtown Sao Paulo, Brazil, on the right bank of the Tietiver.
The five-day event will run concurrently with TexBrasil Fenatec International Textile Trade
Fair, NTandTT (nonwoven and technical textiles), Feimaco (sewing machines) and Expolave (laundry
machines and services). It promises to offer attendees and exhibitors an opportunity to increase
market penetration both in Brazil and globally, expand brand visibility, meet prospective clients;
and see the latest in cutting-edge technology in equipment, machinery and industry processes
developed to meet the needs of the global textile market.
According to organizer Alcantara Machado, a trade show promotion company headquartered in Sao
Paulo, ITMEX Americas is the largest of its kind in Latin America. A variety of machinery sectors
will be represented including preparation, spinning, weaving, knitting, finishing, cutting and
sewing, laboratory, computer-aided design and computer-aided manufacturing, parts and accessories,
and other services and trade publications.

The Brazilian Market: On The Upswing

Brazil is the largest country in South America, taking up nearly half the continent. It boasts
more than 5,500 cities and is considered a leading world economy. This Portuguese-speaking country
knows how to pull itself up by the bootstraps and become an innovative powerhouse – its
current president, Luiz Inacio Lula da Silva, is a former shoeshine boy and metal worker; and the
country recently celebrated the launch of its first rocket into space. Brazil also boasts
impressive economic figures. According to ITMEX organizers, the country generates $60 billion
annually in foreign trade, equal to the amount of its foreign exchange reserve. It ranks sixth in
global production of machinery and equipment, and seventh in global services output; and is the
world's eighth-largest consumer of energy and steel, and the ninth-largest auto manufacturer, with
20 million vehicles currently in use. Brazil also is home to 225 of the 500 largest Latin American
businesses. Such figures should encourage purchasing decision-makers who plan to attend ITMEX
Americas.
Alcantaro Machado expects this year's edition of ITMEX Americas, which is held every four years,
will be a success for everyone involved.
"We are quite confident that this event will be held at the very moment that the Brazilian
textile and garment manufacturing industries will be experiencing an excellent phase with a clear
indication that exports for these two sectors will also be on the up-trend," said Evaristo
Nascimento, director, ITMEX.
Nascimento's confidence is echoed in statistics released by the Brazilian Association of the
Machines and Equipment Industry – an official supporter of ITMEX Americas. The statistics document
the recent overall production and sales growth for the textile and apparel sectors. The association
stated that Brazilian manufacturers generated a turnover of $6.7 billion during the first half of
last year. Apparent consumption production plus imports, minus exports equaled $6.9 billion, a
15.2-percent growth compared to the first quarter of 2003.
Information released by Global Invest, a consultancy, also seems to confirm that the Brazilian
textile and apparel markets are on the upswing. According to the firm, Brazil's industrial sector
grew 7.7 percent in the first six months of 2004 compared to the same period a year earlier. The
firm also reports this represented the best first-semester result since 1995, and resulted in a
readjustment to 3.2 percent of the country's economic growth last year. Industrial production also
grew, marking a growth of 13 percent in June over the same period in 2003.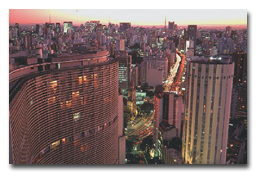 Sao Paulo is the worlds third-largest city, and accounts for 32 percent of South America's
economy.

The City Of Sao Paulo

Sao Paulo, the world's third-largest city with a population of more than 15 million, accounts
for 32 percent of the South American economy and more than 40 percent of Brazil's gross domestic
product, according to show organizers. It is considered the main gateway to a large consumer market
and is at the heart of the Mercosur trading region, which also includes Argentina, Paraguay and
Uruguay.
Visitors to Sao Paulo will find scattered throughout the city a number of markets that offer a
variety of items and produce. Vendors at the Mercado Municipal, open Monday through Saturday, sell
Brazilian and imported cheeses, fruits and vegetables, among other sundries. Vendors on Rua
Direita, Rua Sao Bento, Rua Baron de Itapetininga and Rua 24 de Maio offer items of every
description during weekday business hours.
The city offers a number of parks, including the Parque da Luz botanical garden, Parque Tenente
Siqueira Campos and Parque do Ibirapuera – the location of Sao Paulo's Modern and Contemporary
Art museums, Ibirapuera planetarium, Japanese Pavilion and Monumento Baneiras.
Breathtaking views can be seen from the Santa Ifiga Viaduct, which looks out over the city's old
downtown. The view from the 35th-floor observation deck of the Banespa Tower is similarly striking,
and free of charge. Other attractions include the Po do Colegio, the site of the city's founding by
Jesuit priests, who built a school at this spot with the aid of the native Guarani people.
---
For more information about ITMEX Americas, contact Alcantara Machado 11 3291 9111; fax 11 3291
9110; info@alcantara.com.br;
www.itmex.com.br.
---
January 2005