F

lu season is just starting to reach its peak. According to the Centers for Disease
Control (CDC) and Prevention, Atlanta, the most likely time of year to contract the highly
contagious respiratory illness is between December and March. However, as newspaper and television
headlines have reported, getting a preventative flu shot this year is not a realistic option for
most.
When faced with the fact that 5 to 20 percent of the US population contracts the flu each
year, and more than 200,000 people are hospitalized annually due to complications from it, one
wonders how to head off this always inconvenient, sometimes deadly illness.
Following simple CDC guidelines, such as taking antiviral medications, avoiding close
contact with sick people, and covering the mouth and nose with a tissue when sneezing or coughing
can go a long way towards guarding against the flu.
"The truth is that the flu shot does not offer 100-percent protection against influenza, and
there will not be enough vaccine to cover those in high-risk categories such as those with
compromised immune systems," said Winkler G. Weinberg, M.D., chief of infectious diseases,
Southeast Permanente Medical Group, Atlanta; and author of "No Germs Allowed, How to Avoid
Infectious Disease at Home and on the Road."
"As demonstrated by a new study, the more serious problem is that too many people do not
practice good respiratory hygiene, which is the key to helping stop the spread of cold and flu
viruses," Weinberg added.
Kimberly-Clark Corp., Neenah, Wis., has taken this last piece of advice to heart and
introduced Kleenex® Anti-Viral tissues. The facial tissue's patented three-layer design features a
moisture-activated middle layer treated with an antiviral formula made from sodium lauryl sulfate
and citric acid. This layer starts working immediately upon contact with moisture from a sneeze or
cough. Within 15 minutes, 99.9 percent of cold and flu viruses are destroyed.
This tissue is just one of the many medical textile products consumers use everyday. Such
products are all around us. Whether it be a temperature therapy patch or medicated pad used to
relieve pain from arthritis or a sports injury; wound dressings that impart medication for faster
healing; surgical mesh for hernia repair; vascular grafts and patches that restore blood
circulation and enable longer life; polyester implants that alleviate snoring and sleep apnea; or
apparel that enables the body to increase its own oxygen levels, build strength and quicken muscle
recovery; medical textiles play a prominent, yet often overlooked role in the health of our
society.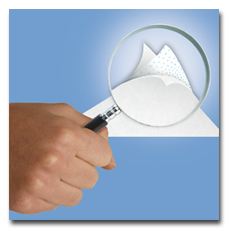 The three-layer Kleenex® Anti-Viral tissue from Kimberly-Clark Corp. features a
moisture-activated middle layer with a special antiviral formula to trap and kill viruses.

Strolling The Aisles For Pain Relief

Perhaps the most recognized medical textile products are patches and pads that use
medication and/or temperature therapy to relieve pain. These products offer quick relief to common
pains such as arthritis flare-ups and sports-induced muscle aches.
The Ultra Strength BENGAY® Pain Relieving Patch from Pfizer Inc., New York City, delivers
heat to an affected area, relieving tension and soreness. The Mentholatum Co. Inc., Orchard Park,
N.Y., offers WellPatch™ Heat Warming Pads, breathable cloth pads that use activated carbon, iron
powder, sodium chloride and water to generate pain-relieving heat for up to eight hours.
Mentholatum also offers pads that generate cooler temperatures to treat migraine headaches,
sprains, arthritis and backaches.
Chattem Inc., Chattanooga, Tenn., also offers a variety of pads and patches, including
Aspercreme® Odor-Free Therapy medicated back and body patches, and the popular Icy Hot® line of
products. This line includes the Icy Hot Back Patch; and the recently introduced knitted Icy Hot
Sleeve™, which, when placed around painful joints, concentrates pain-relieving medicine. The sleeve
uses Sorbtek® technology from Unifi Inc., Greensboro, N.C.,to disperse and dispense the Icy Hot
medication.
Playtex™ Heat Therapy™ patches from Playtex, Westport, Conn., offer up to 12 hours of
similar temperature-induced relief for menstrual cramps.
Cramer Products Inc., Gardner, Kan., a supplier to the sports medicine industry and founder
of the National Athletic Trainer's Association, offers Quickwrap™, a cotton/nylon-blend elastic
fabric wrap that features a removable cold compression Flex-i-Cold™ pack for pain relief. Cramer
also offers Nova Derm™ – a sterile wound dressing composed of a glycerin gel pad with cloth backing
for pain relief associated with cuts, burns and scrapes.

Going To The Doctor

When the time comes to visit the general physician or undergo a surgical procedure, medical
textiles often make the difference, speeding up recovery time and preventing recurring trips to the
doctor's office.
Mothers and newborns often find their time in the hospital made less stressful by products
from Cardinal Health Inc., Dublin, Ohio. Cardinal provides women with a variety of post-delivery
warm and cold packs that reduce pain and swelling. The company's product line also includes
neonatal thermal products such as the Porta-Warm™ nonwoven, latex-free, vibration-absorbing wrapped
mattress for the transportation of babies between or within medical facilities.
A trip to the dermatologist may result in the recommendation that a child suffering from
atopic eczema – a chronic itchy rash that results in dry, scaly skin – use a Coverflex® wet wrap
treatment bandage from Paul Hartmann AG, Germany, to reduce skin inflammation and produce a cooling
effect that reduces itching.

Wound Closure

Hartmann also offers the Hydrocoll high-absorbency wound dressing, which features a germ and
waterproof top layer and rapid absorption that prolongs its effectiveness.
Wound care products are part of an expanding market – the advanced wound care market is
growing at a rate of 15 percent per year, according to Sweden-based Mölnlycke Health Care.
Mölnlycke targets home and acute wound care professionals with its Tendra® line of conventional and
advanced wound dressings designed to stimulate and promote the healing process.
The Freudenberg Nonwovens Group and BSN Medical GmbH & Co. KG, both based in Germany,
specialize in wound care products as well.
Sutures are the oldest and most common material used to close wounds, join tissue and tie
off bleeding vessels. Gone, fortunately, are the days when cat gut, horse hair, strips of hide or
bark fibers were used. Today, sutures are mono- or multifilament threads that make up a large part
of the wound care segment.
Quill Medical Inc., Research Triangle Park, N.C., and Surgical Specialties Corp., Reading,
Pa., recently obtained clearance from the Food and Drug Administration (FDA) for Contour Thread™, a
new suture technology developed as a result of the companies' recent alliance. Contour Thread is
targeted to dermatologists and cosmetic surgeons as a minimally invasive product for lifting skin.
According to the companies, it promotes faster wound closure, improved healing and reduced
scarring.
Contour Thread is offered in two versions – a barbed, nonabsorbable polypropylene suture for
use in facelift surgery; and a barbed, absorbable polydioxanone suture for dermal closure. Both
products are made of suture-grade monofilament fiber. The technology behind the thread is based on
Quill Medical's self-anchoring suture design, which enables tissue to connect without lacing the
wound or tying knots.
"For wound closure, our product can be placed faster since no knots are needed," said
Jeffrey C. Leung, Ph.D., vice president, technology and development, Quill Medical. "Studies have
suggested better wound healing and potential cosmetic appearance benefits."
Wound care products have found medical applications outside of the hospital as well.
Shieldex Trading USA, Palmyra, N.Y., offers its recently released STATEX® silver metallized fabrics
and yarns for wound dressings for use by veterinarians in the United States to treat horses and
other animals. Silver is known for its ability to inhibit bacterial growth, decreasing infection
risk and thus promoting wound healing. Veterinary end-products include contact dressings to manage
partial thickness burns, lacerations, abrasions and incisions.
According to Shieldex, the new fabric has shown excellent results in tests by horse trainers
for healing proud flesh, hoof fungus and saddle and girth sores.
Statex fabrics and yarns are currently in use as wound dressings in Asia and Europe; in the
United States, FDA approval for human use of the product is pending.

Vascular Grafts

Other medical textiles used in the operating room include vascular grafts and implants –
artificial arteries or veins that replace parts of the body's cardiovascular system that have been
blocked or weakened by disease.
Intervascular Inc., Montvale, N.J., offers InterGard UltraThin, the thinnest knitted
polyester collagen-coated graft in the market today, according to the company. Collagen helps to
make the graft more comfortable and more benign to the body, hopefully preventing the need to
regraft later on. Collagen also is reputed to aid in the decrease of plaque formation.
Intervascular's product line also includes knitted grafts made of highly filamentous
texturized yarn incorporated into a reverse locknit construction, woven grafts made of highly
filamentous yarns with low twist, and vascular patches that promote reduced healing time and
eliminate suture hole bleeding.
Bally Ribbon Mills, Bally, Pa., a producer of woven and braided materials, sells those
materials to cut-and-sew manufacturers, which develop them into a variety of end-products. At the
Industrial Fabrics Association International Expo held recently in Pittsburgh, the company
displayed its extensive range of vascular products including woven tubular vascular stents, tapered
weaves and arteries, and bifurcate grafts, among other products that are used to repair damaged
blood vessels.
The medical products division of Elkton, Md.-based W. L. Gore & Associates Inc. – known
for its popular GORE-TEX® fabric – has produced for almost 30 years an extensive line of man-made
patches and blood vessels used in soft-tissue regeneration, and surgical sutures for a variety of
procedures.
This year, the company has introduced collagen-coated polyester vascular patches and
prostheses to its extensive product line of expanded polytetrafluoroethylene (ePTFE) vascular and
endovascular devices.
The low-permeability Gore EXCLUDER® bifurcated endoprosthesis, introduced to Gore's
endo-abdominal aortic aneurysms (AAA) excluder device product line in September, offers
exceptionally reduced permeability during treatment of AAA. The device is constructed out of a
long-lasting ePTFE graft, ePTFE reinforcing film, a low-permeability film layer, an electropolished
nitinol stent, and bonding film used in stent-to-graft attachments.
"Our long-term data indicate the device is performing extremely well," said Elizabeth Hoff,
aortic marketing leader at Gore. "More than 17,000 patients have been treated with the Gore
Excluder device worldwide since the first implant in 1997, with very low complications such as
device migration. In addition, we've had no issues of limb disconnections, and, most importantly,
our rupture rate and reintervention rate remains extremely low, which demonstrates the device is
providing excellent patient outcomes."

Proceeding With Hernia Repair

According to the National Center for Health Statistics, Hyattsville, Md., around 5 million
people in the United States have hernias – a condition in which part of a tissue or organ (usually
a piece of intestine) protrudes through an abnormal opening in the body.
Hernias often are repaired with polypropylene mesh fabrics because of polypropylene's
resistance to infection and antiallergenic properties. Hernia repair products include the Gore-Tex
ePTFE soft tissue patch; and Proceed® surgical mesh from Ethicon Inc., an operating company of
Johnson & Johnson, New Brunswick, N.J.Proceed is a multilayered tissue made up of Prolene® soft
polypropylene monofilament mesh that separates tissue in open and laparoscopic incisional hernia
repair. Its thin, bioresorbable fabric layer separates the mesh component from underlying viscera,
enabling flexible scar tissue to develop and preventing the harboring of bacteria.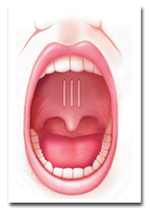 The Pillar™ Palatal Implant System consists of three woven inserts placed in the soft
palate to reduce obstruction of the airway and vibration that causes snoring.

Implant Your Snoring

And Sleep Apnea Away

Suffering sleepless nights because a loved one's sonorous snoring is keeping you up makes
for grumpy days at the office. Restore Medical Inc., St. Paul, Minn., in cooperation with the
Center for Corrective Surgery, Bala Cynwyd, Pa., has developed a surgically implantable device that
helps alleviate this nocturnal nuisance.
The Pillar™ Palatal Implant System is a set of three 18-millimeter-long nonabsorbable pieces
of polyester yarn that, when implanted into the soft palate of the mouth, reinforce and stiffen
tissues that often flutter and obstruct upper airways, causing the bothersome snoring sound.
Pillar inserts are manufactured using braiding machines from Spartanburg-based Steeger USA
Inc.
"What I like about this system is that it does not involve heating or removing tissue, which
minimizes swelling and post-procedure pain," said Mansoor Madani, Ph.D., director of the center.
"It is retrievable as well. Most patients can resume normal activities and diet shortly after the
procedure," he added.
The procedure was approved earlier this year by the FDA for treatment of sleep apnea – the
recurring cessation of breathing dozens, sometimes hundreds, of times a night. According to the
company, a recent clinical study showed sleep apnea was reduced in nearly 80 percent of sufferers
who underwent the Pillar procedure.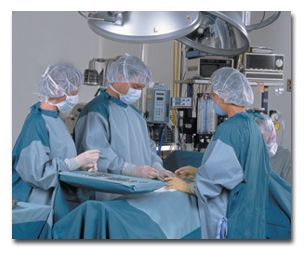 Stedfast Inc. manufactures coated, laminated and calendered barrier fabrics that protect
medical staff and patients from bacteria and infection.



Barrier Fabrics:

Protecting Doctor And Patient

Companies such as Ahlstrom Corp., Finland; DuPont, Wilmington, Del.; BBA Fiberweb™,
Nashville, Tenn.; and Consoltex Inc., Montreal; specialize in the production and coating or
laminating of barrier fabrics that, once made into garments, protect medical personnel and patients
from contamination by infectious fluids. These products can include emergency and operating room
drapes; bed linens; and surgeons' and nurses' caps, masks, coats and footwear.
DuPont continues to make advances in the barrier fabrics segment. The company recently
opened a $130 million facility in Old Hickory, Tenn., for the production of nonwoven fabrics using
DuPont's proprietary Advanced Composite Technology (ACT).
ACT's initial product offering is DuPont™ Suprel™, an extremely protective and comfortable
disposable fabric made from continuous filament fibers and used in patient drapes and operating
gowns. The fabric was developed in cooperation with operating room nurses who participated in
comfort studies conducted at Raleigh, N.C.-based North Carolina State University.
Suprel is the only medical fabric on the market that combines polyester and polyethylene for
strength and softness, according to DuPont. Other features include reduced surface friction and the
ability to transfer heat quickly away from the body.
"[This] composite fabric technology will allow us to create an array of fabrics in direct
response to the evolving needs of the medical industry," said David Flitman, director, DuPont
Nonwovens Global Business. "Suprel is the first in a line of innovative products from DuPont that
will raise the bar for standards of protection and comfort in medical fabrics."
Glen Raven Technical Fabrics LLC, Glen Raven, N.C., is a vertical supplier of reusable
GlenGuard® Rx barrier fabrics to such cut-and-sew manufacturers as Encompass, McDonough, Ga.;
Medline Industries Inc., Mundelein, Ill.; and Superior Uniform, Seminole, Fla. These companies sell
the finished barrier garments directly to hospitals.
Products made with GlenGuard Rx barrier fabrics are used in such applications as surgical,
patient and isolation gowns; surgical drapes; instrument wraps and surgical table covers.
Glen Raven fabrics are approved by the Association for the Advancement of Medical
Instrumentation, Arlington, Va. Glen Raven finishes its fabrics at its sister division, Park
Avenue.
North Charleston, S.C.-based Polymer Group Inc. (PGI) introduced a line of barrier
fabrics earlier this year. According to PGI, MediSoft™ fabrics are exceptionally soft, which is
unusual for high-fluid barrier fabrics produced using spunmelt processes. Significant proprietary
advances in PGI's spunmelt manufacturing process enabled it to produce the softer fabric.
"MediSoft fabrics give PGI the ability to offer the comfort and convenience of spunlace
fabrics with the higher protection and cost advantages of spunmelt technology," said James L.
Schaeffer, CEO.
The fabrics, which are produced at a PGI facility in China, exhibit a 50-percent improvement
in drapability compared to standard spunmelt fabrics for medical applications; and a 40-percent
improvement in softness, according to the company.
Another new advancement in barrier fabrics is HaloShield® coating technology from Vanson
HaloSource, Redmond, Wash. HaloShield is a patented, durable coating technology that binds
antimicrobial chlorine molecules from Environmental Protection Agency (EPA)-registered
chlorine-based sanitizers such as Clorox® – proven hygienic agents that do not encourage resistant
microbes – to almost any textile or surface to eliminate infection-causing pathogens within 30
seconds to an hour, depending on application.
Vanson HaloSource currently licenses HaloShield to Medline – the largest privately held
national manufacturer and distributor of medical supplies – which distributes HaloShield-treated
bed linens, hospital scrubs, gowns, sheets, pillowcases and reusable underpads in North and South
America.
According to Medline, hospital-acquired (noscomial) infections kill 60,000 to 80,000 people
a year at an average cost of $6 million per hospital – adding more than $5 billion to US healthcare
costs overall.
"HaloShield acts like Velcro® for chlorine molecules," said Sean Manne, director, HaloShield
Coatings, Vanson HaloSource. "It locks chlorine in place until it comes into contact with and kills
the microbe, then releases it. Lab tests show that when bacteria or viruses come into contact with
chlorine bleach anchored to a sheet treated with HaloShield, 99.9 percent of the microbes are
killed within minutes, compared to the 12- to 24-hour kill time seen with many competing
technologies."
According to Medline, the antimicrobial properties of the chlorine are renewed when the
sheet is laundered in an EPA-registered chlorine-based sanitizer; between launderings, the coating
prolongs and enhances the antimicrobial properties of the sanitizer. It is effective with such
textiles and nonwovens as cotton, rayon and blends; polyester and polypropylene; and nylon, Lycra®,
Spandex® and Dacron®.
Stedfast Inc. is a Quebec-based manufacturer of coated, laminated and calendered barrier
fabrics. Its line of STEDAIR® fabrics is targeted to first responders and other emergency medical
services. The Stedair fabric line includes: EMS highly-engineered breathable moisture-barrier
fabrics that protect the wearer from bodily fluids and inhibit bacterial and viral penetration; and
surgical drape and gown fabrics that have a laminated moisture vapor-permeable barrier built into
the garment, enabling it to be washed, sterilized and reused.
Shawmut Corp., West Bridgewater, Mass., also laminates barrier fabrics to provide a wide
array of materials to the medical industry. Shawmut laminates thin barrier films using its
room-temperature curing adhesive system, which does not subject the films to excessive heat and
pressure. The company's products include durable, breathable barriers; disposable barriers;
orthopedic barrier fabrics; and other medical devices such as blood pressure cuffs, lymphadema
prevention devices and low air-loss mattresses, and lumbar supports used in seating applications.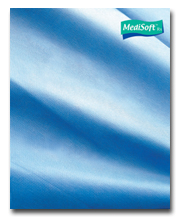 MediSoft™ barrier fabrics from Polymer Group Inc. offer exceptional softness.

Promoting A Healthy Future

With so many uncertainties in today's economy regarding health insurance and benefits, it is
reassuring to know that the medical textiles field will continue to offer new health-improving, and
even life- prolonging and -saving products.If it weren't for such products as vascular grafts,
stents, barrier fabrics and pain-relieving patches, among many others, many patients and doctors
would not lead the lives they live so actively today. Medical textiles will continue to help ensure
a long and healthy future.
---

Wrapping The World In Holofiber®

It is no surprise that to gain a strong foothold in the medical textiles sector and remain
competitive, multiple product applications must be created that appeal to doctors, patients and
general consumers.
Holofiber®, touted as the world's first body-responsive fiber, is one such product.
Introduced last year after 10 years of development by Hologenix LLC, Charlotte – a joint venture
company formed by Wellman Inc., Shrewsbury, N.J.; and Holofiber LLC, Los Angeles – Holofiber is a
proprietary textile that has found applications in both the compressive garment and sportswear
markets.
Holofiber's polyester base features a permanent, proprietary, optically responsive active
ingredient that transforms ambient light energy and energy emitted by the body into energy with a
different wavelength that the body then can reabsorb. The body uses this reabsorbed energy in a
biological process known as the Krebs cycle, which converts acetate into carbon dioxide and water,
relaxing capillaries and releasing energy. This release leads to increased oxygen levels,
accelerating muscle recovery and building strength – attributes that aid in relieving pain
associated with blood circulation loss caused by hardening of the arteries in diabetes sufferers.
According to Robert Klein, inventor of Holofiber and chairman, Holofiber LLC, wearing Holofiber
products can help lessen this condition.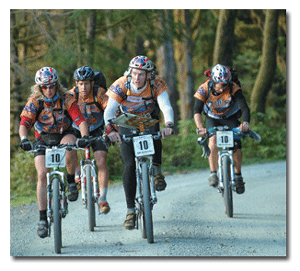 Members of Team Holofiber have worn shirts, socks and long underwear made with Holofiber®
during competitions. Tights, leg and arm warmers, hats and bike jerseys are currently in
production.
Sound a little hard to believe? A double-blind clinical study conducted by Hologenix early
last year found there was a "statistically significant change in transcutaneous oxygen – or the
oxygen delivery to the skin – in hands and feet, on subjects wearing Holofiber gloves and socks
compared to those wearing comparable non-Holofiber gloves and socks." The study also concluded that
the 8- to 10-percent increase found in the participants' skin oxygenation could increase
circulation enough to quicken wound-healing or eliminate ischemic leg pain often found in patients
suffering from diabetes and vascular afflictions.
According to the company, Holofiber is not an applied additive or coating, but rather is a
nontoxic, biologically safe material embedded in the fiber – meaning it won't wash or leach out of
a fabric. This makes it extremely suitable for apparel.
The company has introduced Holofiber to the sportswear market, partnering with such
companies as Canada-based Arriva – producer of Holofiber socks that target deep vein thrombosis,
diabetes, sore and tired feet, circulatory impairment, neuropathy, early-onset varicose veins and
injury recovery. Hologenix also has teamed with Wickers America Inc., Commack, N.Y., a manufacturer
of Holofiber glove liners, boxers, socks and tights; Superfeet, Ferndale, Wash., a manufacturer of
custom and trim-to-fit insoles; and Accumed Technologies, Buffalo, N.Y., a manufacturer of medical
support wraps.
Athletes such as Olympic medalist triathlete Michellie Jones, and members of Team Holofiber
– a co-ed Canadian adventure racing team that participates in endurance competitions that include
running, mountain climbing, biking and canoeing – have found that Holofiber apparel has made a
difference in energy and performance levels.
"I train about three hours a day, but no matter how much training I do, it is no comparison
to a five-day nonstop race," said Lawrence Foster, captain of Team Holofiber. "It has always been a
simple fact that you get sore and stiff if you stop and start intense physical exercise. In the
recent Subaru Primal Quest [an endurance competition covering 400 miles in five to 10 days], our
team would paddle 80 kilometers (km), run 40 km, then bike another 80 km, then stop for a two- to
three-hour rest, sleep, and then do it all over again.
"The one thing we did differently [in this race] was change into our Holofiber clothing
during those resting periods. When we woke up – no pain, no stiffness. We were ready to race again.
The socks we wore were even better. My feet swell almost a full size during a long race, but we
used Holofiber socks from Arriva and had little swelling and no blisters," Foster added.
Hologenix plans to develop many more applications for the responsive fiber. "In the next
four or five years, Holofiber will be everywhere from medicine to fashion," Klein said. "It will
also go into seating – Holofiber makes seats much more comfortable."
---

Saving Lives: Smart Medical Textiles

A variety of research institutes and programs around the world are working to develop the
next breakthrough medical textile.
Tilak Dias, Ph.D., and Bill Cooke, Ph.D., of the William Lee Innovation Centre, England, are
working to develop a "polymeric fiber-based wearable device platform through which [they] aim to
launch a plethora of soft, electronic-embedded wearable computing devices." The researchers
ultimately hope the intelligent health garment will integrate sensor arrays, conductive pathways
and an intelligent signal processing system to enable real-time personalized information monitoring
and measuring. Application possibilities include intelligent protective gear for the military, and
intelligent garments for emergency medical technicians or their patients.
The center also is working on the development of engineered compression arm sleeves for
chronic large-arm lymphoedema and engineered compression garments for venous disease.
Italy-based Smartex S.r.l. currently is developing a wearable health-monitoring system
through its WEALTHY program. Backed by funding from Milior S.p.A., Lineapiù S.p.A., Ermenegildo
Zegna S.p.A., Virginia-Antea Gestioni S.p.A. and Gabbiano S.p.A. – all based in Italy – Smartex
aims to produce a fitted, stretch garment featuring a network of wireless communication sensors
that are capable of remote transmission of vital signs to a health professional.
Smartex hopes the garment will aid patients in rehabilitation, assist medical technicians
during risky activities, and alert emergency personnel if critical signals are received, among
other goals.
An emergency data jacket developed by Wolfgang Röckelein, Ph.D., at the University of
Regensburg, Germany, recently has been commercialized for use by emergency medical personnel.
The jacket – used currently by emergency physicians in Bavaria during rescue operations –
allows a physician to use an embedded computer to record patient data onto a handheld computer, and
then, using wireless technology, to transfer the data to the ambulance, rescue control center and
hospital. The jacket also features a specialized interface that allows injuries to be photographed
and transmitted; as well as a chip card reader that can store important medical and insurance
information for retrieval by a doctor or administrator upon admittance to an emergency facility.
---

The Great Debate:

Disposable Versus Reusable Barrier Fabrics

A hot topic in the world of medical textiles is whether disposable barrier fabrics are
better than reusable barrier fabrics. Proponents for disposable fabrics claim that using them
lessens the chance of contracting an infectious disease or blood-borne pathogen because the item is
destroyed after a single use. Others contend the technology necessary to make reusable barrier
garments practical and safe – such as the ability to wash and resterilize a garment after each
laundering – is not up to sufficient standards.
According to "Taking Cover: Single-Use versus Reusable Gowns and Drapes," an article in
Infection Control Today®: "Single-use products are sterilized once; reusables are sterilized
multiple times. Additional contamination between washings can increase the sterilization failure
rate if not properly taken into account at the time of sterilization. Single-use products are
sterilized in a manufacturing setting; reusables are sterilized in hospitals or laundry services.
Certain manufacturers are regulated more stringently than laundry services, therefore,
manufacturing settings may maintain more stringent control than hospital and laundry services."
Proponents of reusable barrier fabrics, on the other hand, point out that disposable
garments lead to unnecessary waste. Fabrite® Laminating Corp., Woodridge, N.J., produces reusable
barrier fabrics for the medical industry. It believes: "[R]eusable textiles offer a means to
control the increase in health care costs that currently challenge our society. They provide the
highest level of liquid barrier protection and are institutionally launderable, thereby being a
part of the solution to some of our waste conservation issues."
Sean Manne, an advocate of reusable fabrics such as those coated with HaloShield, believes
the cost-savings associated with being able to reuse the material for the life of the fabric are a
big plus for many customers. "The life of the article is something that's very important and
definitely saves the hospital or healthcare facilities money along the way," he said.
---

Barriers To Entry

Medical textiles is perhaps one of the few segments in the textile market that currently are
not significantly affected by foreign competitors such as China. The industry does, however, suffer
from lengthy development and clearance times because of the rigorous government clearance
procedures necessary in the United States to bring a product to market.
According to Louis C. Franconi, new business development, Bally Ribbon Mills, the medical
textiles market, and Bally in particular, is doing very well because it is so specialized. "There
is a very big need for absorbable materials," he said.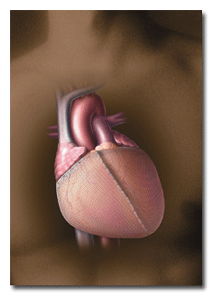 The CorCap Cardiac Support Device from Acorn Cardiovascular Inc.
Bally's new product development team often works with customersto develop new medical
textile implantables. Much of its medical device business stems from this custom work, and it can
take months to bring a finished product to market. Franconi said his new development team will take
a customer's idea, develop the necessary medical device, then give the device back to the customer,
who then turns it into a working prototype. This cycle may happen several times in the development
process, as the team and customer work to get the finished product just right.
Vanson HaloSource's HaloShield coating technology for barrier fabrics went through almost
six years of research, development and clinical trials before enteringthe market.
The CorCap Cardiac Support Device from St. Paul, Minn.-based Acorn Cardiovascular Inc. also
has faced similar barriers. Targeted to patients with heart failure, it comprises a mesh sock that
encases the heart to help prevent or heal structural changes. The device has been in development
for more than two years. The company expects to file a marketing application with the FDA by early
next year.
---

Making Medical Textiles

Italy-based Matec, Belgium-based Europlasma NV and H. Stoll GmbH & Co., Germany, are
just three of the textile machinery manufacturers that target equipment to the medical textiles
sector.
The electronically controlled Pendolina Super knitting machine from Matec is designed to
produce men's and women's medical garments with a reciprocated heel and toe. It is available in
five different diameters, from 4 inches to 6 inches, and can work with any type of yarn or
elastomeric fiber. The Pendolina Super features four single-cylinder feeds, four-needle selection
points, step motors that control retractable stitch cam blocks, a vertical motorized dial arm with
nine height positions, and a motorized circular cutter, among other features.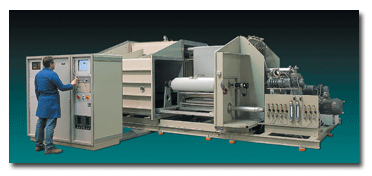 Europlasma NV's CD Roll 1100 large-roll treater
Europlasma is a manufacturer and supplier of the CD Roll 1100 large-roll treater that
applies the company's plasma technology to wovens, nonwovens and film products up to 1,800
millimeters in width. The machine was designed with such end-products in mind as blood filters and
air filters. Treatments include barrier antimicrobial performance coatings on films and textiles.
Stoll fully automatic flat knitting machines are capable of efficiently producing support
braces, stump socks, textile implants, spacer fabrics for use in straightening weak joints or
muscles, and compression stockings for the treatment of lymphatic and blood vessel disorders and
hypertrophic wounds.The company also offers customization services for producing highly elastic,
knitted-to-fit articles.