A

vondale Mills Inc. is a Monroe, Ga.-based textile company with a history dating back to
1845. Avondale has 17 plants located in Alabama, Georgia, North Carolina and South Carolina, with
sales offices located throughout the United States.
The company is a leading producer of greige fabrics, denim, sportswear, workwear, coated
specialty products, and quality sales yarns for knitted and woven fabrics. The company is one of
the nation's largest producers of fabrics in each of these segments; one of the top two producers
of denim and sales yarn; and one of the largest consumers of raw cotton.
Avondale faces the market challenges of responding to growing customer requests for
full-package productions and of competing in a free trade environment. To maintain its competitive
advantage in the industry, Avondale made a decision to invest in supply chain management systems.
After a thorough investigation of integrated manufacturing solutions, the company selected
Alpharetta, Ga.-based Datatex TIS Inc.'s Textile Integrated Manufacturing (TIM) solution.
The Datatex suite of solutions meets the needs of single-step textile production companies,
as well as complex, multi-site operations covering the full supply chain manufacturing and
distribution processes. Today, there are more than 350 implementations of Datatex systems operating
in 38 countries in 14 different languages. Companies ranging from large, publicly traded
corporations to small, family-owned companies are able to achieve their corporate goals and
objectives using Datatex solutions.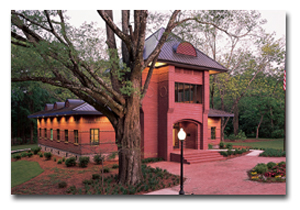 Avondale Mills Inc.'s corporate headquarters are located in Monroe, Ga.

Avondale's New Solution

Earlier this year, Avondale's Yarns Division became the first company unit to go on-line
with the new application. Recently, Mike Mann, senior account executive, Datatex, sat down with
Barry Graham, director and CIO, Information Systems; and Charles Lambert, manager, Business
Systems, Avondale, to gain insights on the project.
Datatex: What was the existing information technology (IT) environment at Avondale
before the purchase of the Datatex TIM solution, and what were Avondale's goals for the new supply
chain management solution?

Avondale: The previous IT environment was custom-written code and separate systems
for each of the company's four business segments. As a make-to-order business, Avondale wanted to
improve the manufacturing and logistics information available to all management levels.
Datatex: What were the IT department's goals with the purchase of the new
solution?

Avondale: The primary goal was to consolidate all business units onto one
textile-specific system, which would provide the ability to plan and schedule throughout all
manufacturing processes. This consolidation would improve the overall business environment and
allow the reduction of IT costs, while providing better service to management. TIM's integrated
approach makes more information on the manufacturing process available to management and to the
customer service organization. The positive business impact with this information will be
substantial.
Datatex: Did you have an interest in purchasing horizontal or industry "Best in
Practice" software solutions?

Avondale: We wanted a textile industry-specific solution that could be defined to
fit our manufacturing and logistics processes without re-engineering the company. TIM's modular
design and table-driven structure allowed us to go live with the new application software at far
lower cost and with fewer custom modifications than other proposed packages.
Datatex: Was the Datatex management group's textile industry knowledge helpful in
implementing the solution?

Avondale: Datatex's industry knowledge across the entire team has been tremendous.
Its knowledge of textile manufacturing and systems processes has allowed the Avondale group to
maintain its focus on managing the daily business of the company, which is not always the case with
regard to the implementation of supply chain management systems. In fact, the Datatex software
implementation has been one of the better system projects that IT has undertaken.
Datatex: What are the main Avondale supply chain management processes that are
supported by the Datatex TIM system?

Avondale: Avondale purchased all modules of the TIM solution. Planning and
scheduling were crucial to our plans. When all business processes are implemented, we expect to
manage the entire sales order cycle, from acceptance and credit through manufacturing, shipping and
invoicing. TIM will let us confirm the delivery dates based on finite production capacity,
work-in-process and forecasts.



Datatex: Many textile companies are being pushed by their customers to full-package
offerings. From an IT viewpoint, does the TIM solution help Avondale's sales team compete?

Avondale: Yes, Avondale is planning to expand its sales presence in the
full-package area. The vertical nature of Avondale, fully supported by TIM's comprehensive
information, gives the company a strategic advantage in this rapidly expanding area.
Datatex: In closing, what are your future expectations for the TIM solution?

Avondale: We expect to expand the TIM solution throughout all Avondale business
units. We have high expectations that the TIM solution will continue to improve our ability to plan
and schedule on a timely basis. As a make-to-order business, we rely on our abilities to manage the
business to provide committed delivery dates, determine plant and vendor capacities, and know the
profit of orders. They are the key drivers of our business.



October 2004