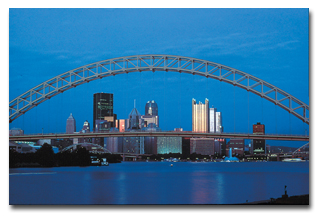 IFAI Expo 2004 host city Pittsburgh's West End Bridge spans the Ohio River.


I
FAI Expo 2004 is sponsored by the Industrial Fabrics Association International (IFAI),
Roseville, Minn., a not-for-profit trade association with more than 2,000 member companies. This
year's edition marks the first time in almost 20 years the show has been held in the Northeast.
Exhibitors, presenters and visitors will converge on the David L. Lawrence Convention Center,
located on the banks of the Allegheny River in Pittsburgh, beginning Monday, Oct. 25, to
participate in pre-conference programs scheduled for Tuesday, Oct. 26 and Wednesday, Oct. 27; and
to view the exhibitions Wednesday through Friday, Oct. 29.
IFAI Expo the largest specialty fabrics event held in the United States also marks yet
another occasion for IFAI to show its members and guests that the specialty fabrics industry today
encompasses not only awnings and marine fabrics, but also a wide variety of fabrics for a prolific
number of specialty end-uses such as air and tension structures, inflatables, tents, vehicle
interiors and filtration, among other products. Military needs also are helping the specialty
fabrics industry expand its product base, according to Steven M. Warner, president, IFAI.

Expo Overview

IFAI Expo was first held in Detroit in 1918, and since then with the exception of 1945 and
1946 the show has run annually for 83 years. Building on the tradition of knowledge of and
experience with the specialty fabrics industry, IFAI Expo 2004 will offer an array of exhibitors
and technical and educational programs. More than 500 exhibitors are expected to showcase products
and services to an anticipated 8,500 visitors; and 15 educational programs are scheduled.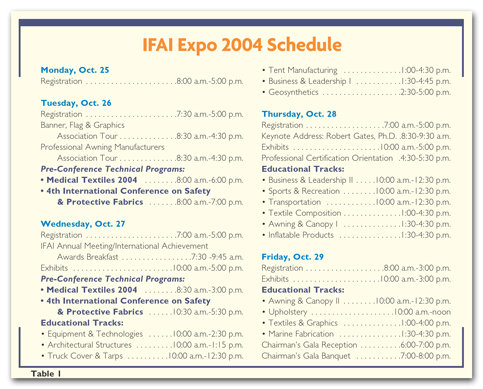 Getting A Head Start

Attendees may choose to take advantage of IFAI Expo 2004 pre-conference programs that will
take place Tuesday and Wednesday. These programs, according to Warner, make this years expo stand
out. They have definitely expanded what we represent as an association and as a tradeshow, he said.
This year, IFAI will offer an extensive program devoted strictly to medical textiles.
Innovations in the healthcare and biomedical textiles industries is the theme of Medical Textiles
2004, organized by IFAI and North Carolina State University (NCSU), Raleigh, N.C. The conference
will kick off with keynote presentations from various industry experts. On Tuesday morning, Richard
OSullivan, assistant director for the Listening Post Project at the Johns Hopkins University
Institute for Policy Studies Center for Civil Society Studies, Baltimore, will present Future
Trends in the Delivery of Medical and Healthcare Services. At a lunchtime meeting on Tuesday,
Blanton Godfrey, Ph.D., dean of NCSU's College of Textiles, will present Quality Management in the
Healthcare Sector.
The conference will offer seven technical sessions Materials in Medical Applications and
Healthcare, Wound Closure/Suture Materials, Cardiovascular Implants, Orthopedic Devices and
Compression Therapy, Wound Care and Antimicrobials, Protective Medical Textiles and Barrier
Fabrics, and Future Directions and Opportunities for Healthcare Products. The SafetyandProtective
Fabrics Conference, organized by IFAI's Safety &Protective Products Division, will focus on
developments and opportunities in that sector.
The conference will offer six technical sessions: Human Factors; Thermal;
Biological/Chemical; Protective Medical Textiles and Barrier Fabrics; Ballistic; and Miscellaneous,
including presentations on camouflage for the future warrior, and the physiological function and
wear comfort of protective clothing, among other subjects.In his keynote address Tuesday morning,
Roshan Shishoo, Ph.D., president of Sweden-based Shishoo Consulting, will discuss the opportunities
and challenges of safety and protective fabrics. Attendees of both pre-conference programs will
have the opportunity Wednesday during lunch to hear Elaine Duncan, president, Paladin Medical Inc.,
Stillwater, Minn., present an address focusing on Food and Drug Administration regulatory issues
and international requirements.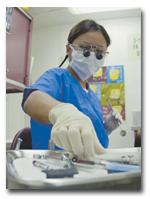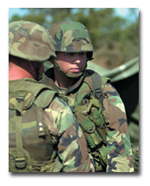 IFAI Expo 2004 will offer two pre-conference programs Medical Textiles 2004 (left, photo
courtesy of US Navy News Stand) and the 4th International Conference on Safety & Protective
Fabrics (right, photo courtesy of US Department of Defense).


Expo Educational Programs,

Keynote Address

This years educational program has been divided into 14 tracks to be held Wednesday through
Friday
(See Table 1). These tracks will offer attendees the opportunity to learn first-hand about
new developments and techniques in the specialty fabrics industry.In his keynote presentation
Thursday morning, Robert Gates, Ph.D., president, Texas A&M University, College Station, Texas,
and a former director of the Central Intelligence Agency and advisor to six US presidents, will
address the current state of world affairs including political and economic instability.

More To See And Do

Winners of the 57th IFAI International Achievement Awards will be announced Wednesday morning
at the IFAI annual meeting and awards breakfast. Designers and manufacturers will compete in 26
categories, including air and tension structures, awnings and canopies, trade show/exhibit booths,
tents, marine fabrics, other architectural structures, and geosynthetic projects, among other
categories.
Expo attendees will have the chance to attend an IFAI professional certification orientation
session Thursday afternoon. Professional certification testing for Master Fabric Craftsman,
Industrial Fabrics Manager, Certified Project Planner and Certified Craftsman will be available at
the show to candidates who completed and submitted materials for phase one of the process earlier
this year. Certification recipients will be announced during the Chairman's Gala Friday evening.
According to Julia M. Yach, senior marketing coordinator, IFAI, The Chairman's Gala provides an
elegant conclusion to a busy and successful show. The gala will include a reception and banquet,
during which a slide show of the 2004 International Achievement Award winners will be shown, new
board members sworn in and retiring board members announced.
IFAI association tours will take place Tuesday, and are an ideal opportunity for expo
attendees to see specialty fabric end-uses in and around Pittsburgh. The Professional Awning
Manufacturers Association will visit the Mount Lebanon Awning & Tent Co., Presto, Pa., and will
have lunch at the Monterey Bay Fish Grotto Restaurant. Tour participants will have the opportunity
to view awnings along Pittsburgh's waterfront development, station square, and southside works,
among other areas of the city. The Banner, Flag & Graphics Association will have the
opportunity to view a variety of signage during a trolley tour up the Duquesne incline to Mount
Washington, where they will be able to view Pittsburgh's Golden Triangle. The tour will also
include a visit to Heinz Field and lunch at the Grand Concourse seafood restaurant.
Companions of expo visitors may choose to take advantage of IFAI's companion programs.
Pittsburgh's Treasures Tour will take participants on Wednesday to The Carnegies cultural centers,
the Nationality Rooms in the Cathedral of Learning at the University of Pittsburgh and Phipps
Conservatory. A Shopping in Amish Country sightseeing excursion will take place Thursday in nearby
Wilmington.

---
For more information about IFAI Expo 2004, contact IFAI (651) 222-2508, (800) 225-4324; fax
(651) 631-9334; generalinfo@ifai.com; www.ifaiexpo.info.

October 2004