N

ext month, three events dedicated solely to the sewn products industry will take place
under one roof for the first time. The occasion is the inaugural edition of a triennial event that
has been in the works for two years.
Material World, sponsored by the Arlington, Va.-based American Apparel & Footwear
Association (AAFA); SPESA Expo 2004, owned and produced by Raleigh, N.C.-based Sewn Products
Equipment & Suppliers of the Americas (SPESA™); and Technology Solutions, produced by AAFA,
SPESA and Atlanta-based Urban Expositions LLC – also owner and producer of Material World – will
take place Tuesday, May 18, through Thursday, May 20, from 10:00 a.m. until 6:00 p.m. each day, at
the Miami Beach Convention Center, Miami Beach, Fla.
"While each exhibition will retain its own identity and deliver its own message, the
co-location of SPESA Expo and Material World will provide the attendee a seamless opportunity to
visit both shows," said Benton Gardner, executive vice president, SPESA.
First announced in 2002, the three-day event will show an expected 12,000 visitors a
complete array of products and services offered by more than 500 exhibitors from 25 countries.
"Recognizing that the sewn products industry has changed dramatically over the past few
years, SPESA and Urban Expositions believe that the industry is best served if visitors can see all
the major components of the sewn products industry in one place, at one time," said Tim von Gal,
executive vice president, Urban Expositions.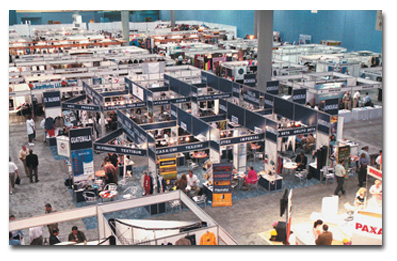 Altogether, 12,000 visitors are expected to attend Material World, SPESA Expo 2004 and
Technology Solutions.

Material World


The Spring 2004 edition of Material World marks the sixth time it has been held since it was
first introduced in September 2000, and the second time a Spring show has been held. Visitors will
find that educational activities, networking opportunities, product packaging and trend pavilions
at this year's show will be enhanced by a focus on preparation for the removal of textile trade
quotas at the end of this year and the effects that event will have on the industry.
Educational programs offered will include a pre-show conference entitled "Advanced
Strategies for Today's Sewn Products Companies," to be held Monday, May 17, from 11:30 a.m. until
4:00 p.m.

The AAFA Executive Sourcing Summit will officially kick off Material World Tuesday morning
from 7:45 a.m. until 10:00 a.m. The summit, moderated by Kevin M. Burke, president and CEO of AAFA,
will feature a panel of executives from Jones Apparel Group Inc., Wolverine World Wide and VF Corp.
leading a discussion of industry issues.
Cary, N.C.-based Cotton Incorporated will present its Spring/Summer 2005 Trend Presentation
on Tuesday, from 10:00 a.m. until 11:45 a.m. Sessions on the textile and apparel industry in Peru,
and the possible repercussions of the Central American Free Trade Agreement also will be offered
that day.
On Wednesday, May 19, visitors will have the opportunity to attend seminars on the Colombian
textile and apparel industry; the impact of new trade programs and the removal of textile trade
quotas in 2005 on sourcing; and trend, color and textile directions for upcoming seasons, presented
by London-based Worth Global Style Network.
On Thursday, a seminar on the changing supply chain, presented by David Birnbaum of Third
Horizon Ltd., will conclude the educational program.
Exhibitors from the Americas, the Caribbean Basin and Europe will offer Material World
attendees such products and services as fabrics, fibers and threads, trimmings, closures, linings
and interlinings, product identification systems, CAD and software systems, e-commerce solutions
and global production resources.
Trend pavilions will offer visitors a comprehensive look at Spring/Summer 2005 fashion
trends. The pavilions will include: fabric environments, located throughout the show floor, that
will offer a sensory look at seasonal themes and trend directions; color and video presentations
dedicated to upcoming trends; and an idea-inspiring showcase of exhibitors' trimmings.
Material World will take place again in Spring 2005.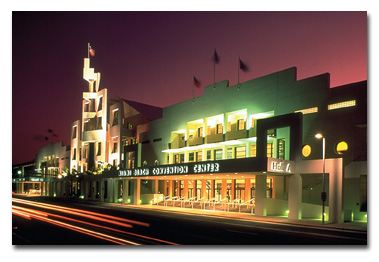 Material World, SPESA Expo 2004 and Technology Solutions will take place in Miami Beach,
Fla.

SPESA Expo 2004


SPESA Expo prides itself on being the only Western Hemisphere-based sewn products industry
trade event organized by a supplier organization. This year's expo has continued to attract
international visitors involved in every sector of the sewn products industry, including apparel,
leather, footwear, upholstered furniture, luggage, technical textiles, home furnishings and
fashions, defense and medical softgoods, and transportation interiors.
The theme of this year's SPESA Expo, "The Trends and Technologies that Drive the Industry,"
emphasizes the variety of sewn products equipment, machinery, technology, software, supplies and
services that will be exhibited.
In addition, a number of exhibitors – including Paris-based Lectra; Tolland, Conn.-based
Gerber Technology Inc.; and Taiwan-based Siruba Latin America – will provide demonstrations of
their machinery and equipment.
The SPESA Expo conference program will offer attendees three tracks of seminars –
Speed to Market, Business Strategies and Lowering Manufacturing Costs.
The conference keynote presentation will be given Wednesday morning by Mary T. O'Rourke, The
Jassin-O'Rourke Group LLC, New York City; and Michael T. Fralix, Ph.D., Textile Clothing/Technology
Corp., Cary, N.C. O'Rourke and Fralix will focus on the consequences of the removal of textile
quotas in 2005.
Conference attendees also will have the chance to participate in 23 seminars. Topics will
include developments in digital printing, 3-D product development and product development in a
full-package environment, among many others.
SPESA Expo is scheduled again in 2007.

Technology Solutions


The second edition of the Technology Solutions Exposition and Conference will address the
needs of those involved at every level of the sewn products industry supply chain, including
sourcing and product development executives; department, logistics, design and merchandising, and
manufacturing managers; information technology personnel; logistics and distribution; and retail
solutions; among others.
Technology Solutions also will offer an educational program divided into three tracks
dedicated to product lifecycle management, sourcing and production management and supply chain
management.
Presentation and case study topics will include successful enterprise systems, internalizing
the supply chain for competitive advantage, computerized pattern making, and the use of
body-scanning technology in made-to-measure clothing.
On Tuesday and Wednesday morning, Paula Rosenblum of Boston-based AMR Research Inc. will
present keynote addresses focused on responsive sourcing.
A technology roundtable moderated by Rick Ludolph of Productive Solutions, Marietta, Ga.,
will conclude the educational program Thursday morning.

---
For more information about Material World, contact Urban Expositions (678) 285-3976; fax (678)
285-7469; tim.von.gal@material-world.com;
www.material-world.com.

For more information about SPESA Expo 2004, contact (919) 872-8909; fax (919) 872-1915;
info@spesa.org;
www.spesaexpo.com.

For more information about Technology Solutions, contact (800) 318-2238, (678) 285-3976;
info@techsolutionsexpo.com;
www.techsolutionsexpo.com.
April 2004