B

uilding upon the tradition of the biennial Techtextil trade fair held in Frankfurt since
1986, the third editions of the biennial Techtextil North America (TTNA) and its concurrent
Symposium will return to the Cobb Galleria Centre in Atlanta, March 30 – April 1.
Produced by Germany-based Messe Frankfurt, TTNA will afford visitors and exhibitors an
opportunity to see the latest developments in high-performance textile manufacturing including:
fibers and yarns; woven fabrics, laid webs, braiding and knitted fabrics; nonwovens; composites;
adhesives/bonding; coated/laminated textiles and canvas products; research, development, planning
and consultation; and technology, machinery and accessories, among others.
Three hundred exhibitors are expected to show their products and services to 5,000 visitors
from the United States, Canada, Europe, South America and Asia in approximately 144,000 square feet
of exhibition space.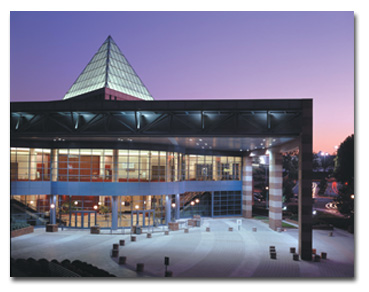 The Cobb Galleria Centre in Atlanta is the site of this year's TTNA.

Hightex: It's Our Future


According to Messe Frankfurt, the North American technical textiles market is the largest in
the world, making this year's TTNA a must-attend event for those in the industry who wish not only
to sustain, but also to expand this high-performance sector.
The Techtextil slogan – "Hightex: It's Our Future" – reflects projections of continued growth
and the increasing importance of high-performance textiles in a wide range of applications.
According to Daniel McKinnon, director, Messe Frankfurt's Atlanta office, the slogan stands "not
only for modified, innovative and/or new products/ applications, but also [signals] that, for a lot
of companies, these kinds of textiles will be the only way to survive."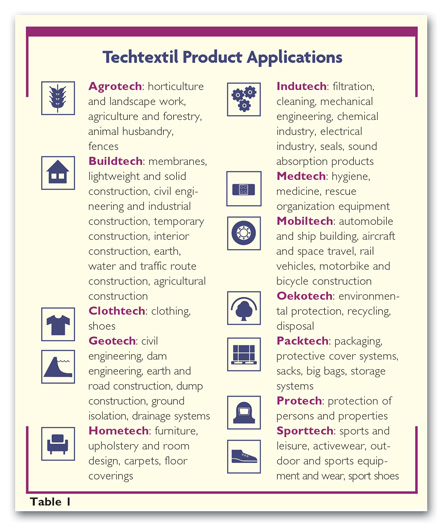 One-Stop Shopping


Visitors to TTNA will have the chance to see the entire material supply chain at work, from
research and development to raw materials and production processes to conversion, treatment and
recycling.

Exhibitors will fall into the following categories:

• research, development, planning and consultation including international
institutions, national research institutes, universities and polytechnics, industrial research
centers, and planning and consulting companies;

• technology, machinery and accessories including production processes,
processing technology, machines and equipment, control and monitoring methods, purification and
regeneration technology, technical accessories, laboratory and measuring equipment, and quality
assurance;

• fibers and yarns;

• woven fabrics, laid webs, braiding and knitted fabrics including
tapes, strings, cords, belts, ropes, cordage and nets;

• nonwovens;

• coated/laminated textiles and canvas marine-related products
including coated textiles, laminated textiles, tent fabrics, packaging materials, tarpaulin
fabrics, awning materials, end-product manufacturing, and accessories;

• composites including reinforcing textiles, composite textiles, prepregs;
structural components and moldings; fiber-reinforced materials; membrane systems; films and
sheeting; textile-reinforced plastics for concrete components, pipes and containers; and textile
sheet products for laminators with metal plastic or glass solids;

• adhesives/bonding including finishing; adhesive, sealing and molding
materials; laminating and coating materials; raw materials and additives; application processing;
material pretreatment; plastics and other hardening masses; adhesive mixing and application
equipment, and robot technology; surface treatment technology; plasma treatments; and foaming;

• associations; and

• publications including

Textile World
,

Textile World Asia
and
Textiles Panamericanos.
Product applications have been broken down into 12 areas
(See Table 1). The exhibitor listings in the TTNA show catalog will indicate each
exhibitor's area of application.
Some exhibitors will participate in national pavilions set up by their home countries.
Canada, Germany, the United Kingdom, France and Taiwan are among the countries that will offer
them.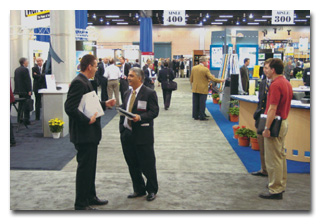 Three hundred exhibitors are expected to show products and services to 5,000
visitors.

Triple-Track Techtextil Symposium


This year's edition of the Techtextil Symposium North America (TTSNA) – an educational forum
devoted to high-level technical textiles – will feature a triple track of three concurrent
sessions, scheduled to allow attendees ample time to view the exhibits and attend symposium
sessions.
TTSNA session topics will include fiber developments, high-performance composites, medical
textiles, and new and emerging technologies, as well as many others.
The Spring House, Pa.-based National Textile Center will present one of the most popular
TTSNA sessions, devoted to the presentation of technical textile research and development projects.
The Raleigh, N.C.-based Nonwovens Cooperative Research Center at North Carolina State University's
College of Textiles will present Engineering With Fibers, a session in which various speakers will
discuss such developments as new membrane material for fabric structures, engineering of
surgical structures to combat infection, the use of monofilament yarns in braided vascular
prostheses, and engineering of 3-D woven fabrics for impact damage control.
A new area of interest that will be offered at this year's symposium is
intelligent/interactive textiles. Session topics will deal not only with woven-in sensors, but also
with intelligent textiles that react to outside stimuli. Maurice Larrivee, materials team leader of
the individual protection directorate at the US Army Soldier Center, Natick, Mass.-based US Army
Soldier Systems Center, will moderate two symposium sessions covering developments in this area.
"Work is in progress to provide textile materials with the capability to alter insulation
capacities to compensate for changes in temperature," Larrivee said. "Work is also in progress to
incorporate low-voltage battery power into textile materials to eliminate the need to carry
batteries. Some of these areas and more will be presented at the Techtextil Symposium."
James C. Leonard III, deputy assistant secretary for textiles, apparel and consumer goods
industries, US Department of Commerce, Office of Textiles and Apparel, will address textile trade
issues in his keynote speech.
First-track session topics at the symposium will include a general session on the state of
the industry, research and development related to technical textiles, medical textiles, automotive
textiles, developments in high-performance fibers, and fibers in engineering.
Second-track session topics are to include intelligent/interactive textiles,
high-performance composites, new and emerging technologies, and nonwovens in technical
applications.
Third-track session topics will include technical textile participation, technical solutions
for new flammability regulations, and the mechanical rubber goods industry.

Future Techtextil Events


Cinte Techtextil China is scheduled to take place Sept. 1-3 in Shanghai. The nineteenth
edition of Techtextil will take place in Frankfurt June 7-9, 2005. Techtextil Rossija will take
place in Russia in September 2005. Techtextil South America will be held in Brazil Nov. 22-24,
2005.
February 2004