T

echnological innovations continue to enhance and streamline the hosiery manufacturing
process. These enhancements come in the form of new machines and in refinements to individual
components and subsystems.
The hosiery segment has seen many recent developments. Advances in automatic toe-closing
units are allowing knitting machines to increase production capability. Seamless machines also are
speeding up. Body-size machines are still in high demand. Electronic yarn control systems can
reduce waste and lower production costs.
"The process of putting electronics on knitting machines has been completed," said Miroslav
Novy, chairman and general director, Investa International Co. Ltd. "The same applies to other
components, [such as yarn detectors, pneumatic valves and actuators]. The machines are in many
aspects similar because all manufacturers are buying from the same sub-suppliers. And this is what
the customers want."
Hosiery remains very much a fashion business, so knitters need styling versatility just as
much as they need machine efficiency to stay viable.
"Besides in-machine toe-closing, customers can also use the latest innovations of fully
electronic machines to their benefit when designing product styles," said Otto Curda, vice
president, Trustfin USA Inc., which represents Uniplet.
"The ability to quickly change styles and switch between reciprocated and pouch heel is very
critical to our customers' ability to compete in the marketplace. It is this demand for new
high-tech hosiery products and the need to cut costs that is the driving force behind designing
knitting machines with ever higher speeds, efficiency and features, such as in-machine
toe-closing," said Curda.
The International Hosiery Exposition (IHE) and Conference, to be held May 3-6 in Charlotte,
will give knitters, hosiery and intimate apparel producers, and retailers a chance to see the
latest developments
(See "
Tight
Connections," April 2003).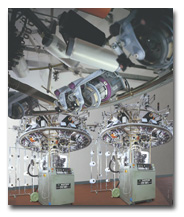 L.G.L. Electronic's Smart Knit Feeder shown on a Santoni SM8 Top 2 knitting
machine

Yarn And Tension Controllers

Italy-based BTSR International (PAF Sales LLC, Greensboro, N.C.) produces electronic yarn
and tension control systems that let knitters fine-tune the knitting process. The company's latest
technical advances include the Smart 64H electronic production control system and the Smart KTF
feeder system unit.
The Smart 64H can reduce machine waste by 50 to 75 percent on hosiery and seamless knitting
machines. The Smart KTF feeder system utilizes constant tension feeders in conjunction with a smart
controller interface to monitor and control total yarn consumption per garment.
At IHE, BTSR will show for the first time its KTF25MF micro-feeder system for elastic and
critical yarns on hosiery and seamless knitting machines.
The company also will show the Smart 64H; the Smart KTF 2000 feeder system interfacing with
the KTF 100HP yarn feeder; and the IS3N/TS thread-break detection system, as well as accessories
for pantyhose knitting and automatic sewing machines.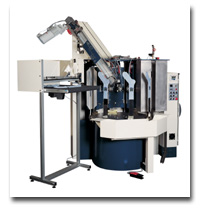 Heliot's Sock 8 compact boarding and pressing machine can board socks of all
types.

Loop Control® Reduces Streaks

Germany-based Groz-Beckert's latest innovations include a line of Loop Control® needles for
seamless and body-size machines to satisfy even the highest quality demands of knitted products,
and various needles with floating hooks for body-size machines, sock machines and seamless machines
to allow for more secure floating. Groz-Beckert also is offering more and more system parts, for
example, components needed for toe-closing machines.
"Our Loop Control needle allows our customers to reduce the risk of panel streaks even when
knitting critical styles," said Henry Tio, president, Groz-Beckert USA Inc., Fort Mill, S.C. "All
Loop Control needles are manufactured in G 00 execution to minimize the risk of needle streaks due
to spread hooks."
Hofa-Spec Loop Control needles are made by Groz-Beckert with such precision that the spread
of the production variations – which determine the uniformity of the loop formation – is less than
the thickness of a human hair.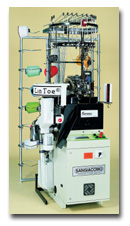 Sangiacomo's Fantasia is a single-cylinder machine capable of producing high-quality
patterned socks in multiple colors.



Sock And Seamless Finishing Solutions

Heliot International S.A., France, reports great success with its Rollset thermosetting
machine. It is designed to thermoset all man-made fabrics, either pure or mixed, in tubular form.
This eliminates the need to slit the fabric so it can be processed through a tenter frame. The
machine also can be used for body-size products.
At IHE, Heliot will show its Sockmodule type 28 T3B and Sock.8 boarding machine. Sockmodule
is a modular system for boarding of socks and half-hose made of natural fibers, man-made fibers or
blends. The automated machine is composed of a drying tunnel or heating press and pressurized
steaming shells. An automatic stripper with conveyor can be added.
Sock.8 is a compact boarding and pressing machine with automatic stripper. It can board
socks of all fiber types and uses Heliot's standard forms.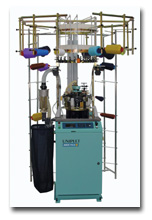 At IHE, Uniplet will introduce the Ange 15, the latest edition to its successful Ange
line.

New Toe-Closing Sock Machine

The big draw at the Czech Republic-based Investa International booth this time around will
be its model NG.plus, a single-cylinder, six-feed, sock-knitting machine. What makes this machine
unique is its ability to close the toe during the knitting process.
Investa describes it as a new and unique patented solution based on an original invention,
which makes the knitting machine very simple, does not require any complicated mechanisms in the
knitting head and achieves a high-quality closed toe. The machine can close the toe either on the
top side of the sock or the opposite bottom side. In addition, the NG.plus can make a reciprocated
heel in two feeds, according to the company.
"Our machine can produce practically any kind of sock – sport, terry, sandwich, plain,
5-color designs, 3-D designs and more," said Novy.
The NG.plus design is based on an interactive configuration of needles, sliders and cams.
The high-quality reciprocated heel is knitted without pickers and droppers. The unique concept of
the cam system represents a new generation of accident-proof sock-knitting machines featuring
remarkable simplicity, reliability and easy maintenance, according to Investa.

Seamless Tension Control

L.G.L. Electronics S.p.A., Italy (Lang Ligon & Co. Inc., Greenville), entered the
knitting market a few years ago, and started supplying yarn feeders to the leading companies in
seamless machinery.
"Since then, the developments in automation have been enormous," said Enrico Zenoni,
technical marketing manager, L.G.L. Electronics. "The demand for seamless underwear on the market
has been growing incessantly. The product quality has been substantially increased through the use
of machines for feeding yarns that have by now become [standard] choices for every producer of
seamless machinery."
The company's Smart Knit feeder supplies yarn to the knitting machine at an extremely
constant tension. This is a key point, especially with elastic yarns. The insertion of these yarns
is critical, and – if not done correctly – can jeopardize the final result. The feeder can supply
yarn at an extremely uniform tension to the seamless machine through the introduction of a new
tension modulator, T.W.M. type K, which produces an active braking action on the yarn.

A Range Of Sophisticated Machines

Italy-based Lonati S.p.A. will have several new developments on display at IHE. The company
will show its Bravo RL1C model 4-inch x 168-needle and 4-inch x 132-needle double-cylinder sock
knitter with closed toe. The big news here is that the toe-closing operation does not slow the
machine's operating cycle time.
Various single-cylinder closed-toe models – including the FL462 6C six-color, two-feed
featuring higher speeds – will be shown. It produces sandwich terry and select terry (raised
effect) in various needle counts.
The model 813 TC, 3.25-inch x 84-needle, one-feed, single-cylinder, closed-toe sock knitter
for infants and children's goods also will be exhibited.
The model FL54J, 4-inch x 108-needle, four-feed, pouch heel and toe, single-cylinder sock
knitter with four-feed, high splice, will round out Lonati's presentation in Charlotte.

Toe-Closing For Double-Cylinder Machines

Sangiacomo S.p.A., Italy, is well-known for technical breakthroughs such as its Jumbo
seamless knitwear machine and patented Lin-Toe® automatic toe-closing device for single-cylinder
machines. At IHE, the company will show its DC Lin-Toe automatic toe-closing device for
double-cylinder machines for the first time at a US exhibition.
The company will show the following models in its 5,600-square-foot booth: the Fantasia line
of single-cylinder sock machines with multiple color capability; the 4100 fully electronic
single-cylinder machine for patterns in three colors; the Star LT single-cylinder, two-feed,
dial-needle machine for making true two-color jacquard socks; the Ines line of double-cylinder
machines for socks in rib-structured fabrics; and the line of Mach 4 fully electronic
single-cylinder four-feed machines for pantyhose, which includes the 42RF, the Complet 42C and the
Complet 44C.
Sangiacomo also will show several versions of its Jumbo seamless knitting machines for
underwear, sportswear, swimwear and lingerie. These will include a new four-feed Jumbo and the
company's new Terry Kit.

Seamless Pioneer

Santoni S.p.A., Italy, probably the best-known seamless knitting machine builder, has helped
lead the way to the ever-widening range of seamless garments on the market today. The company
currently produces no fewer than 15 models of seamless machines.
At IHE, Santoni will exhibit a complete range of seamless single-jersey and double-jersey
equipment.
These include the SM8 Top 2 single-jersey 16-gauge machine for wool; the SM9 double-jersey
14-gauge machine for wool, silk and viscose; the SM8 Top 2 single-jersey 24-gauge for microfiber
plus cotton, viscose, polypropylene or elastomeric; the SM8 Top 3 20-gauge single-bed electronic
circular knitting machine for viscose, polypropylene, polyester and elastomeric; the SM4 Plus 3
single-jersey 28-gauge for microfiber and elastomeric; and the HF 80, 90, and 100 single-jersey
machines for children's garments in cotton, viscose, microfiber and elastomeric.

Ange Line Extended

Uniplet A.S., Czech Republic (Trustfin USA Inc., Charlotte), has several cutting-edge
products currently on the market.
For 2003, Uniplet has released a completely new model, the Ange 15, based on the company's
highly successful Ange 12.3, that features in-machine toe-closing. This and other upcoming models
will be introduced at IHE.
The company's Ange 12.3 model is a unique conventional 4+1-feed machine, which features high
production speeds, extremely high efficiency, excellent flexibility and ease of use. Many different
configurations are available for the production of sport and casual socks.
In 2002, Uniplet started to deliver the Ange 14W, a 4-feed, heavy coarse machine in 5-inch
and 4.5-inch diameters. This model features a newly designed sinker cap that allows for a wide
range of new features in designing styles.
Editor's Note: Alfred Dockery is editor of The HunTex Report, a newsletter for industrial
textiles. A graduate of North Carolina State University's College of Textiles, he has been writing
about the textile industry for 15 years. Dockery is based in Clemmons, N.C.



April 2003