H

eadquartered in Henderson, N.C., Harriet & Henderson Yarns Inc. is a privately held
sales yarn company formed in 1895. Harriet & Henderson services both domestic and international
apparel and industrial markets with ring-spun (RS) and open-end (OE) yarns. Its primary end-use
markets include sports socks, knitted outerwear and underwear, as well as various woven
applications.
The company manufactures yarn using ring and OE spinning systems with slub capacities on
both.
Harriet & Henderson operates four yarn manufacturing plants, which produce roughly 150
million pounds annually. These include: the Harriet #2 Plant in Henderson, N.C.; Bladen and
Clarkton Plants in Bladen County, N.C.; and the Cedartown Plant in Georgia.
In addition, the company has distribution centers in Hickory, N.C., and Fort Payne, Ala.
Harriet & Henderson produces a wide range of spun yarn products that vary according to yarn
count (from Ne 5/1 to Ne 30/1), manufacturing process and fiber content.
The company manufactures 100-percent cotton and some 100-percent polyester yarn, as well as
various cotton/polyester and cotton/acrylic blends. These include heather blends of cotton/black
polyester and cotton/black stock-dyed cotton. The company is also developing other colored and
surface-effect yarns in an effort to bring value-added products and ideas to the market and its
customers.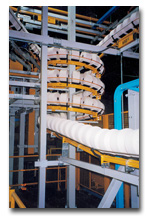 Yarn packages spiral down from overhead storage on the way to an automated packing line at
Harriet & Henderson's Cedartown Plant. The U.T.I.T. system transports, inspects, stores and
packs the yarn.

Cedartown

The Cedartown Plant is a state-of-the-art, OE spinning facility. It began as a greenfield
plant and started continuous operation in December 1998. The plant is in an industrial park located
just outside of Cedartown, a hamlet of about 10,000 residents in northwest Georgia approximately 20
miles south of Rome.
The plant produces approximately 1 million pounds of 100-percent cotton yarn per week for
weaving, hosiery and knit outerwear applications. This means that the Cedartown Plant's 100
associates, roughly one-sixth of Harriet & Henderson's workforce, produce nearly one-third of
the company's total yarn output. Yarn counts ranging from Ne 5/1 to Ne 22/1 are used domestically
and exported to the Caribbean Basin Initiative (CBI) region.
All of the production machinery from opening through spinning is Switzerland-based Rieter
Textile Systems' equipment, including C 51 Hi•Per•Cards, RSB-D 30 drawframes and R 20 rotor
spinning machines. The plant has enjoyed a strong running schedule and has increased its production
capacity twice.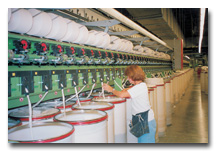 An associate at Harriet & Henderson's Cedartown Plant tends to a Rieter R 20 open-end
spinning machine.

Expanded And Improved

"Our business has been strong," said Gregg Webb, Cedartown plant manager. "We've been
fortunate in that we've had some kind of major addition every year."
The plant started out with 14 spinning machines, 25 cards and 10 draw frames. In 1999, two
OE spinning machines and one draw frame were added. In 2000, the plant gained an additional five
spinning machines, nine cards and three draw frames. In 2001, an automated yarn transport,
inspection and packing system from Italy-based U.T.I.T. Wagner Automation S.p.A. was added. The
system is the first of its kind to be installed in the United States.
"We became interested in the U.T.I.T. system for labor savings, package quality improvement
and reduced ergonomic risk," said Webb. "We had 16 people manually removing and inspecting
packages, and the potential risk of carpal tunnel syndrome was becoming a concern.
"With the addition of the U.T.I.T. system, there has been a tremendous reduction in product
handling. Now no one touches the yarn from the time it leaves the spinning machine until a forklift
places it on a truck. As a result, Cedartown has realized a decline in Occupational Health &
Safety Administration (OSHA) recordable injuries. Its most recent safety milestone is reaching the
two-year mark without a lost-time accident.
Installation of the U.T.I.T. system went relatively smoothly. There was some concern about
language difficulties between the Italian erectors and the plant's English- and Spanish-speaking
associates. These concerns proved to be groundless. "I was amazed at how quickly our associates
picked the system up," Webb said. "I was very pleased with the training that U.T.I.T. offered the
associates, helping them get the system up and running."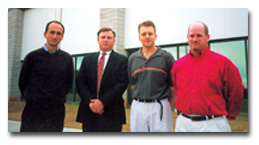 Left to right: Giovanni Vaccari, U.T.I.T.; Mike Daniels, M&M Machinery Sales LLC; Gregg
Webb, Harriet & Henderson; and Scott Wilfong, M&M Machinery Sales. Harriet & Henderson
purchased the U.T.I.T. equipment through M&M Machinery Sales, U.T.I.T.'s US sales
representative.

The U.T.I.T. System

In the U.T.I.T. system, first, a pneumatic elevator lifts packages from each spinning
machine up to the transport system or collecting circuit.
Next, packages are loaded onto a "train" or "chain" equipped with plastic trays that hold
each package. U.T.I.T. calls the system the "Snake Cone." It uses the same components the company
has been employing for several years on bobbin transport systems. It was shown for the first time
at the American Textile Machinery Exhibition-International (ATME-I) 2001 in Greenville.
This train-with-trays approach offers several advantages over older systems such as conveyor
belts. Packages are less likely to be damaged. The risk of mixing yarn counts also is eliminated
because all of the packages in a train come from the same spinning machine, so each chain or train
has its own identity."
Each package rides on a single plastic tray," said Giovanni Vaccari, sales engineer and US
sales area manager, U.T.I.T. "The system is modular and adaptable to existing buildings and
existing machinery layouts. Another advantage is speed. It is much faster than a conveyor."
The Cedartown Plant's spinning machines are arranged in three bays. Two have eight machines
each, and the third has five. The package transport system can handle a single doff from each of
these bays simultaneously and is guaranteed to handle a package flow of up to 1,000 packages per
hour.

Transportation, Inspection And Storage

From the spinning room, the packages are conveyed out to the warehouse. Once there, they go
through two inspection stations and are automatically checked for proper diameter, weight, conicity
and transfer tail. Any packages not within tolerance are automatically rejected.
After the packages are inspected, they are transferred to buffer trains that contain exactly
enough packages to complete a pallet or several cardboard cases. These buffer trains are stored
above the packing area. This overhead storage system can hold up to 21 different yarn counts – one
per spinning machine. While the plant can produce up to 21 different yarn counts at a time, that
can translate into as many as 50 SKUs, depending on factors such as yarn package size and the type
of packaging required by the customer.
"Domestically, more and more customers prefer the returnable tray pack and the largest
package size available," Webb said. "Export customers prefer cardboard cases, but there too, they
are looking for larger-diameter packages."With the exception of the packing and wrapping stations
in the warehouse, the system is installed overhead. From the overhead storage area, the trains
carry the packages to one of two automated packing stations via one of two spirals.

Packing It Out

The plant is equipped with two packing stations. One is a palletizer with a multiple head
gripper, pallet separator and cover pick-up device. It is designed to pack the yarn into tray
packs. The other unit is a boxing machine that can pack different package diameters following
different patterns into cardboard cases. These cases are automatically folded and formed by the
machine.
Both lines are capable of wrapping and strapping prior to shipping. The ability to
seamlessly switch back and forth between the two packing lines is essential at Cedartown because it
is a sales yarn plant. Here, constant product mix changes are the norm.
The automated yarn transport and inspection system has been in place for more than a year
now. Plant management is pleased with the system and reports that it has a short payback period.
Webb declined to go into specifics, other than to say there were tremendous labor savings and to
mention a 0.5-percent efficiency gain at the spinning machines due to optimization of doffing time.
Editor's Note: Alfred Dockery is editor of The HunTex Report, a newsletter for industrial
textiles. A graduate of North Carolina State University's College of Textiles, he has been writing
about the textile industry for 15 years. Dockery is based in Clemmons, N.C.
April 2003