B

urlington Industries Inc., Greensboro, N.C., was renowned for its wooden-walled
factories, built that way so the company could easily expand the plant to meet demand. This virtual
wall strategy served Burlington well for decades, as it grew to become the world's largest textile
maker. Today, though, a much different, smaller Burlington is betting on a virtual strategy of a
different sort, going beyond the wall to the entire factory.
A significant part of Burlington's strategy involves not making anything, but offering other
companies' textiles. The strategy grew out of a 1998 investment in a specialty chemicals startup in
Emeryville, Calif. Burlington now owns 51 percent of the startup, Nano-Tex LLC, which happens to be
a virtual specialty chemicals company, contracting out its manufacturing. The key to the company is
its technology. Working at the molecular level, Nano-Tex founder David Soane and his team of Ph.D.
chemists have applied a number of new treatments to improve the way fabrics wear. It has more than
122 patents either in hand or pending. It has four products – the apparel stain repellent
NANO-CARE®; NANO-DRY®, which wicks moisture from the skin; NANO-PEL™, a stain repellent targeted
towards non-wrinkle-resistant fabrics; and NANO-TOUCH™, which wraps a nano-layer of cellulose
around man-made fabrics, creating clothes with the natural feel of cotton, but with the durability
of man-mades.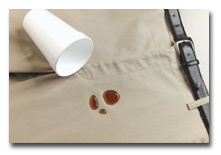 Burlington's NANO-CARE® provides stain repellency to cotton apparel.
Burlington decided not to keep Nano-Tex products to itself, but rather to license them
broadly. It created Burlington WorldWide to help license Nano-Tex products to other mills, and in
turn to market the products of those mills. These two entities represent Burlington's main
potential for growth. They also seem to represent a major reason for Omaha, Neb.-based Berkshire
Hathaway Inc.'s takeover bid, judging from an announcement in which Warren E. Buffett praised
Burlington management for its strategy and globalization efforts
(See "
Textile
World News,"
TW, this issue). If so, Burlington will continue towards a future driven
partly by technological vision and partly by necessity. For instance, NANO-CARE targets cotton, and
Burlington, having spun off its cotton business, does not make cotton textiles. So it must convince
other textile makers to use its treatments.
"If you can convince someone to buy from a virtual company, convince someone to mix the
chemicals for you on a virtual basis, then what you've got is good," said George W. Henderson III,
Burlington's chairman and CEO. But making these new companies full-fledged manufacturers was
impossible. "We needed to pay down debt."
Debt has dogged Burlington since the late 1980s, when it used a leveraged buyout to avoid a
hostile takeover. The company had several decent years in the 1990s, including a record year in
1998. But then the business turned abruptly. Like many US textile makers, Burlington was betting on
the North American Free Trade Agreement (NAFTA) to drive business to Mexico, and built factories
there. No one expected the peso's late 1990s rise against the dollar, but when that happened and
when Asian currencies fell some 40 percent against the dollar, the economics of the US textiles
business were sealed. The lowest-cost manufacturing would now be in Asia, and that was increasingly
where US garment makers were sourcing their clothes.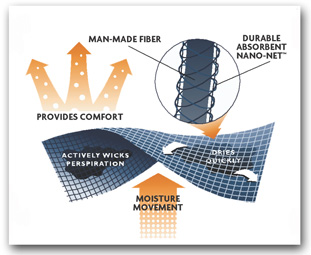 The NANO-DRY® treatment enables the fabric to effectively wick moisture away from the
body.
Burlington had no money to build mills in Asia. The next two years were nightmarish for most
of the US textile industry. Burlington itself lost $31 million in 1999, and in 2000 would take a
$530 million charge for restructuring related and impaired goodwill charges on sales of $1.6
billion. It lost another $91 million in fiscal 2001. In December of that year, Burlington filed for
bankruptcy protection.
When it emerges from bankruptcy, gone will be more than half a billion dollars in sales;
product lines such as bedding and window consumer products and residential upholstery; and
thousands of workers. What will remain are businesses Henderson thinks the company can defend,
which will include some consumer apparel and interior furnishings. The only remaining business that
might gain manufacturing capacity is Lees Carpets, which benefits from the heaviness of carpet and
the fact that plants produce finished products, reducing labor costs.
In Henderson's new plan, Nano-Tex's chemicals would allow Burlington to sell to Asian mills,
the very mills that were destroying its profit margins. Burlington would provide them with
distribution and marketing to American garment makers.
"We offer three things: the Burlington name, which has good recognition and association with
quality; the technology; and the ability to buy and sell fabric through Burlington distribution,"
Henderson said. "Nano-Tex walks in with technology in one hand, and distribution in the other," he
added. "It's been a very effective and compelling way to partner with mills [in Asia]."



Left to right:
Ken Kunberger,
Peter Liu and George W. Henderson III
Henderson thinks this new Burlington will be in a better position to compete when the World
Trade Organization (WTO) mandate against quotas takes effect in 2005.
It's unusual for a textile maker to not sell its own textiles. But virtual manufacturing is
not unusual in other businesses, and, indeed, is the practice for apparel makers such as Vanity
Fair and Liz Claiborne.
"Vanity Fair has been very successful in transforming itself into a branding and marketing
company," noted James K. Weeks, dean of the University of North Carolina at Greensboro's Bryan
School of Business and Economics. Weeks said that textile technology, not manufacturing, will
become the US textile industry's main competitive weapon in the future.
That would mark a shift in the business landscape, said Gary Moore, former senior research
engineer at the Institute of Textile Technology (ITT), Charlottesville, Va. "We've been more
concerned with fashion than functionality, trying to predict the whims of teenagers," Moore said,
adding that most technology development has focused on manufacturing techniques, but Burlington's
Nano-Tex unit exemplifies a developing trend in the textile business."Technical textiles, smart
textiles, functional textiles – those are our only way of raising our margins," Moore said.
New technology has saved Burlington before. Its founder, Spencer Love, bet his fledgling –
and failing – company on rayon in 1924, when it was still an experimental fiber. The bet not only
paid off, it helped turn Burlington into one of the biggest textile makers in the world, and
spawned the famous wooden wall strategy. Later, when Henderson ran Lees Carpets, new
stain-repellent technology turned that business from a money-loser into Burlington's most
profitable unit.
The question is, will nanotechnology do the same? That answer will come from two factors: how
well the company develops and how effective Burlington WorldWide is at selling its products.
Burlington WorldWide was formed in early 2001. Peter Liu joined as president in June of that
year. Based in Hong Kong, Liu has built a 15-person marketing and product development team, which
works with partner mills in the region and also seeks new business.
Liu says Burlington WorldWide is Burlington's "Asian engine room." The product development
team designs products based on customer specifications, regardless of what Burlington might make in
its mills. Asian mills "see that Burlington has existing customers and existing business and can be
key in rebuilding the company," said Liu.
Henderson transferred Burlington's 30 apparel sales people in Greensboro to the Burlington
WorldWide banner. They sell Burlington's apparel products, of course, but now also sell fabric from
partner mills that use Nano-Tex products.
Ken Kunberger signed on as president of Burlington WorldWide's North American unit in October
2002. Kunberger said Burlington WorldWide now has licensing deals in place with 15 Asian mills,
which have resulted in product wins at Lands' End, Eddie Bauer and Tropical-TSI. Those deals
generated only 1 million linear yards of fabric in December 2002 – tiny numbers, considering that
Burlington's owned and operated plants produced 100 million linear yards of fabric last year. But
it's a start.
"Our business plan is to maintain our owned and operated facilities to support our customers'
sewing in the United States, Mexico and the CBI region, and to drive growth through the Asian
partner platform," said Kunberger.
"We planted a lot of seeds in 2002, and started to take some business. We hope to see in 2003
real growth," Kunberger added. Three years from now, his goal is to see the Asian unit generate
$100 million in sales.
It's obviously too early to say how the strategy will work. It is clear that Nano-Tex
continues to attract customers. Last June, the roster looked like this: Eddie Bauer used NANO-CARE
in its high-end khakis, as did Vanity Fair's Lee brand. Dockers, Savane, Haggar and some
private-label brands sold pants treated with NANO-DRY. Some Serta mattresses and cubicle fabrics
from Steelcase's DesignTex unit used NANO-PEL. Dockers also used NANO-TOUCH, the synthetic fabric
that has the hand of natural fibers. Big names like the Gap, Old Navy, Liz Claiborne and Casual
Corner also have been added.
Also in place is the beginning of a branding strategy that Henderson says will be Nano-Tex's
version of Intel Inside. The branding strategy is built around a cute cartoon named Adam, a pun for
atom. But to really build the brand will require spending the requisite dollars. Those won't be
available until the company can raise money, which means an IPO or additional round of
funding. It isn't clear when Wall Street might be receptive to a company like Nano-Tex. It does
help that Nano-Tex in December hired a dedicated CEO, Donn A. Tice, formerly president and CEO of
Winterland, a worldwide provider of licensed merchandise. Previously, Henderson was CEO.
Finally, there's the market Burlington's picked. Textiles, though far from being Wall
Street's darling, is a huge business.
"The textiles market touches everybody – everybody needs to wear clothes," says Avi Nash,
chemicals analyst at Goldman Sachs. Nash said Nano-Tex's early acceptance is encouraging. On the
other hand, Nano-Tex doesn't have much of a track record. It still needs to expand its customer
base and product offerings. It remains unclear whether customers, particularly men, will care
enough about tech-textiles to buy new khakis.
By going to Asia, Nano-Tex opens itself up to copying, and imitators are already cropping up.
In fact, both China and Taiwan have government-backed institutes trying to apply nanotechnology to
textiles.
Nano-Tex also faces fierce competition from DuPont, which is pushing new versions of its
Teflon® product for clothes. Dockers uses several types of Nano-Tex products for its man-made and
wool products, but uses Teflon for its cotton products, all sold under its own name, Stain
Defender. Nano-Tex has also been slow to bring its fifth product, NANO-FRESH™, to market.
NANO-FRESH uses special molecules to capture human body odor, so clothes can be worn several times
and still not smell (when the molecules are exposed to detergent, they release the body odor). It
has huge possible applications in athletic wear. But the product was supposed to be available in
late 2002, and the company now says it won't be available before the middle of this year.
The Nano-Tex process does not require textile mills to buy new equipment. But it still
presents special complications for mills, meaning Nano-Tex and Burlington WorldWide must carefully
manage quality control from licensees, which could potentially slow adoption of its treatments.
Veteran plant workers at Burlington's Hurt plant, which is a test-bed for Nano-Tex, said Nano-Tex's
chemicals require more precise temperatures than other specialty chemicals. And, it takes time –
and plenty of ruined fabric – to get the process down.
Ultimately, though, Henderson thinks Nano-Tex treatments will become as common as
wrinkle-free ones. "If you use your imagination, and it's the way khaki pants come, that'll be
huge. If they're followed up by shirts, there are four shirts sold for every pair of pants. You've
got to step back and say, from a consumer point of view, 'Why not?'" Henderson said.The answer to
that question will help determine the future for Burlington and perhaps the rest of the US textile
industry.
Editor's Note: Michael Fitzgerald is an Oakland, Calif.-based freelance journalist whose
writing has appeared in the Economist, MIT Technology Review, Business 2.0, Worth, San Francisco
and other magazines. Fitzgerald also appears frequently on such networks as CNN and CNBC.
March 2003