A

s the global textile industry struggles to coordinate its supply chain, quality control
initiatives provide opportunities for product differentiation and distinction.
"With the advent of global sourcing, the need for effective quality measurements is more
important than ever," said Herbert J. Barndt, associate professor, textile engineering,
Philadelphia University, Philadelphia. Barndt is also director of the Grundy Center for Textile
Product Evaluation at the university and teaches both undergraduate and graduate courses in product
evaluation.
"The need for speed and accuracy in quality has spawned a new generation of electronic and
automated instruments," Barndt observed. "Dimensional stability measurements, and color measurement
and color matching are particularly active areas of development."
Barndt noted that most of today's quality equipment can be interfaced to a computer or has a
computer as part of its control system. "This allows for more accurate measurement and automatic
storage of test results in a database," he said. Barndt sees more and more companies moving to
on-line monitoring for quality. So far, most on-line monitoring has been limited to spinning and
finishing processes, but Barndt thinks continuous quality assessment during processing will become
more widespread.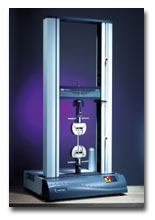 Instron's 3300 Series tensile testing machines feature a high-torque drive motor with
digital closed-loop position.

Developments In Instrumentation

At the Thwing-Albert Instrument Co., Philadelphia, equipment offerings focus primarily on
strength properties of textiles. Thwing-Albert has supplied equipment to well-known companies –
Levi Strauss & Co., Cotton Incorporated, Mohawk Industries and Eagle Nonwovens, among others –
for tests such as tensile strength, stretch and recovery, delamination, trouser tear, seam slippage
and tuft bind.
Susan Kuper, marketing manager, said the company is seeing more and more of its customers
selecting universal materials testers. This type of machine offers manufacturers the most
flexibility within one test frame. According to Kuper, the universal materials tester allows the
operator to perform a new and different strength test with one quick change of fixtures or grips.
One such product available from Thwing-Albert is the EJA Vantage™ Universal Materials
Tensile Tester. The unit is PC-controlled; measures tensile, compression, stretch/recovery, grab,
and trouser tear strengths; and is suitable for fabric, nonwovens, yarn, thread and carpet. Two
models are manufactured: one has capacities of up to 1 kilonewton (kN) of tension/compression
force; and one has a capacity of up to 5kN.
Kuper said many test frames for strength tests are very similar. The software operating the
machine is the main difference in the equipment, setting one machine apart from others.
Thwing-Albert recently introduced the MAP™-3™ (Motion, Analysis, Presentation) materials-testing
software for its test frames. The Windows®-based software package provides users with access to a
library of standard tests, and the option to create customized methods that can be saved for future
use. MAP-3 can compute comprehensive statistical information, plotting test curves for comparison
purposes. Display styles, results and graph formats and language can be user-defined.
Instron Corp., Canton, Mass., also provides the textile industry with equipment to test
mechanical properties of materials. Instron's latest introduction is the 3300 Series of textile
testing systems, which are suitable for testing fiber and yarn tenacity, and strength and tear
resistance of woven, nonwoven and coated fabrics. The 3300 Series is available in a single-column
or bench-top version. Both testers feature a new load frame with integrated control electronics,
load cell, and flexible, easy-to-use software. A full line of grips and accessories is available
for both versions of the 3300 Series machine.
Islandia, N.Y.-based Testing Machines Inc. (TMI), part of the TMI group of companies,
manufactures test instruments that measure physical properties of textiles, including burst
strength, smoothness, friction, tensile strength, resilience, abrasion resistance, color, tear
resistance and thickness. Art Nehr, director, marketing, said TMI definitely sees more interest in
instruments that display results graphically, rather than single-reading displays. TMI's Lab
Master® Softness Testers, Lab Master Slip and Friction Tester, and Lab Master Stress-Strain
Resilience Tester all feature flat-panel touch screens, which display readings recorded during a
test.
Robert Childrez, president, Polyspec Inc., concurs that trends in the industry definitely
point to more and more on-line quality monitoring. The Charlotte-based company is enjoying its 26th
year in business supplying its own tensile, abrasion and weighing systems to the industry, as well
as offering equipment from 11 other manufacturers.
Setting itself apart from most manufacturers of new instruments, Polyspec will accept any
quality control-related item that has residual value as a credit toward the purchase of other new
or used instruments.
In North America, Advanced Testing Instruments Corp. (ATI), Greer, S.C., is the exclusive
representative of James H. Heal & Co. Ltd., England, CO.FO.ME.GRA., Italy, and Textest AG,
Switzerland.
The latest abrasion test instrument available from James H. Heal is the Nu-Martindale model
404 Abrasion and Pilling Tester. Improvements include: an in-line four-test station, eliminating
the need to lift the top plate; quick-lock sample retaining rings; and individual station counters.
CO.FO.ME.GRA. specializes in corrosion-testing equipment and weathering and lightfastness
testers. Available in five models, Solarbox is a tabletop xenon lightfastness tester.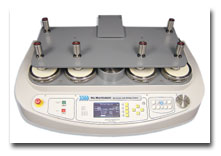 James H. Heal's Nu-Martindale model 404 Abrasion and Pilling Tester incorporates features
of the 403 and 406 models, such as quick-lock sample retaining rings and individual station
counters.

Developments In On-Line Monitoring

In keeping with the trend towards on-line evaluation and quality measurement, Textest's FX
3250 Automatic Pick Counter and FX 3386 Profilair On-line Air-Permeability Tester have been
designed with production testing in mind.
The FX 3250 pick counter – recently introduced to the North American market by ATI – is a
handheld instrument that can quickly determine the thread density of woven fabrics, wire meshes,
and the loop of knitted fabrics. It can take on-line measurements of fast-moving fabric, so there
is no need to stop the loom to take readings.
The FX 3386 Air-Permeability Tester was created for the nonwovens industry. A single
scanning test head measures the air permeability of a moving web and transmits the data to a
digital output that can be integrated into the production line. This integration makes it possible
for automatic, on-line corrections to be made to bring the air permeability within control limits.
Germany-based Mahlo GmbH & Co. KG (Mahlo America Inc., Spartanburg) provides on-line
technology for the manufacturing process. The biggest impact can be achieved on-line, according to
Alan Lavore, manager, sales and marketing, Mahlo America. "Off-line, only verification can take
place," he said."
The need to continually lower manufacturing costs, adapt quickly to new product
developments, maximize the efficiency of existing process equipment, and rely less on manual labor
will continue to drive the demand for and development of the quality control machinery sector,"
said Lavore. The company sees a trend towards systems that can measure, analyze and then control
process-related parameters automatically, thereby eliminating the dependence on manual input and
ensuring a consistent, optimum production run.
Mahlo's CIS-10A Color Monitoring System is a compact, traversing spectrophotometer designed
to provide real-time data related to any color variations in a dyed fabric. This system finds
applications in final inspection ranges, continuous dye ranges, tenter frame exits, and in fabric
inspection prior to dyeing.
For the tenter frame, Mahlo offers the VMC-10A Modular Process Control System, designed to
measure all important process-related parameters associated with fabric finishing. Up to five
different sensors provide real-time measurement of dwell time for temperature-critical processes,
moisture levels after drying, moisture levels after passing through padder or spray booth, fabric
weight, and exhaust humidity within the heated air of gas-burning ovens.
Germany-based Enka tecnica (Fi-Tech Inc., Richmond, Va.) supplies man-made fiber and
industrial yarn manufacturers equipment to monitor filament yarn quality on-line. To eliminate
broken filaments in spinning, Enka tecnica's Fraytec line of products uses optical sensors to
search for broken ends "looking out" of the filament bundle. A broken filament interrupts the light
beam, which registers a signal with the PLC, allowing the yarn manufacturer to track the number of
breaks in a package. The latest model, Fraytec V, uses an infrared light barrier rather than fiber
optic light transmission found on previous models. The sensor can read yarn diameters as small as 7
microns and can detect frays at speeds as fast as 8,000 meters per minute. Fraytec V features a
control card in the sensing head itself, which allows direct connection of the signal to the
spinning machine.
Enka tecnica recently introduced the Et-YarnScan® System consisting of one software platform
connected to multiple sensors for on-line yarn inspection. The software's interface and appropriate
transducers and amplifiers allow sensors of different types to be connected to one computer and to
be read by one software program.
IRO AB, Sweden, also offers on-line measurement instrumentation in the area of yarn testing.
Its latest product, the IRO Dynamic Tensiometer, provides fast, easy-to-use economic information
about tension fluctuations in weft yarns, according to the company. Two versions of the measuring
head are available, covering a range of 0 to 300 centinewtons (cN) or 0 to 1000 cN, and yarn
thicknesses of up to 1.5 millimeters in diameter. Both measuring heads are equipped with sapphire
sensing elements, which provide a low coefficient of friction. The head can be connected through a
combined interface and power supply to a portable computer with customized software on the
production floor. Measurement data are transmitted to the computer, which can analyze and store
results for future comparisons.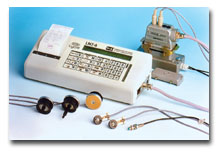 The Lycra® Multifunction Tester LMT 6 from IRO is an electronic yarn input monitor for
circular knitting machines featuring continuous yarn consumption.



Evaluating Denim Fabric Quality

Israel-based Elbit Vision Systems (EVS) designs, develops, manufactures, markets and
supports automatic optical-inspection and quality-monitoring systems for the textile industry.
According to Mike Lollis, vice president and managing director, Greenville-based EVS US Inc., EVS
systems – marketed under the I-TEX™ and PRINTEX™ brandnames – are designed to increase the
accuracy, consistency and speed of detecting and identifying defects in the manufacturing process
in order to improve product quality and increase production efficiency.
"Textile manufacturers worldwide continue to adopt I-TEX automatic fabric inspection
systems," said Lollis. "EVS has sold more than 300 I-TEX systems in 22 countries since its
introduction."
The latest product to be introduced by EVS is the I-TEX Denim Automatic Inspection System.
According to Avigdor Rosenberg, vice president of research and development, I-TEX Denim offers
denim manufacturers automatic denim inspection, with detection results that exceed human inspection
capabilities, even on loom stops.
"Detection of low-contrast loom stops cannot be accomplished even with the
highest-resolution cameras," said Rosenberg. "To develop the technology to detect the almost
invisible, low-contrast loom stops in some denim fabrics, our R&D team had to think outside the
box."
The new loom-stop imaging technology is offered as a subsystem to the I-TEX 2000 Automatic
Inspection System, giving manufacturers both the loom-stop imaging technology and multi-resolution
imaging of the I-TEX Denim, and the inspection capabilities of the I-TEX 2000. According to EVS,
I-TEX Denim has been tested at major manufacturers on Europe-bound high-fashion denim with high
rates of success.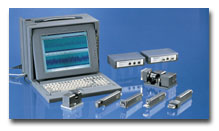 Enka tecnica's Et-YarnScan® System consists of an industrial grade PC and full software
package, Tenstec II system and various sensors to monitor filament yarn quality on-line.

Working For Global Quality Standards

England-based Shirley Developments Ltd. (SDL) was established in 1951 to commercialize
inventions and processes developed by a leading textile research association, the Shirley
Institute. Today, the global SDL International Group offers a full range of textile quality-control
equipment and services, with offices and manufacturing facilities in England, and sales and service
operations in the United States and China.
"Offshore manufacturing is a fact of life for 90 percent of apparel fabric and garment
manufacturers and retailers in Europe and the United States," said Russell J. Crompton, president,
SDL America Inc., and partner in the SDL International Group. "Suppliers and retailers sourcing
quality products need electronically transmitted test results and information to approve shipments
and ensure conformity to quality standards on receipt of shipments."
Crompton added that these test results need to be obtained using equipment that is fast,
which is capable of producing computer-generated test reports, and whose results are reproducible.
Equipment in development at SDL includes: the UT250/2.5CX Universal Strength Tester, which
is fully computer-controlled; and the G208 Stereo Zoom and Compound Digital Microscope Systems for
fiber and fabric analysis, which are packaged with image analysis software capable of a multitude
of image and measurement capture and storage functions.
SDL and its subsidiary SDL China, in cooperation with the China Textiles Information Center
(CTIC), recently established the Fabrics China laboratory in Beijing. The Fabrics China lab is
helping CTIC reach its goal of nationwide adoption in China of recognized international standards
for quality by creating new textile quality performance standards accepted by major retail groups
worldwide. These standards will serve as a guide for export-oriented manufacturers in China.
Staffed by a team of technicians, the lab is equipped with fiber-, yarn- and fabric-testing
instruments.
"The aim of the Fabrics China strategy is to formulate manufacturing standards that are
specially tailored for the Chinese producers, but are equal in value and stringency to well-known
and accepted international requirements," said Steve Combes, managing director, SDL International.
"This will enable Chinese manufacturers to enter new markets and move into higher added-value
segments."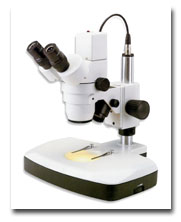 SDL International's Stereo Zoom Digital Microscope System model G208F2 features a
trinocular microscope with wide field 10X eyepieces.

New/Updated International Standards

Man-made fiber and yarn producers are currently using Spartanburg-based Lawson-Hemphill
Sales Inc.'s Textured Yarn Tester (TYT)-EW to measure crimp, shrinkage, entanglement and friction.
These measurements allow the manufacturer to evaluate yarn changes caused by differences in heater
temperature, draw ratio and finish, all of which can affect the dye uptake, according to Mike
Honeycutt, president. The machine is used in "at line" testing locations to reject off-quality yarn
packages. Measurements are quick and help to increase quality and keep inventory down, said
Honeycutt. Additionally, Lawson-Hemphill says two institutes have published articles showing the
TYT-EW provides more accurate results than traditional knit/dye/ grade testing.
ASTM International, West Conshohocken, Pa., used Lawson-Hemphill's TYT in its recently
introduced test method D6774-02, "Test Method for Crimp and Shrinkage Properties for Textured Yarns
Using a Dynamic Textured Yarn Tester."
ASTM also has revised ASTM D 3775, a test commonly used by textile purchasers and suppliers
to check the acceptability of woven fabrics in commercial shipments. Subcommittee D13.60 on Fabric
Test Methods revised the method, which will be available in early 2003.
"The intent of the method is to count warp ends and filling picks in woven fabrics," said
Raymond Casper, a consultant who helped develop the test method. The new test method describes
fabric count as the number of warp ends and filling picks in a woven fabric without consideration
for the number of single ends in a plied yarn. Subcommittee members consider fabric count the best
way to determine the warp-end and filling-pick count of a woven fabric, according to Casper.
More than ever before, quality is of the utmost importance, especially for US manufacturers
trying to compete in the global marketplace. Lab instruments, especially those offering great
flexibility, will continue to be important, but on-line monitoring systems will feature more and
more prominently on the production floor.
---

Using QuckView® Units To

Obtain Digital Shrinkage Measurements

Shrinkage is determined by comparing fabric dimensions both before and after washing.
Traditionally, measuring the shrinkage of fabric samples is a time-consuming manual process that
can involve as many as 100 separate steps and a whole series of precise measurements, calculations
and markings. Those 100 steps represent 100 opportunities for errors and miscalculations.
Charlotte-based Raitech Inc.'s QuickView® intelligent units use proprietary Windows®-based
software to scan (QuickView) or capture with video imaging (QuickView Plus) fabric markings, then
in seconds calculate and display shrinkage totals.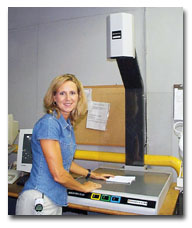 Bonnie Davis, quality manager at National Textiles, was eager to try the QuickView® Plus.
To speed up processing, Davis said the company placed the measuring unit on the production floor,
rather than in the lab.
Fabric dimensional changes are logged into the system's database software without typing.
Reports are printed for each sample. Results can also be processed into an Excel database format.
Doris Bennett, quality processes manager at National Textiles LLC, Winston-Salem, N.C.,
ordered a series of comparative tests measuring length, width and skew. She wanted to know how
precisely QuickView technology matched up with measurements done the old-fashioned way.
With a QuickView unit, Bennett processed 142 samples with 5-inch markings and washed them in
a Quickwash machine. Then she processed 36 fabric samples with 15-inch marks and washed them the
old washing-machine-and-dryer way, and then processed the samples on a video-equipped QuickView
Plus platform.
"We found no statistically significant differences between the old way and the computerized
approach," Bennett said. "Our people love QuickView; they don't want to go back to the conventional
method."
Bonnie Davis, quality manager at National Textiles in Forest City, N.C., said, "I like the
QuickView Plus a lot. We were a beta site for the Quickwash unit so we were quite familiar with
Raitech and how it uses the latest technology. We were very satisfied with that unit and eager to
try the QuickView Plus."
Rather than restrict QuickView to the company's lab, Davis said, National Textiles located
the shrinkage measuring unit directly on the production floor. "We test our lots between finishing
and cutting. We expect that QuickView will continue to speed up our process and improve overall
accuracy of our testing," she said. National Textiles has now purchased eight QuickViews, four for
garments and four for fabric.
Also, a QuickView Plus unit recently made its debut at Philadelphia University, where
Associate Professor Herbert Barndt teaches classes.
"Everything on our QuickView Plus has worked just fine," Barndt said. "It does everything it
is supposed to do." The lab is getting much better precision. "We're getting better fabric
shrinkage measurements and much better reports from the software. And no typing is required," he
said.
QuickView Plus results can be output to any spreadsheet and e-mailed. It includes several
test methods and an optical software package to assist organizations in designing their own
methods. The testing instrument can be used with AATCC 135 for both 10-inch and 8-inch samples, as
well as with ISO 6330.
Raitech CEO J. Mark Raiteri said, "QuickView was designed to save time and eliminate human
error. We are pleased with the broad acceptance it is already receiving by some of the most
demanding people in the industry."
–
TW Special Report