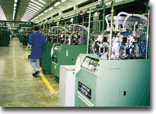 T
he Lonati Group of Italy is one of the rising stars on the European textile machinery
scene, with l998 turnover exceeding $1 billion for the first time. Not all of this is in textile
engineering. A major stake in the Italian iron and steel industry accounts for almost 41 percent of
turnover, electronics for a further 23.3 percent, mechanical engineering for 1.9 percent and real
estate for 0.88 percent.
But textile engineering, especially hosiery and allied equipment for both fine gauge and
socks, is at the heart of the group. It was here, with a small output of 15 machines a month, that
Francesco Lonati Sr. began his long and distinguished industrial career in 1946.
Today, at 89, he remains president of the group and still strides around all departments of
the Via San Polo, Brescia factory at 7 a.m. each morning. The Italian government recently awarded
him Cavaliere del Lavoro (Order of Merit), the highest honor for industrial achievement.

Export Powerhouse

The achievement of the textile
engineering division alone in capturing a lion's share of world hosiery machine markets is
remarkable by any standard. 1998 saw 11,000 machines produced, bringing turnover of 505 billion
lire. Exports were made to 60 countries, the most important being the United States, France,
Brazil, Hong Kong, Poland, Algeria, China, Spain, Philippines, Argentina, Turkey, England,
Colombia, Japan, Germany, Morocco, Thailand, Romania, Australia and Venezuela.
This means that the Lonati Group companies now dominate world markets in fine-gauge hosiery
machines with an 85-percent share. For sock machines, both single and double cylinder, they reckon
their share at 60 percent.
It is during the last decade particularly that the Group's textile engineering division
began to grow, not just organically but by acquisition as well. The factory at Via San Polo in
Brescia is the core of this division's activities. Many Italian textile machine builders,
especially in the hosiery area, rely on a supply of parts from outside contractors, who suffer from
a shortage of work when there is a decline in finished machine orders. For Lonati this is not the
case. The group has its own cylinder manufacturer in MCM and boasts one of the most modern and
extensive machine tool departments in the industry.
Substantial and ongoing investment in buildings, R&D and production facilities has
characterized the Group from its inception. This has found one expression in the plan to build a
15,000-square-meter factory adjacent to their existing plant in Brescia. The present plant will be
completely renovated and refurbished.

Electronic Essential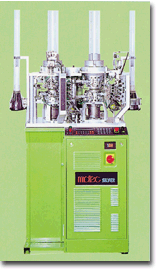 More
and more European textile engineering companies find it wise to have their own electronics
companies which can make them self-sufficient in hardware and software for their own equipment but
that can provide important diversification in their own right. Specialized expertise can be made
available to group companies, to other companies in the industry and to other industries as well.
A short distance from Via San Polo, Lonati has Dinema, that is now more than an electronics
company for computer controllers for knitting machines but active in yarn management devices,
pattern preparation, data collection analysis and production control systems.
The close collaboration of the two companies is assuming increasing importance, especially in
the field of yarn control where the diversity of yarns and structures involving elastanes calls for
specialist yarn, knitting and product expertise.
At present one pay-off is a major Lonati penetration of the Chinese market with fine-gauge
pantyhose machines. This is the result of active marketing and promotion and their own
man-on-the-spot in China for several years.
In sock machines, the major story at present is total garment automation with various systems
being applied to close the toe of the sock automatically on or immediately adjacent to the machine.
The path was pioneered by another Brescia company with a stitch for stitch off-machine linking
method but Lonati backed their own folding dial method with several million dollars and this is
finally paying off. As an alternative they have the Air Closing System.
The company has pinpointed the large U.S. market for automatic closed-toe sports socks and
dress socks to a lesser extent. Just how successful this is can be proven by the fact that nearly
2,000 machines were on order at year's end, with anticipation of 3,000 by the end of 2000.

Bodywear Production


For
the Lonati Group as a whole however, the current number-one winner is Santoni, which has its own
divisional responsibilities with Marchisio, Vignoni, Simtex, Mec-Mor and MCM. Fifteen years ago
Santoni was a modest small hosiery machine maker specializing in cylinder and dial true rib
machines and pantyhose machines, especially for medical uses.
Today Santoni is at the forefront of a garment revolution in which sophisticated large
diameter hosiery machines are being used to knit seamless bodywear garments with an increased
comfort factor. Making up labor required is minimal, production is fast and pattern/style potential
virtually unlimited. Major plants are being installed in the United States, Israel, Continental
Europe and the United Kingdom.
Eighty-five percent of current production is underwear, with five- percent swimwear and five-
percent homewear/ outerwear but an additional advantages of the technology is its capacity for
expanding into several other product areas.
Until the end of September 1999, Santoni had produced more than 1,400 bodywear machines and
had orders for 2,000 more. Meeting orders in a reasonable time scale became a problem but the
Brescia factory now has four production lines capable of constructing 200-220 machines a month.
Competition is looming but Santoni is confident it has a very significant lead. Another
Lonati company, SRA, in Florence has developed an automatic steam-finishing machine for bodywear
products. Automatic packaging machines will follow.
Through its Santoni division, which includes the MCM cylinder making concern, Lonati has
further diversified away from its hosiery machinery base into circular fabric machines, circular
garment machines and flat knitting machines.
In the new 8,500-square-meter factory op-posite their main plant on the outskirts of Brescia,
Santoni has organized a new complex to house research, development and production of Marchisio and
Vignoni circular fabric and Simtex flat machines. An active program of fabric and garment
development is taking place with keen trade interest expressed especially in the Vignoni system for
cutting the tubular fabric on take-down so that dyeing and finishing can take place in open width
rather than tubular format.

Sophisticated Rib Machine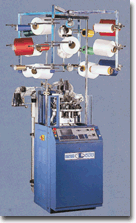 Since
the specialized skills at Mec-Mor, the world leader in rib jacquard open width garment machines are
concentrated in the city of Varese, this operation remains there. Further R&D investment has
allowed the company to develop a range of sophisticated machines that will cater not just for the
most advanced needs of rib garment length production but for simpler volume requirements as well. A
noteworthy feature of these Variatex garment machines is that each feeder arrangement comprises an
individual programmable microprocessor, making pattern/style data input a simpler.
In a logical move, Santoni is also to locate production — although not R&D and sampling — of
their latest bodywear machine at Varese. This SM9 is an all-electronic cylinder and dial
double-jersey garment-length machine. It is built in various body sizes and has all the attributes
of its SM8 single jersey counterparts. Electronic needle selection extends to both cylinder and
dial.
More recently Tecnopea, a smaller designer and producer of electrical and steam sock boarding
machines has established a commercial partnership with the Lonati Group.
Another important arm of the textile machinery division of the Lonati Group is located in
Florence. Apart from the city's well-known background as a center of art and culture, making it a
tourist magnet for close on two centuries, Florence has a reputation for creativity and innovation
in hosiery machinery and allied production equipment.
Today's Lonati Group activity in Florence is centered on Matec. The single story Matec
factory at Scandicci today houses the design, production and sales of Matec fine gauge pantyhose
machines, single and double cylinder sock machines but also the associated Matec-Solis and
Matec-Conti Florentia activities.
The latter includes the final development stages of the GL (Golden Lady) one-piece pantyhose
machines that has gone through a variety of forms in the last 15 years. It is now being progressed
jointly and competitively by Matec and Nagata in Japan. The two versions, Italian and Japanese, are
both likely to be demonstrated at next month's (April) IHE in Charlotte N.C.
Golden Lady, the number one European pantyhose manufacturer, has purchased Kayser Roth in the
United States, and is retaining all rights to the GL one-piece machine.
Matec employs extensive precision engineering machinery to build the major proportion of its
hosiery machines in-house. These include the latest round-the-clock tooling systems. It's total
program covers the complete range of plain and full patterning pantyhose machines on a standard
frame, single cylinder sock machines covering almost every product manufacturing need and double
cylinder machines. In 1998 Matec produced 3,680 of the total of 10,810 Lonati Group hosiery
machines.

Automating Knit Garments

An important aspect of automation in the pantyhose industry is the development of pick-and-place
systems with robotic links between processes that eliminate all manual making up processes. These
have evolved more quickly as the many efforts to produce a one-piece garment on the knitting
machine have been slow to mature.
In their Solis division, also housed in the Scandicci factory Matec has a company wholly
devoted to this automation objective. Very con-siderable investment has been devoted to devising
systems that are applied to knee-highs: pick-and-place + toe closing and to pantyhose:
pick-and-place + toe closing + line closing or to pick-and-place + toe closing + line closing and
gussetting. All modules in these systems are Solis design and manufactured equipment, stresses
general manager Mario Mamberti.
The first Solis pick-and-place system has been installed in a family-owned mill, Vignoni at
nearby Castelgoffredo. Asked why, with reasonable access to skilled labor locally he needed
automation, managing director Stefano Vignoni said: "We have to save the labor content: we have 160
employees here and 60 of these are engaged in manual making-up operations. To stay competitive, we
have to replace them with automation systems."
The Sandicci plant additionally houses the Conti Florentia operation previously owned by
Golden Lady. This spearheads the Matec sock closed toe solution with the Air-Toe Closing System, as
opposed to the Lonati Company alternatives of their own folding dial method. Matec Conti Florentia
has its own machine range and is working in close cooperation to provide an updated version of the
Crawford 'Concept' machines for the U.S. market.

SRA Moves Into Bodywear

Matec has also completely renovated and expanded the SRA factory in Florence. Before a major
shareholding was acquired, SRA was a small producer of hosiery boarding machines and packaging
lines. Today, invigorated with the recruitment of more design staff and professional management, it
is a hive of innovative activity in its own and new fields.
As well as full steam pantyhose boarding machines SRA is working in close cooperation with
Santoni to produce fully automatic inner and outer bodywear boarding machines and modular packaging
lines for each product type.
Lonati Group's policy has always been to market their textile products not just through a
network of well-established agents, but also at specialist hosiery yarn and equipment exhibitions
such as F.A.S.T. and IHE together with general textile and knitting domestic shows in China, Turkey
and Pakistan for example.
Since the Group's diversified investment policy has proved so successful, Francesco Lonati
promises more of the same strategy, "Our thinking is to diversify investments, but always remain in
our own field. We can only do what we know."
And, based on the extraordinary success of Santoni bodywear, he is an enthusiastic for the
whole of this seamless garment concept.
"Yes, we see — and the market confirms it — a big future for this type of seamless garment,
not only in underwear but also in other directions such as fitness wear, sportswear and suits."<
/font>
---

March 2000