S
outhern Mills' Plant Ellis dramatically improved its weaving efficiency, significantly
reduced warp stops and improved fabric quality with the addition of an LTG Weave Direct system.
"The Weave Direct system has proven out," said Steve Mitchell, vice president, manufacturing,
Southern Mills. "We have seen a 20-percent reduction in warp stops and a 5-percent increase in
efficiency throughout the weave room since we installed it. Quality has also improved."
The 20-percent decrease in warp stops is an average. For some styles, the improvement was
even greater. The improved efficiency makes a significant contribution to the plant's bottom line.
Weaving machine vendors and industry analysts estimate that a one- percent improvement in
weaving efficiency is worth about $1,000 per loom per year. Southern Mills management agreed that
this is a valid figure but declined to name a dollar amount for the productivity gain.
Figures for the plant, which has a unique product mix — 22 different fibers and blends not
counting yarns purchased outside the company — would probably be very different from those of a
more conventional weaving operation. The plant's fiber mix includes aramids, cottons, nylons and
polyesters. Yarn counts vary from Ne 4 to Ne 40.
The plant was built in 1961 to be a gray operation. Throughout the plant's history, six major
changes or additions have been made. In its current incarnation the plant is a vertical operation
going from fiber through fabric. Major end-uses for the plant's fabrics include the laundry and
technical fabrics market segments.

Additional Benefits

In addition to productivity gains and
quality improvements, the Weave Direct system has reduced the plant's need for conditioned air,
decreased possible fiber-to-fiber contamination and opened up the weave room's overhead space.
The LTG system required much less infrastructure, allowing for a smaller air washer and
smaller ductwork. For example, the Weave Direct system requires 272,000 cubic feet of air per
minute (CFM), compared to 400,000 CFM for a conventional system.
Cross-fiber contamination was a major cause of defects prior to the installation of the LTG
system. There were more than 40 separations in the weave room during ATI's visit.
"Contamination was something that we talked about early on," said Lee Lipscomb, plant
manager, Plant Ellis. "One of our objectives was to minimize flow across the room and with it the
possibility of contamination."
The additional overhead space has made it easier to change out patterns using the plant's
quick style change system. Maintaining clearance for quick style changes was a particular concern
since the weave room runs many styles and changes styles regularly. It is not unusual for the plant
to have 45 or more styles running at any given time and to have 15 to 20 style changes every week.
"One of the main things that I like about the LTG system is the improved aesthetics of the
weave room," Mitchell said. "The way that they retrofitted the system for our plant really opened
the weave room up. The Weave Direct diffuser is not in the way. You can see across the room, and it
still performs and does a great job."
Conditions under the old system could be very uncomfortable. "The old system made conditions
in the room hard to control," said Wayne Gammon, weaving manager at Plant Ellis. "Outside
conditions had a big impact."

Evaluating Needs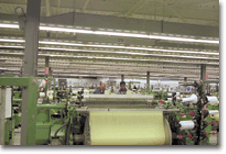 When
Southern Mills began to look for a new humidification system that would meet its needs. The process
involved looking at several systems and visiting a number of facilities to gauge the effectiveness
of various technical approaches to the problem.
"We saw that we had to have an improved HVAC system in weaving," Mitchell said. "We had the
old Humiduct system and old chillers that needed to be replaced. At the same time, we wanted to
improve weaving performance."
Part of this search included a trip to Europe to see LTG's Weave Direct system at plants in
Germany and France. Mitchell was impressed with what he saw there.
The weave room that Mitchell visited in France had been built in two phases. One half was
constructed using a conventional air conditioning system. When the room later doubled in size, an
LTG Weave Direct system was chosen to support the new looms. The plant was equipped with Sulzer
weaving machines. Interestingly enough, it had 24 new Sulzer looms with Weave Direct and the same
number of older Sulzer machines serviced by a conventional air conditioning system.
Mitchell quickly noticed that the newer looms had the same weaver assignment even though
they were running 20-percent faster. On comparable styles, the new looms has an efficiency that was
five- to six-percent higher than the older machines. The new Sulzers also had about a third fewer
stops.
"It was a perfect example of looking at a conventional system versus the Weave Direct
system," Mitchell said. "I saw that they were able to improve efficiency. I was really impressed.
Faster machines, which typically have more loom stops, had the same loom assignment as the looms
under the conventional system weaving the same fabrics."

Installation Phase

The installation of the Weave Direct
system went very well. The plant replaced its old Humiduct system and upgraded its air washers and
chillers. It was a complex project involving four or five different contractors.
"LTG's work on this site was as good as I have experienced in any project that I have done,"
said Barry Flippo, plant engineer, Plant Ellis, Southern Mills. "It was a major installation. We
were running production concurrently with the installation. They did an excellent job of working
with us."
"The biggest and most challenging aspect of this project was the size of the duct running
through the room," Flippo said. "At some points, I went back to LTG and just demanded that we work
around some things that we had in the room. They were good to make those changes."

Weaving And Humidity

Conventional conditioning systems
have always had to compromise due to space and cost considerations. With a conventional weave room
conditioning system, the control sensors which regulate the amount of moisture being delivered to
the room are mounted on columns in the isles between looms. This location is intended to provide an
average room condition.
Normally the humidity is set between 65- to 80-percent relative humidity. Potential problems
such as condensation on walls or structural members and employee comfort levels seldom allow higher
set points for conventional systems. To provide this average condition throughout the entire volume
of the room requires large quantities of humidified air.
"As an example approximately 50-percent more air is required to maintain an average
condition of 75-percent relative humidity versus 65-percent relative humidity," said Steve Plane,
president, LTG Air Engineering Inc.
"This requires much larger air washers, fans, ductwork and filtration components, as well as
higher operating costs."
The air in the immediate area of the warp is also warmer than in the isles due to the motors
and the weaving process itself. Therefore the relative humidity in this area is much lower than at
the sensor. On average this difference is usually 10- to 15-percent. In fact, it is not unusual to
record a 50- to 60-percent relative humidity at the warp, which is significantly below optimum
conditions.
In 1992, LTG introduced a series of systems designed to address this situation.
The LTG Weave Direct system is designed to place the high humidity required at the process,
not in the large volume of the weave room. By delivering the air directly to the warp, from either
above or below, the 10- to 15-percent relative humidity difference can be reversed, providing, for
example, 75-percent relative humidity at the warp and 60-percent relative humidity in the room.
This approach has proven to provide significant improvements in weaving efficiency and
product quality due to the higher relative humidity at the process. The lower relative humidity in
the isles also provides workers with an improved comfort level.

January 2000