E

ach of the 44 faculty members of the college participates in research programs. Together
they were responsible for nearly $7 million in sponsored research last year — one of the most
intensive research activities in the university.
Sponsors of this type of research include federal agencies (National Science Foundation,
Army Research Office, Environmental Protection Agency). Other programs are sponsored by industry.
In addition to these research programs in the traditional style, the college operates
centers and consortiums with multiple sponsors and multiple faculty involvement.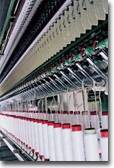 Equipment at N.C. State University College of Textiles is often donated by major textile
companies.

Nonwovens Cooperative Research Center (NCRC)

NCRC is funded by the National Science Foundation, the State of North Carolina and industry.
At present there are 20 industrial members and four affiliate members. The center is active in
research with 24 faculty from N.C. State, Clemson, Georgia Tech, University of Georgia and
University of Tennessee. Dr. Subhash Batra is the center director.

Thermal Protection and Clothing Comfort Center (TPACC)

TPACC involves five faculty and 10 graduate students. It is funded solely by contracts and
grants from industry and the federal government. The center's work includes: developing
instrumental methods and devices for assessment of protection and comfort in textile materials;
finding fundamental insights in the performance of protective materials; using the Pyroman test
facility to develop heat resistant and protective clothing materials; and using the Copernicus test
facility to relate quantitative data on comfort with human subjective assessments. Dr. Roger Barker
is the center director.

Hosiery Technology Consortium

This consortium was formed to aid the small companies of the hosiery industry in North
Carolina in three areas: development of appropriate and affordable automation, process audit, and
quality standards in conjunction with retailers. The principal investigators are Dr. Tim Clapp,
technical, and Cliff Seastrunk, administrative.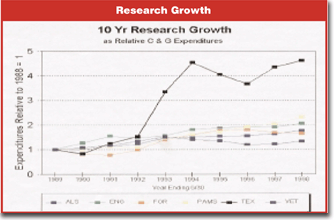 Dye Applications Research Consortium

This consortium is based on nearly ten years of research on the monitoring and control of
batch dyeing processes. The goals of DARC include: developing monitoring and control systems that
address machine-dependent issues; evaluate existing machine models for control and develop new ones
that will be more broadly applicable; integrate dosing capabilities with machine modeling and
operation; unify machine models and control strategies with dyeing process models.
The principal investigators are Dr. Warren Jasper, technical and Cliff Seastrunk,
administrative.

The National Textile Center

The National Textile Center (NTC) is a research consortium among Auburn University, Clemson
University, Georgia Institute of Technology, N.C. State University, Philadelphia College of
Textiles and Science, and University of Massachusetts at Dartmouth. Funding is through the
Department of Commerce.
It is unique in that the research program definition is controlled by the industry through a
technical advisory committee and an oversight board. By the directive of the industry, only
fundamental research is performed in the NTC.
January 1999