Lenzing AG, based in Lenzing, Austria, serves the global textile and nonwovens industry with
high-quality cellulosic fibers and is the leading manufacturer in many markets. Its product
portfolio is extensive and includes dissolving pulp, standard and specialty cellulosic fibers and
engineering services.
The Lenzing Group has production sites in all major markets and a global network of sales
and marketing offices. It currently is divided into six business units: Textile Fibers, Nonwoven
Fibers, Pulp, Energy, Engineering and Filaments.
The group has been producing cellulosic fibers for 75 years and is the only manufacturer
that has industrial-scale capacities to provide all three man-made cellulosic fiber varieties —
viscose, modal and lyocell.

Dieter Eichinger, Ph.D.

Market Situation


In 2012, Lenzing's consolidated sales declined by 2.3 percent to 2.09 billion euros compared
to 2.14 billion euros in 2011. While fiber selling prices in 2012 were significantly lower than in
2011, fiber sales volumes rose by close to 14 percent, from 712,000 tons to 810,000 tons.
Consolidated earnings before interest, tax, depreciation and amortization (EBITDA) totaled
358.7 million euros — down 25.3 percent from 2011's record 480.3 million euros, but above the 330.6
million euros generated in 2010. The 2012 EBITDA margin totaled 17.2 percent compared to 22.4
percent in 2011. Earnings before interest and tax (EBIT) totaled 255.0 million euros in 2012, down
29.9 percent from the prior-year level of 364.0 million euros. The EBIT margin totaled 12.2 percent
compared to 17.0 percent in 2011.

Market


Lenzing's annual global production capacity totals approximately 890,000 metric tons of
fiber. Table 1 shows the applications by fiber type.
In an exclusive interview with

Textile World
, Dieter Eichinger, Ph.D., vice president and general manager, Textile Fibers, talked about
Lenzing's market position, success and challenges.

TW: Can one speak of an export share of the group?
Eichinger: Not really. We are a global company with different production and sales
sites, so our export figure is related to Austria, where the export share is around 90 percent.



TW: Where are the main export markets?
Eichinger: The main market, with more than 50 percent, is Asia, with major
countries China, Indonesia, Korea, India and Pakistan. In Europe, Turkey is very important; for
nonwovens, it is the United States.

TW: Are there any top sellers in your range of fibers?
Eichinger: All fiber production capacity is fully utilized. There is a growing
demand for fibers in the nonwovens sector — a new segment has been opened up with baby wipes.
Demand for Tencel® for denim and woven casual as well as knitted activewear has grown massively;
and bed linens, mattresses, quilts and pillows are very successful in the home textiles segment.

TW: What are the biggest differences in the markets if you compare those of today
with those of years ago?
Eichinger: The requirements for the fibers are getting more complex than ever. It
is more and more the duty of the fiber manufacturer to consider where its products are applied in
the best way. This evolution has led to an ever-increasing differentiation among the fiber
producers who are willing to offer not only fibers but also expertise and service.

TW: How do you judge Lenzing's market position?
Eichinger: Lenzing proved over a long time to be sort of a pulse generator. We see
ourselves as a world leader, but not just from a quantity standpoint. What is even more important
to us is that we provide innovation, interact with the customers intensively and manufacture the
product under sustainable business practices. In addition, our global presence is second to none.

TW: Are you satisfied with this?
Eichinger: I believe our teams have done a fantastic job so far. However, we
always see room for further improvement. We want to grow and expand our presence in key markets in
Asia. On top of that, we have a lot of ideas for new fiber applications, which you will see in the
coming years.

TW: Lenzing is the leader in man-made cellulosic fiber. Where do you see the
company today?
Eichinger: With the soft fiber Lenzing Modal®, we opened a new segment for
lingerie, underwear and knitwear. We have set a new standard for flame-retardant fibers with
Lenzing FR® for the protective apparel industry. Especially with the new technology of Tencel, we
have 20 years of production and 30 years of R&D experience, and we consider ourselves to be the
pioneer in the man-made cellulosic fiber category.
In the technical application field, it was announced in January 2013 that Lenzing AG and
NanoCarbons LLC, Fort Lauderdale, Fla., agreed to a future collaboration in the development and
exploration of a new activated carbon powder in electrode technology. The technology is based on a
combination of Tencel fibers and the technology of NanoCarbons LLC. After intense research, Lenzing
has constructed a new pilot production facility to accelerate the development of this technology
even further. This move shows that technical applications have become an important business area
for Lenzing.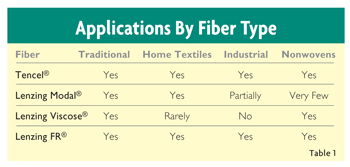 R&D



TW: In such a big company, R&D seems to be inevitable; is that so?
Eichinger: By all means. Our slogan is Lenzing Fiber Innovation. If I may say so,
innovation is our DNA. We employ some 160 people in R&D and invest annually some US$30 million.

TW: Do you have patents for products or processes?
Eichinger: We own approximately 1,300 patents in 57 countries for 218 so-called
patent families. Most of our patents relate to the lyocell (Tencel) process.

Outlook



TW: What do you expect from 2013?
Eichinger: In spite of difficult market conditions in our core fiber business, in
the 2012 financial year, we achieved the second-best business result in our history. This can be
attributed to new record fiber sales volumes and the good performance of Tencel.
Although visibility is generally low, based on the prevailing market situation, we consider
a lateral trend on the fiber market to be the most likely scenario.

TW: Is it possible that the export share will continue to rise?
Eichinger: For Lenzing, it is most essential to be close to its customers.
Likewise, a higher export trade will be the consequence.

TW: What are the promising markets? Where do you see the group's future?
Eichinger: In the coming years, China will be in the fast lane. There is little
doubt that the world's largest market for fibers will continue to grow. Furthermore, we see that
growth-oriented Asian countries such as Indonesia, India, Korea and Taiwan, as well as emerging
markets such as Pakistan, will become more important. Next to our traditional customers in Western
Europe, our sales focus will be closer to Turkey. On the other side of the Atlantic, the United
States continues to be important in the nonwovens market.

TW: Where are the biggest problems?
Eichinger: There is this tendency in some countries to build trade barriers, like
in Brazil and India, where antidumping duties are easily established. In spite of slow positive
development, the situation in some African countries remains difficult for political-economic
reasons.

TW: What are the company's development priorities for the future?
Eichinger: Tencel will be an even bigger innovation platform; there will be new
technical applications such as Tencel carbon fibers, reinforcements, and the further development of
nonwovens. After the recent launch of Lenzing Modal Color and environmentally friendly Edelweiss
technology, further developments will be presented. We also see a close collaboration with the
textile machinery industry to be essential. In air-jet spinning, we are setting new standards for
specific yarns.

TW: In some areas, you are considered to be a leader. What do you intend to do to
keep that image?
Eichinger: We are programmed to grow on a long-term basis with a clear focus on
man-made cellulosic fibers. We will continue to focus on our core business — in the meantime, the
Plastics business unit has been sold — and we do not waste time and money on areas where we are not
first-class. To maintain our place in the top league and carry on with our dynamic growth, we will
keep our R&D investment at 1.5 percent of our turnover.
July/August 2013