As the 2015 ITMA in Milan approaches, a review of the current offerings in textile wet processing machinery is in order. A representative group of manufacturers of preparation, dyeing, printing, and finishing equipment provided current innovations on offer from their companies. As might be expected, most of the machinery changes are incremental and evolutionary rather than revolutionary, but a few manufacturers have come forth with truly new ideas.
Preparation Machinery
Switzerland-based Benninger AG has redesigned its Fortracta prewasher to maximize removal of surface contaminants. A novel vertical counterflow arrangement optimizes use of water and energy. Trikoflex, Benninger's low-tension washer, is intended for elastic knits and crease prone wovens. Improved washing efficiency is provided by the unique grooved drum surface.
Dyeing Machinery
The new Pulsar package-dyeing machine from Italy-based Loris Bellini S.r.l. comes with a circulation pump and hydraulic circuit that can provide 70-percent energy savings with 30-percent fewer chemicals and water while operating at a liquor to goods ratio of 3.8:1.
Italy-based Brazzoli S.p.A. offers Innowash, an enhanced washing process for its 3.8:1 liquor to goods ratio Ecologic translational flow piece-dyeing machine. The amount of washing required is determined automatically to minimize water usage.
Dyeing polyester in supercritical carbon dioxide has been commercialized by The Netherlands-based DyeCoo Textile Systems BV. Both Nike and adidas have developed programs using fabric dyed in the DyeCoo process with dye press cakes from Singapore-based Huntsman Textile Effects. Significant savings in energy and process time have been realized by both companies — 60 percent and 40 percent respectively.
Germany-based Erbatech GmbH has optimized its Scout Color® cold pad batch dyeing system for low utilities use. Additional improvements include adjustable nip pressure to insure uniform wet pickup.
Italy-based Flainox S.r.l. has declared a focus on sustainability with its NRG-DL garment dyeing machine. The NRG-DL processes garments at a low 5:1 liquor to goods ratio and can measure energy, water, and chemical usage in real time, allowing for process optimization with minimal utility and chemical use. Flainox has introduced a novel dyeing system designed for use with natural dyes. The AOM/C-WOOL, is actually an extraction-dyeing-dyebath recycle system where the chosen plant material is extracted just prior to application. After the textile has been dyed, the dyebath is recovered for further use, a typical practice with natural dyes. Flainox has demonstrated a further commitment to sustainability by reducing the carbon footprint in its manufacturing plant by 50 percent.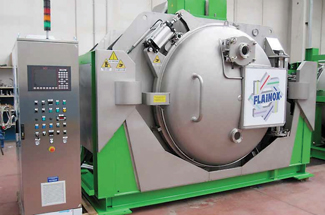 NRG-DL garment dyeing machine from Flainox S.r.l. dyes at a low 5:1 liquor ratio.
Fong's National Engineering Co. Ltd., Hong Kong, offers the Allwin, a package-dyeing machine with a very low 4:1 liquor to goods ratio and expected savings of 50 percent in process time and water usage. The Jumboflow piece dyeing machine from Fong's claims 40-percent savings in water and steam, 50-percent less energy requirements, and a 33-percent process time savings while dyeing in a 5:1 liquor to goods ratio.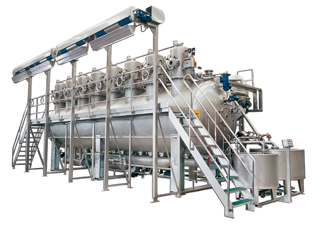 Fong's National Engineering Co.'s Jumboflow piece-dyeing machine was designed with water, energy and time savings in mind.
The use of air to dilute dyes and chemicals prior to application has been championed by Gaston Systems Inc., Stanley, N.C. Its CFS® Chemical Foam System enables denim to be dyed with indigo and sulfur dyes at 8- to 15-percent wet pickup while cotton can be continuously dyed with fiber reactive dyes at 10- to 40-percent wet pickup without tailing.
Germany-based Then Maschinen GmbH, a Fong's Europe GmbH company, has improved upon the Then-Airflow Synergy® system with two machines, the DSYN G2 for dyeing under pressure and the SYN A G1 for atmospheric pressure dyeings. Both machines provide significant savings in water, energy, steam and salt.
The iMaster series from Thies GmbH & Co. KG, Germany, includes the iMaster H2O designed to dye elastic containing cotton and cotton blends at a 3.7:1 liquor ratio at temperatures of up to 140°C. An improved internal support reduces fabric tensions during processing and a combined cooling and rinsing system significantly reduces process time. The iMaster F was specifically designed to dye terry cloth at a 4.5:1 liquor to goods ratio with vat dyes using the proVAT system. Thies' soft-TRD SIII is said to be a universal dyeing machine with flexible liquor to goods ratios from 10:1 to 4.5:1. For package dyeing, the iCone was redesigned to minimize floor space requirements while operating at a 3.6:1 liquor to goods ratio. Optimized circulation, rinsing, and heating systems were incorporated into the redesign.
Printing Machinery
Switzerland-based Jakob Müller AG offers the MÜPRINT MDP2 E, an ink-jet printer designed for elastic and non-elastic narrow polyester woven, knit, and nonwoven fabrics. The machine prints with disperse inks and heat sets the printed fabric in one continuous operation.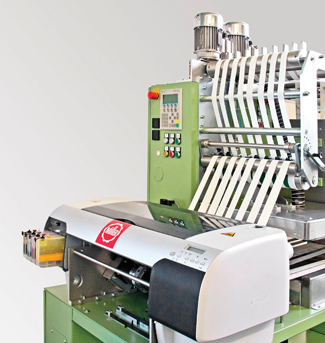 Jakob Müller's MÜPRINT MDP2 E is an ink-jet printer for narrow fabrics.
An ink-jet printer from Reggiani Macchine S.p.A., Italy, the ReNOIR-Compact, was designed to print paper for transfer printing. The ReNOIR-Compact is capable of printing paper at a production speed of 4,000 square feet per hour.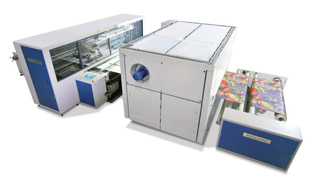 Reggiani' Macchine's ReNOIR-Compact ink-jet printer prints paper for transfer printing.
The Netherlands-based SPGPrints BV has announced an as yet unnamed digital printer that was shown to select customers in December 2014 and displayed at ITMA 2015. The six- to nine-color high-speed single-pass printer is predicted to provide the lowest cost ink-jet printing cost per linear meter.
Digital ink supplier Xennia Technology Ltd., England, has announced two new lines of inks — the Agate® line of acid dye inks for nylon, wool, and silk; and the Corundum® line of disperse dye inks for transfer printing paper. These inks join the fiber reactive Amethyst® and ultraviolet curable Moissante® inks in Xennia's product line.
Austria-based J. Zimmer Maschinenbau GmbH has expanded its Colaris digital printing system to tufted carpet — up to a 4.2 meter width at 5 meters per minute (m/min) — terry towels — a 2.2 meter width with up to 16 colors at 72 dpi and 120 square meters per hour (m2/hr) — and needlepunch polyester nonwovens — up to a 4.2 meter width at 1,000 m2/hr. The Zimmer Chromojet provides 10-color digital printing of blankets at 6.3 m/min. Zimmer reports it soon will introduce a digital printer for yarns.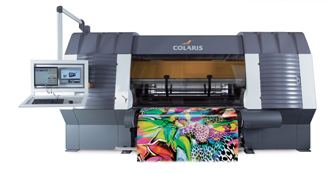 Zimmer recently extended its Colaris digital printing system to tufted carpet.
Finishing Machinery
Italy-based Biancalani S.r.l. offers the Airo®24, a tumble dryer with processing speeds to 2,500 m/min with evaporation rates of 750 kilograms per hour. The Brio® from Biancalani, a relaxation dryer for knits, sports high-capacity drying without causing pilling.
Germany-based Brückner Trockentechnik GmbH & Co. KG is promoting the Power-Frame, a tenter frame that claims 33-percent energy savings with redesigned nozzles, automatic lint screen cleaning, and independent upper and lower air flow controls. Brückner's Leonberg, Germany, location houses production scale machinery for customer evaluation of finishing, coating, heat setting, and laminating processes.
The Allround® Coating Head from A. Monforts Textilmaschinen GmbH & Co. KG, Germany, provides multiple coating options on full-width fabrics. The Thermex Econtrol T-CA process for dyeing polyester/cotton blends reduces the number of processing steps while providing high quality dyeings with significant cost saving. The Matex ECO applicator allows for precision low wet pickup application of chemical finishes with the potential of producing dual sided treatments. The Montex 8000 tenter frame incorporates the Eco Booster HRC heat recovery system and a split thermal system to allow different upper and lower fabric temperatures. Production trials can be run at the Monforts Advanced Technology Center in Mönchengladbach, Germany.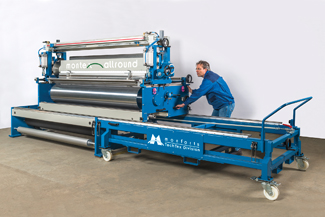 Monforts' Allround® coating technology offers multiple options for full-width fabrics.
Morrison Textile Machinery Co., Fort Lawn, S.C., has announced Morrison On Call, a web based remote access system to allow software and firmware downloads and remote diagnostics and machine monitoring.
Textile processing from liquid carbon dioxide is available from Tersus Solutions from CO2Nexus Inc., Littleton, Colo. Textiles can be cleaned and treated with high value chemical finishes with using less water and energy.
From a sampling of the current textile wet processing machinery, ITMA 2015 should be a very interesting and exciting event. The textile machinery industry is sure to continue to introduce textile wet processing equipment that will reduce the industry's use of water and energy while providing high quality textiles.

---
Dr. Peter J. Hauser is a professor and Interim Head at North Carolina State University's College Of Textiles, Department of Textile Engineering, Chemistry and Science. This article is based on Hauser's presentation given at the 2014 Textile World Innovation Forum.
---
January/February 2015