HeiQ Materials AG, Switzerland, reports that Switzerland-based outdoor apparel manufacturer R'ADYS
AG's entire 2014 summer collection will be finished using HeiQ's Barrier ECO fluorine-free durable
water repellent (DWR) treatment.
The bluesign®-certified treatment offers a more environmentally friendly alternative to
fluorine-based C8- and C6-based water-repellent technologies, according to HeiQ, and also provides
good abrasion resistance and imparts a soft hand.
HeiQ reports that R'ADYS is the first outdoor apparel manufacturer to have switched its
entire collection to fluorine-free DWR technology. R'ADYS applies the Barrier ECO treatment using
R-SONIC laser and adhesives technology.
"When R'ADYS approached us with their decision to go totally fluorine-free in such a short
timeline, HeiQ accepted the challenge to make it happen," said Carlo Centonze, CEO and founder,
HeiQ. "The smooth partnership and open information exchange between R'ADYS, HeiQ and its partner
mills resulted in what is today the most functional, performing and most sustainable outdoor
apparel collection in the world – a must-have for every truehearted outdoor passionate."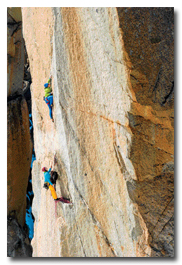 R'ADYS' 2014 summer collection will feature HeiQ's Barrier ECO DWR treatment
September/October 2013