Huntsman Textile Effects (HTE), Singapore, has introduced EverGlide™ Low Friction Systems for
activewear including endurance sportswear, cycle shorts, base layer mountain-hiking wear,
equestrian trousers, sports underwear and training/gym wear.
The technology wicks perspiration from the skin, reducing the fabric-to-skin friction often
experienced when apparel becomes saturated with perspiration during sports performance. Combined
with HTE's "cool comfort" moisture-management system that enhances body temperature regulation and
imparts quick drying properties, EverGlide can defend against blisters and skin reddening. Huntsman
reports that in relative friction tests based on friction coefficient values on both nylon/elastane
and polyester knits, EverGlide has been shown to be four times more effective than conventional
softeners. The finish also offers a soft, silky hand and enhances fabric resilience and durability.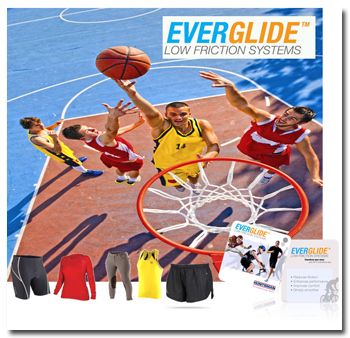 Huntsman's EverGlide™ Low Friction Systems for activewear reduces fabric-to-skin friction
.
EverGlide may be applied to all substrates using a simple and versatile application
technique; and its low yellowing properties do not affect thermomigration or degree of whiteness,
even under molding conditions, according to Huntsman.
July 30, 2013