North Carolina State University (NCSU), Raleigh, N.C., has opened a development center for a new
atmospheric plasma system that provides economical, eco-friendly application of performance
properties to textiles and apparel. NCSU says garments so finished may stay clean longer and have
higher comfort levels than those finished using traditional processes.
Other project participants are APJeT Inc., Santa Fe, N.M., exclusive licensee of Atmospheric
Pressure Plasma Jet technology; Air Products and Chemicals Inc., Allentown, Pa., a provider of
atmospheric, process and specialty gases; and textile dyeing and finishing machinery producer
Morrison Textile Machinery Co., Fort Lawn, S.C.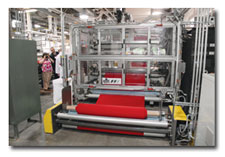 Morrison Textile Machinery's atmospheric plasma machine with technology invented by Gary
Selwyn, APJeT Inc.


The facility will test the system and rate its efficacy on a range of materials. Textile
chemistry and polymer science students will receive training on the equipment and help laboratory
and APJeT staff test the system and develop processes and products. Companies will be able to test
the system for finishing wovens, nonwovens and knits.
"The goal is to not only replace conventional application of finishes, but to develop novel
methods and original products you would not be able to get with conventional systems," said Dr.
Peter Hauser, professor and director of graduate programs, NCSU College of Textiles.
The system uses ionized gas to apply a nanolayer coating to fabric to provide water and stain
repellency and moisture management, eliminating use of water for chemical wet treatments and the
need to treat wastewater, as well as the need to heat-cure and dry the treated fabric. The fabric
also can offer repellency on one side and moisture management on the other.



November/December 2008