T
he move in recent years by US and European textile and apparel companies to outsource
production to lower-cost countries has influenced a growing cadre of manufacturers in those
countries to commit to playing by quality, environmental and social accountability rules that are
the norm for operations in the more developed countries. They must make such commitments in order
to meet the expectations of socially and environmentally aware customers as well as to comply with
trade regulations instituted by forward-thinking governments and in free trade agreements; and they
expect their suppliers also to conform to the expected standards. Some offshore manufacturers also
are realizing the importance of branding in the marketing game, and thus are taking advantage of
opportunities offered by upstream suppliers whose own branding campaigns create awareness of the
benefits of their raw materials and/or auxiliaries.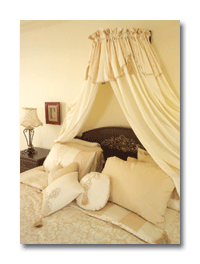 Chenab Ltd. is a fully vertical manufacturer of
apparel and home fashion textiles including a full range of bedding products.


Chenab Puts Quality First


Pakistan-based Chenab Ltd., founded
in 1975 by current Chief Executive Mian Muhammad Latif, is a fully vertical textile and apparel
manufacturer and exporter that touts itself as a technology-oriented manufacturer that puts quality
first at every step of the process. As one of the country's largest textile processors, with annual
revenues totaling approximately $110 million, Chenab maintains nine facilities that house
operations including ginning, spinning, weaving, bleaching, printing, dyeing, finishing, stitching,
designing/engraving, and quality testing. Its most recent investments include latest-generation
pretreatment, finishing and stitching machinery.
The company considers its state-of-the-art machinery and dedicated workforce of more than
10,000 employees to be its key strengths, and its wider-width vertical setup to be central to its
success. This structure and its recent investments have helped it gain such competitive advantages
as improved quality; increased production; innovative, value-added product; and timely deliveries.
Chenab has an annual production capacity of more than 70 million meters of fabric for home
fashion textiles including sheets, duvets, pillows, curtains, kitchen textiles; and men's, women's
and children's apparel. It manufactures all of its product for export; and its primary customers
include such retailing giants as Wal-Mart, Target, JCPenney, Sears, IKEA and Federated Department
Stores Inc.; apparel manufacturers and brands including Kellwood Co. and Tommy Hilfiger; and other
well-known textile and apparel brands worldwide. As it looks toward the future, Chenab anticipates
growth in the areas of formal and specialty worked garments and value-added home textiles.
The company places a high priority on employing environmentally and socially responsible
practices, as well as on maintaining high quality standards, stating: "Our policy is 'Customer
Satisfaction,' which we ensure through proper planning; continual improvement; employee
satisfaction; environmentally friendly production; prevention of environmental pollution; effective
occupational health and safety; resource conservation; and implementation of relevant national and
international environmental, social, cultural, and health and safety norms/laws."
As evidence of its commitment in these areas, Chenab has achieved certification under such
standards as ISO (International Organization for Standardization) 9001 quality management and 14001
environmental management, SA (Social Accountability) 8000, WRAP (Worldwide Responsible Apparel
Production), and OHSAS (Occupational Health and Safety Assessment Series) 18001. It also has
received numerous export performance awards from the Federation of Pakistan Chambers of Commerce
and Industry (FPCCI), and Mian has received five Businessman of the Year awards — also from
FPCCI.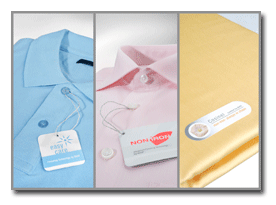 BASF's customers may use its Easy Care, Non Iron and Cosinel quality labels to help educate
downstream customers and consumers about the benefits provided by BASF textile finishes.




Branding Strategy To Promote Quality




According to Mian Muhammad Naeem,
director of marketing and planning, as part of Chenab's effort to promote the high quality of its
products, the company is taking advantage of branding efforts by Germany-based BASF AG, its
longtime finishing auxiliaries supplier. BASF has created three quality labels that its customers
may use to help educate downstream customers and end-product consumers about the benefits provided
by its textile finishes. BASF also serves as a facilitator between manufacturers that use its
finishes and trading companies and brands.
Chenab tags its easy-care, no-iron bed linens with BASF's Cosinel quality label to advise
customers and consumers of the special benefits imparted by the BASF resin finish and enhanced
softeners it uses in processing the linens. Chenab and BASF also participate in joint trade-fair
activities and advertising to promote the Cosinel brand.
BASF created the name Cosinel to connote such qualities as comfort, softness and coziness.
The brand is used in connection with a fiber protection system comprising BASF finishing products
including Fixapret® crosslinking easy-care resin finishes and Softeners Universe products. The
Cosinel tag pictures a morning glory to represent freshness and lightness. An accompanying brochure
describes how the system works to provide no-iron and shape-retention properties to the sheets.
BASF offers its other two quality labels, Easy Care and Non Iron, to apparel manufacturers
that use its textile chemicals. According to the company, the BASF chemicals that impart the
attributes covered under all three labels all comply with Oeko-Tex 100 Standard Class II, which
evaluates the safety of substances present in apparel, linens and other textiles intended for
consumer contact.
According to Betty Yam, marketing specialist, BASF, the company is particular about with
whom it will partner in its branding efforts. BASF, with its long-standing reputation as a
manufacturer of high-quality products, expects its partners to agree with its concept of quality,
and comply with quality criteria and relevant standards.
Chenab's aforementioned commitment to such standards and its longtime stance as a customer
of BASF puts it in good stead vis-à-vis BASF's expectations and contributes to a relationship of
mutual trust. Nevertheless, BASF conducts occasional spot checks of product tagged with the Cosinel
label to ensure the asserted quality is being delivered.
"Ultimately, the consumer must be able to rely on Cosinel," Yam said. "Only this will ensure
sales and confidence in Cosinel."


---

November/December 2006