DigiFab Systems Inc., Los Angeles, has launched a new line of heat presses. Available in six models
ranging from 44 to 99 inches in width, the heat presses are suitable for heat-transferring dye
sublimation prints to polyester and polyester-blend fabrics used in applications such as apparel
and home furnishings.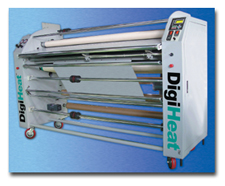 Three-zone heat control across the width of the press ensures consistent heat from left to
right, as well as down the length of material processed. Other features include improved color
accuracy, automatic felt control and cool-down timer, roll-to-roll and sheet-fed options, as well
as adjustable speed and temperature controls.
A 14-inch drum is offered on some models to provide a fast transfer rate of up to 12 feet per
minute, according to DigiFab.

October 2004