By Robert S. Reichard, Economics Editor
The economy may have flattened out a bit over recent months, but the lull has hardly made a dent in textile and apparel profit levels. Indeed, in the textile mill sector, first quarter 2015 numbers are running an impressive 43-percent above the comparable period last year. Further downstream, domestic apparel manufacturers are managing to hold their own, with the latest quarterly total remaining virtually unchanged vis-à-vis comparable year-earlier readings. Note, too, that the textile industry's profit performances over this time span actually has been a lot better than those reported for all U.S. manufacturing, where aggregate first quarter 2015 after-tax earnings have slipped some 10-percent under the comparable period last year. Textile and apparel industry margin performances — profit as a percentage of sales or stockholder equity — when compared to a year earlier, are equally encouraging. The actual numbers compared to a year earlier for profits per dollar of sales are 5.3 percent versus 4 percent for textile mills, and a pretty much unchanged 9 percent for domestic apparel makers. The story is much the same when it comes to profits per dollar of stockholder equity, which is 13.9 percent now versus 9 percent a year ago for mills, and again a relatively unchanged 18 to 19 percent for clothing makers. These latest margin readings are a lot more impressive than those noted for all manufacturing, where some modest erosion was reported over the past year. Also worth noting: The U.S. textile industry's return on equity is far higher than current interest rates, which remain in the low single-digit range, thus helping to explain why mills continue to shell out upwards of a billion dollars a year for new plants and equipment.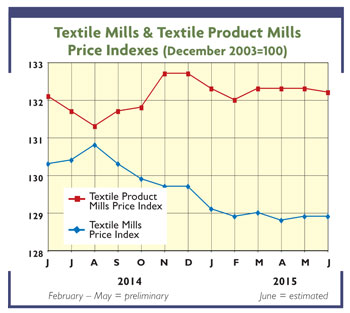 More Improvement Ahead
These latest profit increases are likely to spill over into future years if new projections by U.S. economic consulting firm IHS are anywhere near correct. Its analysts — using the rough estimate of earnings of shipments less labor and material costs — anticipate further earnings increases in 2016. Its projected gains for that year is 3 percent for mills making basic products like fibers and fabrics, 3.8 percent for mills making more highly fabricated products such as carpets and home furnishings, and 2.1 percent for clothing manufacturers. This uptrend is expected to persist even over the longer haul. By the end of the current decade, IHS sees profits for mills making basic mill products running about 15 percent above this year's estimated levels — with projected increases for more highly fabricated mill products and apparel expected to be up by an even more impressive 17 and 20 percent respectively. That's not all that bad a scenario for these industries that seemed to be heading for the dust bin just a few years ago.
Behind The Profit
Several factors clearly are contributing to these still-rising earnings levels. For one, demand — as measured by the textile industry's production numbers — continues to show modest gains. Output of basic mill products is currently running 11-percent above year-earlier levels. It's pretty much the same story when it comes to apparel activity. With the economy expected to pick up a bit — rising at a 2.5- to 3-percent annual rate over the next few quarters — these output gains are almost certain to continue. This, in turn, should pretty much guarantee further profit increases since higher industry activity is almost always associated with stronger bottom lines. Even more importantly as far as earnings are concerned, is the continuing lack of any upward production cost pressures. IHS analysts predict that aggregate labor-plus-material costs will account for smaller and smaller percentages of the industry shipment dollar. Thus, this year, IHS sees this key profit indicator dropping substantially from levels prevailing just three years ago. The actual cost/shipment declines over this period fell from 89 to 75 percent in for basic mill products, from 78 to 56 percent for more highly fabricated products, and from near 100 to 70 percent for apparel. TW sees this trend continuing into 2016 when further small percentage declines are forecast. This is based on more than just wishful thinking. In the case of both cotton and man-made fibers, supply gluts should put some downward pressure on costs. In the labor sector, recently inked contracts suggest pay hikes also will remain quite restrained.
July/August 2015