There's more good news on the U.S. international trade front — in the form of a new study that
quantifies the import-blunting impact on textiles, apparel and other industries stemming from the
continuing big pay hikes hitting many of the United States' overseas suppliers; and the declining
cost of U.S. energy due to its new gas and oil fracking breakthroughs. Prepared by the prestigious
Boston Consulting Group, (BCG), one of the report's key findings is that by 2015, the United States
will have pretty much closed the once-huge gap between American and Chinese production costs. Only
a miniscule 5-percent differential is anticipated by that time. Clearly, this should help speed up
the current reshoring trend discussed in the last month's column
(See "
Pessimism
Is Unwarranted,"
TextileWorld.com, September/October 2013). Equally significant, BCG cost
comparisons with other countries should also bode well for U.S. trade. Analysts at the consulting
firm, for example, figure that by 2015, American production costs on average will actually be
running anywhere from 8 to 18 percent below costs of such major industrial competitors as Germany,
Japan, the United Kingdom, France and Italy.
Other things being equal, this should allow the U.S. to grab a larger percentage of global
manufacturing sales, thereby sparking additional gross domestic product growth and consumer
spending. Put another way, the overall U.S. export total should expand to the extent that some 2.5
million to 5 million additional jobs could well be created by the end of the decade — enough to
drop the currently still-high unemployment rate to below 5 percent.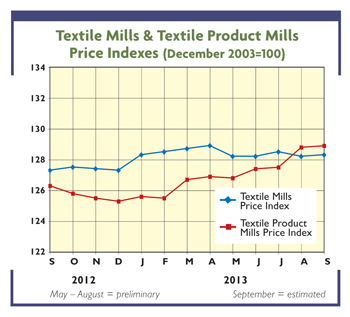 Profits Also Look Better


Coming back closer to the present, textile mill earnings, despite only so-so demand, have
remained surprisingly buoyant. Uncle Sam's second quarter 2013 numbers, for example, put the
industry's after-tax profits at around $505 million — a significant 31-percent above the comparable
level of a year earlier. And it's pretty much the same picture when the last available 12 months
are compared to the previous 12 months. The numbers for domestic apparel manufacturers are equally
upbeat, with second quarter 2013 results running a solid 14 percent ahead of a year earlier.
Equally impressive gains are noted when profits are considered as a percentage of sales. The latest
— again, second quarter 2013 — textile mill reading for this so-called margin measure is clocked in
at 4.9 percent. That's well above the 3.9-percent reading of second quarter 2012. And the same
basic pattern is noted for apparel — a 9.3-percent margin at latest report versus the lower
8.2-percent figure noted a year earlier. And comparable improvement shows up in still another
widely monitored margin yardstick — profits per dollar of stockholders' equity. Again, both U.S.
industries continue to show improvement, with latest mill and apparel numbers running slightly
above year-earlier readings. Still another encouraging note: All the above-noted mill and profit
numbers are in marked contrast to the essentially level or even slightly lower readings being
reported for "all U.S. manufacturing" over this same period.

The Trend Should Continue


More importantly, there's little to suggest any important change in these industry profit
trends over the remainder of the year — and probably well into the future. For one, demand should
hold up tolerably well as the economy continues to slowly improve. Also, the import share of the
market, while remaining huge, should no longer be increasing. Equally significant, U.S. labor and
material costs both look to remain pretty much under control. In any event, the latest quarterly
profit projections by Global Insight — another top economic consulting firm — would certainly seem
to bear this upbeat outlook. Their analysts, using rough and dirty estimates of profits — shipments
less labor and material costs — indicate that this year's earnings for basic textile mills will be
up a hefty 75 percent compared to last year's levels. That more than recoups the big profit
declines suffered in 2011, when cotton costs went through the roof. Zero in on both more highly
fabricated textile product mills — carpets, home furnishings and other such products — and apparel
makers, and equally impressive 2013 earnings advances are anticipated. True, Global Insight
analysts feel that next year's profit gains should be a lot more modest, running generally in the
2- to 7-percent range. But the key point to emphasize is that the dollar totals will still be
edging higher. More importantly, a similar positive earnings pattern is seen for both 2015 and 2016
— a pattern strong enough to assure that U.S. firms will remain world-class producers through the
foreseeable future.
October 2013