F

oreign competition remains a king-sized head-ache, despite the fact that mills have staged
a modest recovery from recent recession lows. Again, China is the chief culprit, as U.S. combined
imports of textile and apparel products from that nation have been running close to 30-percent
above last year's already high levels — far above comparable gains noted for all other nations. One
result: Chinese incoming shipments now account for nearly half of all U.S. imports of these
products. With such numbers, it's easy to understand increasing industry and Washington pressure to
stem the tide — primarily by insisting that Beijing speed up its plans to raise the value of its
currency, the yuan. One approach aimed at attaining this goal is spelled out in a recently passed
House bill calling for imposition of tariffs on any nation that undervalues its currency. But it's
questionable just how effective the bill will be, primarily because it permits but does not mandate
punitive duty levies. It's also worth noting that Senate passage of the bill is still pretty iffy.
Then, too, Washington would prefer, if possible, to avoid a major confrontation with Beijing,
primarily because the United States depends on China to continue lending it billions of dollars to
finance the trade deficit. China, too, would probably like to avoid a serious squabble, as it badly
needs U.S. purchases to keep its factories humming. A much more desirable strategy, say most trade
officials, is a multi-nation approach that would involve all the other nations in Europe and Asia
that are being adversely affected

by an undervalued yuan.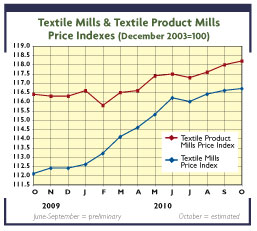 Another Trade Imponderable


Even if China agreed to a sizeable yuan increase, there's no guarantee the move would result
in prices high enough to slow still-surging U.S. imports. Thus, while the yuan rose more than 20
percent over 2005-08, U.S. imports of textiles and apparel over the same time span continued to
increase at a rapid pace, in large part because Chinese producers were able to absorb the costs of
the yuan revaluation through a combination of productivity gains, acceptance of lower profit
margins and use of other trade subsidies. Some of these same factors could still help this time
around. Also, consider that many products thought of as being made in China are really only
assembled there. A stronger yuan only affects the portion of work done in that nation. It's also
likely that if Chinese prices do rise significantly, U.S. sourcing could very well shift to other
low-wage countries such as Vietnam, India, Pakistan, Indonesia and Bangladesh.
This might cut down on Chinese imports, but it would do little to correct the overall
negative U.S. trade balance. Bottom line: Don't expect miracles — and certainly no recouping of
U.S. market losses of recent years. If all goes well, a modest U.S. import slowdown would be enough
to keep U.S. domestic mills and factories operating at or near current levels over the next few
years.

Other Near-term Positives


Another factor likely to help the U.S. industry over the next year or two is the expectation
of continuing general business improvement. To be sure, the gross domestic product gains currently
projected by Uncle Sam and most economists over this period are quite modest — in the 2- to
2.5-percent annual range. But this may seem to be enough to debunk lingering fears of a double-dip
recession. More importantly, the expected increase, though small, should keep domestic mill and
apparel demands on their currency recovery path. In any case, there's a lot more than wishful
thinking behind this basically optimistic scenario. Some bright spots worth noting include rising
export levels, improved business profits, somewhat lower consumer debt, improving net worth, and a
leaner domestic auto industry that's finally becoming profitable again. Still another upbeat sign:
new projections calling for a fairly good 2010 holiday season. The National Retail Federation is
now forecasting a 2.3-percent rise – the biggest gain in three years.
More important, apparel is high on the list of expected purchases. Thus, more than half of
surveyed women responding to a recent Cotton Incorporated study say they plan to buy clothes or
apparel store gift cards this holiday season. As such, it now seems certain that U.S. textile and
apparel industries both will end up in the plus column when final 2010 figures are totaled up.
November/December 2010