R

ising raw material costs are adding to the list of mill woes. Both cotton and man-made
fibers now are running considerably above year-ago levels, putting new pressures on overall
industry profits and margins.
Looking at cotton first: Spot quotes for the natural fiber at last report, while down from
early-2008 highs, were still running close to 15 percent above a year ago. And signs seem to
suggest that this firming trend will continue as reduced plantings point to lower output. In any
case, new supplies won't be nearly enough to meet estimated demand. Zeroing in on the United
States, production for the 2008-09 marketing year is now estimated at only 13.8 million bales –
down significantly from this past year's 19.2 million bale total. With demand up fractionally, this
will lead to a big fall-off in year-end stocks. Best bet at this time: a more than halving of
end-stock totals to only 4.6 million bales. That's the equivalent of only a 24-percent stock/use
ratio – again, roughly half the ratio reported for the just-ended 2007-08 marketing year. Global
supply is expected to be down 7 million bales at a time when consumption is projected to edge up
about 1 million bales. Ending stocks look to slip by an impressive 8 million bales. That should
push the global stock/use ratio down to near 40 percent, well under the near-50- percent reading of
recent years. Bottom line: a supply/demand scenario that would seem to suggest a better-than-ever
chance for some further modest cotton price increases in the months immediately ahead.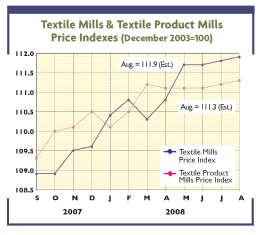 Cotton Isn't The Only Problem

Rising costs of other textile inputs are proving equally disturbing to mills these days.
Such other natural materials as cashmere and leather also have been moving higher. Even more
important are the substantial increases that have been posted on many man-made constructions. To be
sure, supplies of these man-mades aren't the problem. Based on latest estimates, capacity looks to
be more than sufficient to satisfy demand. Rather, the price increases in man-mades for the most
part are attributable to the recent huge cost advances in oil. In any event, such key man-mades as
polyester, nylon, rayon and acrylics have all been moving higher. And when these hikes are added to
the already noted boosts in other fibers, it becomes increasingly clear that rising material costs
can no longer be ignored. Just how much of a factor they are can be gleaned from the fact that the
material component in the basic textile mill sector accounts for nearly two-thirds of every sales
dollar. Add in the fact that

Textile World
editors expect these material costs to increase some 5 to 6 percent this year, and the
magnitude of the problem becomes even more apparent. Consider still other rising mill costs,
especially when it comes to transportation, and it's easy to see why the industry, while still in
the black, has seen its profits and margins shrink substantially over the past few quarters.

Prices Rising, Too

Given all these above-noted cost pressures, it's clear why mill quotes are starting to move
up – even in the face of stiff-as-ever global competition and continuing strong resistance on the
part of clothing manufacturers and other downstream consumers. And these increases are starting at
the basic level. Fabric tags already are running some 2 percent ahead of a year ago. Boosts of
roughly the same magnitude are noted for the more inclusive textile mill and textile product mill
yardsticks shown in the chart.
The question, then, is not if prices will continue to rise, but rather by how much? Throwing
all the pertinent cost and other market information into the computer hopper,

TW
has come up with estimates that call for both major mill price indexes advancing another 1 to
2 percent before the year is out. This adds up to about 3- to 4-percent increases for all of 2008 –
well above last year's small hikes. Even apparel averages – so far resistant to any meaningful
price hikes – should begin to edge higher. Other things being equal, all these price advances
should help prevent any further sharp near-term profit erosion. So should the fact that there is
little or no upward cost pressure in labor, which generally accounts for a sizeable 20 percent of
the textile sales dollar.
More on bottom-line mill performance next month when the latest profit margin projections
become available.
September/October 2008