T

extile and apparel import trends will bear especially close watching this year. Reason:
the sizable price increases now being posted by Chinese mills and factories – increases that are
forcing US buyers to take a hard look at other overseas sources.
One of the big factors behind the new hikes has been the accelerating climb in Beijing's
currency. In the first quarter of 2008, the yuan jumped 4.1 percent vis-à-vis the US dollar – the
biggest boost since the de facto peg to the dollar ended in 2005. And the betting is that these
gains will continue, with overall 2008 yuan appreciation estimated at anywhere from 10 to 12
percent. Hikes of this magnitude will almost certainly translate into higher US procurement costs.
Moreover, as pointed out in earlier columns, there are a lot of other factors suggesting
higher Chinese quotes. These would include rapidly rising raw material tabs, a new Beijing labor
law that will mean significantly higher payroll costs, reductions in China's preferential policies
for exporters, and rising tabs for mandated pollution control.
All the above not only are forcing Chinese price hikes, but also are leading to a major
reappraisal of global sourcing strategies. The American Chamber of Commerce in Shanghai finds that
more than half of the foreign manufacturers in China now believe the mainland is losing its
competitive edge to nations like Vietnam, Cambodia, Bangladesh, Pakistan and India. Even more
significant, some 20 percent of firms surveyed, including many textile and apparel outfits, say
they're now considering new non-Chinese factory sources.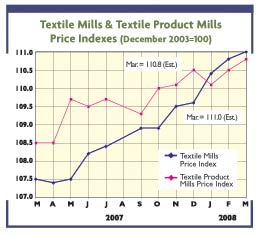 Measuring The Production Decline




Uncle Sam's Federal Reserve Board has just revised textile industry output figures, with
levels now based on updated Census information. And there's a big change: Decreases over recent
years are significantly steeper than previously reported. The latest index readings suggest overall
output is now running some 25 percent under levels prevailing in 2002 – the index base year. That's
five percentage points more than indicated by earlier estimates.
Equally important, the new data find major differences in how the two major textile
subsectors – basic textiles and textile products – have been faring. Specifically, the biggest
slippage over this extended period is centered in basic textiles – down a sharp 34 percent. On the
other hand, more highly fabricated textile products have fared much better, dropping only about 12
percent over the same time span.
Because of these big differences,

Textile World
has decided to change the Textile Barometers table and henceforth will include both
subsectors rather than the single all-textile number previously reported. It should also be noted
that the industry's overall mill utilization rate has been revised downward from the pre-revised
70-plus level to a new 67.4-percent reading.

A Few Bright Spots

Despite the above disappointing numbers, the industry is showing signs it will probably ride
out the current downturn in fairly good shape. The latest government textile earnings figures for
the fourth quarter 2007 indicate no real big drop in either after-tax earnings or margins. Indeed,
the numbers for 2007 as a whole are not all that bad. On the after-tax profit score, the total of
$1.325 billion, while down from the previous two years, is actually above levels prevailing through
the 1998-2004 period. The same is true when it comes to profit margins.
Couple all this with a cautiously optimistic earnings forecast for the next two years, and
it's all a pretty good indication the domestic textile industry is alive and well. Also
encouraging: Textile spending for new plants and equipment is holding up surprisingly well. Recent
estimates by the National Council of Textile Organizations indicate capital outlays over 2007 came
close to $1.4 billion – actually 2 percent or so above the 2006 level. This willingness to bet on
better days ahead is also suggested by the fact that industry executives have not cut textile
capacity by nearly as much as might have been expected on the basis of recent sharp demand
declines.



May/June 2008