M

ore confirmation for
Textile
World's
cautiously optimistic outlook this time from the Washington-based
National Council of Textile Organizations (NCTO's) 2006 industry review. Some of NCTO's basically
upbeat findings: Textile mill shipments were off only 2 percent; import volume was up only 3.5
percent; textile and apparel exports eked out a 2-percent advance; textile profits were up
fractionally; and industry spending on new, more efficient plants and equipment pretty much equaled
the previous years $1.3 billion-plus reading. If nothing else, this relatively high investment
figure suggests US producers plan to remain key players in the competitive global textile market.
Moreover, the continuing influx of state-of-the-art equipment seems to indicate industry
productivity will continue to rise at close to the 3-percent annual clip of the past few years.
Other things being equal, this should be enough, or even more than enough, to offset moderately
higher pay costs up only 2 percent in 2006 and thus hold critical unit labor costs at or even a bit
under current levels.

Headaches Remain


All the above doesn't mean there aren't problems. With productivity rising and demand off a
bit, industry employment continues to shrink. The aggregate textile and apparel workforce fell
almost 6 percent last year, with further declines virtually inevitable. And when it comes to
international trade, even with better numbers noted above, the US textile and apparel trade deficit
is still rising, with this past years red-ink figure up another 4.4 percent to near $76.7 billion.
China, of course, is the major culprit. Beijing's trade surplus with the United States topped $27
billion in 2006 enough to account for more than 35 percent of our global textile/apparel trade
shortfall. Nor is it clear how the new year will play out what with all of today's changing
groundrules. Its still too early to judge the full impact of the implementation of the recent
US/China bilateral agreement; the Central America-Dominican Republic Free Trade Agreement;
Vietnam's joining the World Trade Organization; and free trade pacts with Peru, Colombia and
Panama.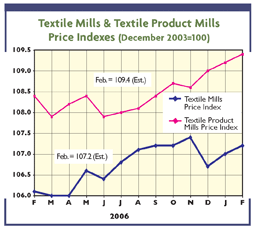 Zeroing In On China


Coming back to China, it is also important to keep in mind that safeguards are targeted to
end in 2008. More importantly, its quite obvious the slow appreciation of the Chinese currency up
only 6 percent since mid-2005 hasn't been nearly enough to redress that currency's big
undervaluation. Clearly, a much more significant upward move is needed to level the playing field.
But just how much upward revision will be forthcoming is still anybody's guess. As NCTO Chairman
Smyth McKissick notes, "With a host of new fair trade voices in Congress, Chinese currency
manipulation is going to be a major issue." Ditto, the equally disturbing problem of Beijing's
subsidies to its producers. To deal with this, Washington lawmakers are already considering new
legislation that would put China under US laws that use tariffs to punish countries that unfairly
subsidize their exports.

Statistical Note


Starting this month,

TW
is adding import prices to the "Textile Barometers" table. These recently introduced
indexes track both the basic textiles and textile product segments of the industry and should
permit comparisons with their domestic price counterparts shown in the accompanying chart. As of
latest report, the average import price for basic textiles fibers, yarns and fabrics was running
close to 4 percent above a year earlier, somewhat more than double the 2-percent increase noted in
the comparable domestic price index. Other things being equal, this suggests domestic producers may
be making some modest progress in narrowing the overseas price advantage. On the other hand, in the
more highly fabricated textile mill product sector, the import price increase was only in the order
of 0.5 percent not so different from the 1-percent domestic advance. To make room for the
additional data,

TW
is dropping textile production worker employment numbers which have pretty much followed
the more inclusive overall textile employment numbers, which
TW will continue to monitor.
---

March/April 2007