I
t's and time again for

Textile World
to take another good look at domestic textile and apparel trends. The detailed
predictions aren't all that bad and clearly a lot better than some of the gloom-and-doom forecasts
made as recently as a year ago
(See "Textiles 2007: Another Reasonably Good Year,"
TW, this issue).
Textile and apparel companies remain profitable, at least overall. And while basic textile
mill activity — fibers, yarns and fabrics — did show some decline in 2006, both the more highly
fabricated mill product sector and apparel managed to eke out fractional gains.
But more important than what happened in 2006 is

TW
's projected numbers for the next few years. To be sure, some additional shrinkage is
inevitable. But by and large, any declines will be modest if

TW
's assessment of all of today's basically upbeat indications prove to be anywhere near
accurate.
Bottom line: Everything points to continued profitability and a domestic industry that will
continue to be a world-class supplier not only in 2007, but also through the next five to 10 years.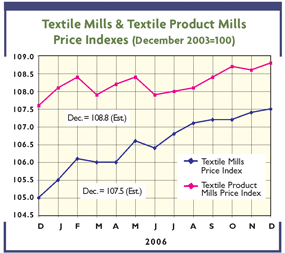 The many upbeat factors would have to include: growing pressures for more import restraints
and the leveling of the international playing field; impressive plant and equipment outlays
designed to keep US facilities competitive and increasingly efficient; relatively stable raw
material and labor costs; increased flexibility to meet today's ever-volatile consumer demands;
continuing development of higher-profit niche products that are less sensitive to imports and
cutthroat competition; an impressive number of new, improved products on the fiber, fabric and
clothing levels; an increasingly savvy management strategy that puts a lot more emphasis on
outsourcing, global integration and impressive logistics planning; and the basically positive
outlook for continuing gross domestic product gains — and hence, demand for fibers, fabrics and
garments — here and abroad.

A Forecast Assessment

Just how close to the mark will

TW
's new numbers come? Based on our recent track record, we are fairly confident. More to
the point: Last year's forecast — while a lot more positive than most — was on target. A few
examples: At that time,

TW
suggested only a small 3-percent decline in aggregate textile and apparel shipments —
well under the then-consensus number. The actual decline: less than 1 percent. Import projections
were also quite accurate. A year ago,

TW
called for a significantly smaller advance than 2005's unsettling 11-percent surge. The
actual increase: only something in the order of 3 percent on a square-meters-equivalent basis. And
finally,

TW
originally suggested about a 3-percent increase in profits. The actual figure based on
incomplete 2006 returns: something in the order of 3.5 percent. In short, at the risk of sounding
immodest, things have turned out pretty much as predicted. And given all the positives noted above,
TW
feels any 2007 error will once again be quite small.


A Few Last-Minute Developments

Some very recent news would also seem to confirm our basic optimism. For one, the just-ended
holiday season, while considerably under the peak levels many had hoped for, didn't turn out all
that badly. Most stores still managed to rack up numbers that ran several percentage points above a
year earlier. It was enough to clear most dealer shelves — thus paving the way for new orders and
production as the industry moves into the spring buying season. Secondly, a modicum of cheer can
also be gleaned from just-released, revised textile production estimates. They run several
percentage points above what had been the accepted numbers up until a few days ago; indeed, the
entire decline over the past five years now comes to less than 10 percent, or less than 2 percent
at annual rate. And finally, while nothing really big came out of the recently concluded US/China
talks, there are at least hints that Beijing may become a bit more flexible. Witness, for example,
that the Chinese currency has risen 6 percent over the past 18 months — with two-thirds of this
coming over the past year.
---

January/Feburuary 2007