T
he first quarter – after a moderately impressive holiday season – seems to be getting off
to a reasonably good start. In any event,

TW
does not see any meaningful near-term erosion in overall textile activity, despite continuing
trade questions. Indeed, preliminary reports suggest domestic mill production over the current
January-March period should remain pretty much unchanged when compared to year-ago levels. That's
not all that bad considering the flood of Chinese textile and apparel imports that came into the
country over the past year.
Look at dollar shipments of textile mill products, and it's pretty much the same story – with
a sizable year-to-year gain in more highly fabricated textile products such as home furnishings,
rugs, and industrial products helping to offset a modest decline in basic mill items like yarns and
fabrics. Mill prices for the most part also have remained tolerably firm. For example, quotes in
the basic mill and mill product categories were running 3 and 4 percent, respectively, above a year
ago, according to the latest figures. Zero in on a few more detailed areas, and some of the price
advances are equally impressive -6 percent in the case of floor coverings and 4 percent in the more
basic greige goods area.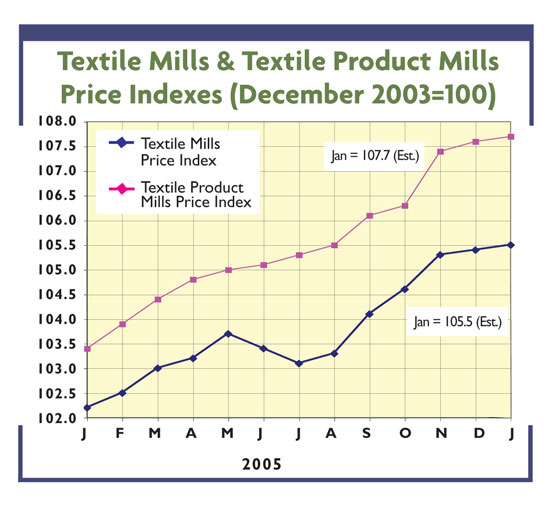 Another Plus: Trim Inventories

Equally encouraging are recent inventory trends. Generally speaking, mill holdings are quite
trim, with few if any disturbing stock overhangs. Credit this to a combination of much improved
market forecasting techniques and the pressing need to keep inventory carrying costs down.
New government figures tell the story. Stocks at the basic mill level now represent only
about a 1.25-months' supply of shipments. Two years ago the average stock/shipment ratio was up in
the 1.5-months' range. This keep-'em-lean approach is also noted for more highly fabricated textile
products – with the current 1.31-months' supply again significantly under the nearly 1.7-months
reading of two years ago.
The current close-to-the-vest inventory strategy may also, to some extent, reflect the
industry's need to keep up with today's increasingly volatile markets – ready to meet any sudden
shift in buyers' demand at virtually a moment's notice. Other things being equal, this calls for a
lot more flexibility and opting for smaller production runs – and by implication, keeping less
unsold merchandise on warehouse shelves. This same trend toward slimmer stocks, incidentally, is
also noted for most other domestic industries as they struggle to stay afloat in today's
competitive global markets.

The Economy Helps, Too

Further industry optimism is being engendered by the continuing general business uptrend. Gross
domestic product (GDP) – the broadest measure of how the economy is doing – racked up a solid
3.5-percent annual rate of growth over the last three months of 2005. And while some deceleration
is anticipated, gains through spring and early summer should still be fairly impressive, with
consensus GDP forecasts calling for gains in the 3-percent range.
Behind this optimism are rising employment, a further inching-up in spendable incomes, low
inflation and still-relatively-low interest rates. All these, in turn, are being reflected in
continuing consumer confidence, which at last report was hovering near its highest level in years.
Put all these into the forecasting equation, and it suggests continuing solid demand for apparel,
home furnishings and other textile products. To be sure, imports will continue to take an
increasingly large bite out of this still-rising 2006 textile demand. But early trends indicate
these import gains aren't likely to run any higher than last year, when incoming shipments on a
square-meters-equivalent basis rose by about 9.5 percent.

Current Profit Trends

Bottom line performance – given all the above – hasn't been all that bad either. Indeed, new
numbers show surprising buoyancy. Latest government figures – third quarter 2005, for example, put
the industry's after-tax earnings at $516 million. That's significantly above the $288 million
reading of one year earlier. Compare the first three quarters of 2005 to the first three quarters
of 2004, and improvement is just as impressive, with the year-to-year after-tax advance put at
nearly 65 percent.
The news is equally upbeat in terms of margins, with mills on average earning 4.1 cents for
each dollar of sales. That's again well above the 2.3-cent figure of 12 months earlier. This leads
to the conclusion that the American textile establishment is alive and well, at least as far as
overall performance is concerned. And – as pointed out in

TW's 2006 textile industry forecast last month
(See "Surviving the Game Of Textiles,"
TW, January/February 2006) – economic forecasting firm Global Insight sees
this profit trend continuing, especially in the more highly fabricated mill product sector.

February 2006