N

ew figures suggest a modicum of hope for the hard-pressed textile sector. There are still
precious few signs of any meaningful pickup, but at least things don't seem to be getting any
worse.
One hopeful sign comes from a new Institute for Supply Management survey, which shows some
edging up in new textile orders, backlogs and production. Just-released government data on mill
output confirms this encouraging trend. It shows production beginning to flatten out after the
sharp declines of last year – with even some fractional increases from last fall's lows.
Inventories are considerably lower than they were last spring. For primary mills, the
bellwether stock/sales ratio is down to a 1.51-months' supply, compared to the 1.62 reading of last
May. A similar trend is seen for mill products – 1.68 now versus 1.79 then. If nothing else, these
declines suggest incoming orders will increasingly be met from new production rather than inventory
drawdowns.

A Stronger Economy Should Help


Today's improving overall business outlook also provides hope for somewhat better days
ahead. Virtually all economic analysts now agree that further business gains are a pretty sure
thing.
One new Business Week survey of 60 leading economists suggests gross domestic product by
year end will be running close to 4 percent ahead of late-2003 levels. This should result in some
meaningful employment increases.
Other economic positives these days include still very low interest rates, the absence of
inflationary pressures, a buoyant stock market and current tax refunds, which should run as high as
30 percent above those mailed last year.
Consumer confidence is again on the rise – with current readings already considerably above
last year's lows. It's a scenario that, other things being equal, will eventually translate into
bigger purchases of textiles, apparel and home furnishings.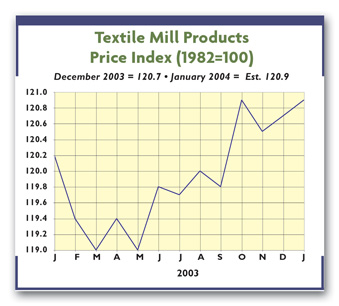 A New ATMI Appraisal


The American Textile Manufacturers Institute's (ATMI's) recent year-end annual report, while
far from upbeat, also seems to confirm that textiles are still a viable industry. True, the new
review finds industry employment dropped another 10 percent in 2003. And nearly 200 additional
mills were shuttered as Chinese imports continued to flood in.
On the other hand, ATMI also notes a few positives. Textile mill product shipments –
carpets, tire cord and industrial products – and textile exports both managed to eke out small
gains over the past year. More importantly, with the industry now in stronger hands, combined mill
and mill product net profits actually managed to rise a bit – from $400 million in 2002 to $700
million (1.5 percent of sales) in 2003.
Summing up, ATMI President James W. Chesnutt notes that the industry, while in a tough
fight, now is organized, energized and united – ready and able to press for an effective and
comprehensive trade agreement with China.

A Closer Look At Imports


Such a Far Eastern pact is now virtually a must if the industry is to survive and prosper in
today's increasingly free-trade business climate – especially when the time frame is extended to
2005 and beyond. The biggest question mark is what happens to imports next year when all quotas are
lifted on Chinese shipments?
Taking off on this, ATMI feels that 650,000 US textile and apparel jobs, along with more
than 30 million textile jobs around the world, will be lost if China is not held under some kind of
quota control.
Also worrying the industry is the proposed new Central American Free Trade Agreement
(CAFTA). Covering Guatemala, Nicaragua, El Salvador and Honduras – and maybe even Costa Rica and
the Dominican Republic – this will bear close watching.
In any case, Chesnutt and many other textile executives are calling for its rejection when
it comes up for congressional approval. Proponents of the measure, on the other hand, say CAFTA
will offer some protection to US mills because Central American clothing manufacturers would have
to use fabrics from the region or from a North American Free Trade Agreement country.



February 2004