T
here's good news and bad news on the textile and apparel front. On an upbeat note, the
worst of the industry's prolonged downturn seems to be over. Some of today's red-ink numbers are
expected to shrink and perhaps even disappear around mid-2004 as the economy begins to pick up
steam. Helping this along will be Washington's move to impose new Chinese quotas limiting that
nation's growing exports of knitted fabrics and a handful of other products.
But all this can't erase the fact that most fourth-quarter industry indicators remain mired
in negative territory. Add this to the results of earlier quarters, and 2003 will likely turn out
to be another very disappointing year. Indeed, lump the last three years together, and figures are
quite scary. Over this extended period, production declined by more than 20 percent, with mill
shipments down by 25 percent. Not surprisingly, industry employment has nosedived. Prices, too,
haven't been going anywhere — with some areas like greige goods off more than 10 percent from their
late-1990s peaks.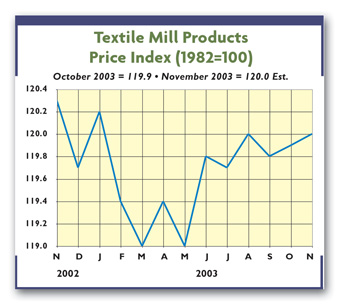 Cotton Tabs Climb

The recent increase in raw cotton procurement costs will also bear close watching. At latest
report, quotes were up around 70 cents per pound — 20 cents-per-pound above year-ago levels.
Blame this all on a global consumption production shortfall. A recent Department of
Agriculture estimate sees world usage exceeding new supply for the fourth time in five years. This
has significantly reduced stock levels from more than 37 million bales last year to 32.2 million
currently. That's the lowest reading in 9 years, and some 16 million bales under the 48.1
million-bale record set back in 1998-99.
Much of this year's tightness can be traced to China, where the supply demand gap has widened
spectacularly. Chinese consumption in 2003 is forecast to run to more than 30 million bales — not
even within shooting distance of that country's production figure, now put as low as 22.5 million
bales. Bottom line: No near-term price relief is likely — with perhaps even some further creep-up
as the global economy improves.

But Profits Remain In The Black

On a rosier note, earnings have for the most part remained in the black — though at drastically
reduced levels.
In the second quarter of 2003, the industry managed to eke out a $56 million after-tax profit
— suggesting that for the year as a whole, the number could approach $200 million.
After-tax margins are also positive — but just barely — sporting a small 0.4-percent return.
Credit all this avoidance of actual losses to mills' continuing cost-cutting drives — those
focusing on both improving management techniques and farming out production to cheaper overseas
locations.
Another factor helping to keep the industry afloat could be still-increasing worker
productivity. True, industry production is way down. But mill employment is off even more sharply,
suggesting ongoing increases in individual worker output.

Help From An Expanding Economy

The increasingly upbeat US business picture also has to be regarded as a positive indicator.
Predictions for near 4-percent annual gross domestic product growth rates over the next few
quarters are almost certain to have a positive impact on domestic textile and apparel activity,
even after allowing for further import advances.
Indeed, there already are signs of picking up. The latest monthly report of purchasing
executives shows an increase in textile orders. Factors behind the projected economic uptrend would
have to include: rising consumer confidence as employment picks up; the wealth effect stemming from
a stronger stock market; little or no appreciable rise in interest rates; the continuing absence of
inflationary pressures; and a second round of tax benefits as 2004 refund checks reflect lower
rates retroactive to early 2003.
Another plus for future consumer spending: the large cash flows coming from housing in the
form of more refinancings, house sales and equity loans. Totals here next year could come to $300
billion — on top of 2003's estimated $600 billion.

December 2003