T
he latest batch of textile reports suggests a relatively mixed picture. There's still no
real sign of any sustained near-term industry recovery. Odds now favor a quickening of consumer
spending for apparel and household furnishings as new tax relief frees up income.
This year's record wave of mortgage refinancings should also help loosen consumers' purse
strings. Textile prices continue to disappoint. Government reports do show greige goods edging a
bit higher, but they're still nearly 3 percent under year-ago levels.

TW
's overall Textile Price Index, also up fractionally, still lags comparable 2002
readings.
Also worrisome is the continuing weakness in mill production, where totals now run close to 6
percent under a year ago. Profits continue to be squeezed, with the latest evidence being WestPoint
Stevens' decision to seek Chapter 11 protection. The move follows similar actions over the past few
years by Malden Mills, Guilford Mills and Burlington Industries.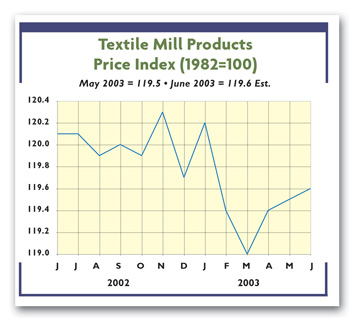 Cotton Concerns

Raw cotton fiber tags, after taking an early spring pause, have again turned stronger, thus
adding to the overall textile mill profit pinch. Quotes at last report were in the low 50s —that's
10 to 15 cents per pound above year-earlier readings.
Behind the fiber's firming, new US Department of Agriculture estimates suggest both
increasing raw fiber exports and a close-to-5-percent reduction in end-of-crop-year stocks (from
6.2 million bales down to 5.9 million).
Adding to overall cotton buoyancy are reports of disappointing crop conditions. Uncle Sam's
farm experts now rate 20 percent of the current year's crop as poor or very poor. Given these
market conditions, cotton prices are likely to remain high, and perhaps will edge up a bit more
over the coming months.
Nor is cotton the only fiber contributing to mill cost pressure. Man-mades, too, continue to
inch up, spurred on by continuing high petrochemical feedstocks. In any event, such bellwether
areas as polyester staple, rayon staple, acrylic staple and textured polyester are now all running
above a year ago. Bottom line: All these cost hikes have to hurt, as the currently prevailing
buyers' market makes mill pass-throughs increasingly difficult, if not impossible.

Trade Trends Also Bear Watching

There's still no sign of relief on the import front either. The latest figures show year-to-date
imports of textiles and apparel (square meters equivalent basis) running close to 18 percent above
2002 levels. But there's now some hope that gains may ease off a bit. For one, there's weakness in
the dollar, which — other things being equal — tends to make imports more expensive. Then, too, the
recent SARS outbreak and other international problems point to the advantage of having more
reliable close-to-US sources.
The industry is now readying an intense lobbying effort to get Washington to limit Chinese
shipments. Spokesmen cite China's World Trade Organization membership rules, whereby it is possible
to impose temporary category-by-category limits when Chinese shipments damage the domestic
industry.
Meantime, the weaker dollar also should tend to help exports by making them cheaper to
overseas buyers. Indeed, there are already signs of this. The Institute of Supply Management now
predicts a rise in textile exports over the next six months.

More Statistical Changes

Textile employment and earnings figures have been substantially revised, reflecting updated
benchmark data and changes in seasonal adjustment factors. More significantly, the overall
classification system has been changed — from the old Standard Industrial Classification system
(SIC) to the new North American Industry Classification system (NAICS). The latter involves the
splitting up of the industry into two major segments — textile mills and textile mill products
(carpets and rugs, other home textiles, tire cord and fabrics, canvas and textile bags).
Starting next month,

TW
's textile barometers table will include data for both of these industry segments.
Preliminary analysis suggests the employment decline has been more precipitous in the textile
mill sector, where the number of jobs fell 7.1 percent over the past 12 months. That's considerably
more than the 4.1-percent decline noted for mill products. Textile mill worker pay currently runs
more than 8 percent above textile product compensation.



July 2003