S
econd-quarter results remain quite gloomy, with the industry's demand and price levels
unable to muster any meaningful turnaround from the low levels of late 2002 and early 2003. Blame
part of this on today's still-anemic economy, as the gross domestic product (GDP) just barely
manages to stay in the plus column — in marked contrast to the 4- to 5-percent annual growth rates
of a few years back.
Other downward-tugging factors include: lingering Middle Eastern political uncertainties;
consumer job worries; a resumption of strong textile and apparel import gains; a continuing mill
profit squeeze; and a stock market still unable to mount a strong, sustainable rally.
Second-quarter textile mill orders, production and shipment totals leave a lot to be desired.
Output lagged year-ago levels by about 4.5 percent, with shipments off by about 2 percent over the
same period. As for prices, the key government greige goods yardstick is off 4.5 percent from a
year ago. Finished fabrics and home furnishing quotes also lag behind year-ago readings.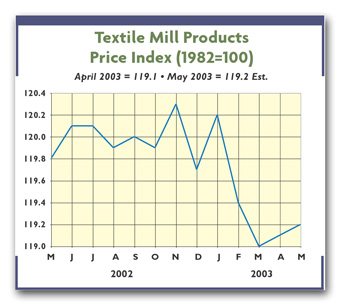 Some Hope For A Better Second Half

True, nobody sees a major pickup in textiles. But, for the first time in more than a year, there
seems to be some light at the end of the tunnel. The end of the war in Iraq should make both
businesses and consumers a little less nervous. Upshot: Economic forecasters now see some uptick in
GDP growth — perhaps into the 2 to 3 percent range by fall.

The fact that oil prices are easing
also should help, leaving more income available for additional purchases. Even more encouraging is
the turnaround in consumer confidence — with one recent Conference Board report showing the
second-largest gain in more than 25 years. There's even a positive spin to the recent slowdown in
car sales: Other things being equal, this should free up more money for apparel and home
furnishings purchases. Relatively trim mill and mill product inventories also offer some hope,
suggesting that any new orders will translate quickly into new production.
There's even a ray of hope on the trade front, as the dollar slowly continues to weaken.
Down about 5 percent over the past year, it will tend to make imports a bit more expensive and
exports somewhat cheaper.


Innovative Products Also Help

The steady flow of new and improved products hitting the market also should buoy the industry in
the quarters ahead. DuPont has announced such new offerings as its CoolMax® Everyday for slacks, a
colorfast sock fiber that wicks and stretches, and a Tactel® nylon/Lycra® blend for warp knits
targeted for

the women's market. Moreover, the company is promising three more innovations by year's end.
Elsewhere, khaki makers have introduced specially treated premium-priced slacks that
incorporate stain-repellent molecules into the fiber, making them more likely to shed stains. New
attempts also are underway to beef up somewhat-slow denim-buying. Big things are expected from
elastic fibers that would add denim to the growing list of techno-fabrics. Also, some elements of
the apparel industry are now coming up with electrical connectors and controls physically
integrated into garments. Not surprisingly, the Pentagon is doing a lot of research in this field —
in the quest for high-tech uniforms for its digitally equipped troops.

Fiber Costs Move Higher

Man-made fiber tags are on the rise again. The most recent increases reported include a 5- to
11-percent advance in nylon 6 quotes, a new 10-percent boost in polyester filament, and a 7- to
9-percent hike in rayon staple quotes. These are in addition to increases earlier in the year.
Indeed, when all of the above are fully implemented, man-made fiber price averages should be up
significantly vis-a-vis year-ago levels.
Cotton quotes also have turned a lot more bullish. They recently jumped up into the
mid-50s – a sizable 25 cents per pound above year-earlier readings. Though followed by recent
corrections, the overall buoyancy is likely to persist on a combination of: strong US exports,
which should hit a record 11.5 million bales for the 2003-04 marketing year; expected inventory
drawdowns; and a less-than-sensational US production year. On the latter score, the Department of
Agriculture puts 2003 output at only 17.2 million bales. While unchanged from last year, that's
below earlier market expectations. Bottom line: further modest sales hikes for this key natural
fiber can't be ruled out in the months ahead.
June 2003