I

nternational trade concerns — both short-term and over the longer pull — continue to
plague mills. Looking at the current year's outlook first, all signs point to an increase in
incoming shipments — reversing the small, recession-induced slippage noted last year.
To be sure, there are some restraints that will limit any advance, including: the lobbying
efforts of the new American Textile Trade Action Coalition (ATTAC); and expectations of a somewhat
weaker dollar, which could soon make imports more costly. Nevertheless, improving U.S. consumer's
demand should outweigh these positives and make some import gain inevitable.
How much gain? At this point in time, our projections suggest about a 3- to 5- percent
textile and apparel increase on a square meters equivalent (sme) basis. Not good, but a lot better
than the steady tattoo of double digit advances that prevailed as recently as 2000.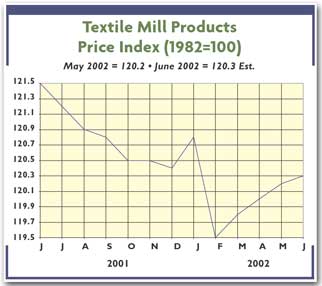 China: A Long-Range Question Mark


But of even bigger concern is the question of what happens in early 2005, when virtually all
quotas are eliminated for World Trade Organization (WTO) countries.
One fear is that China (already the top and fastest growing exporter to the United States)
will at that time become an even more potent competitor of low-cost, high-quality textiles and
apparel.
Point to keep in mind: China's expertise and manufacturing sophistication already equals or
even tops that of other exporters in both Latin America and the Far East. Upshot: More big changes
in trade flows are inevitable.

Some Indications Of A Turnaround


On a somewhat more optimistic note, there's a growing consensus that recent declines in
domestic mill output are over. The feeling is that totals are likely to hold near current levels
for the next few years.
Indeed, there are already signs of some bottoming out. Textile purchasing executives now say
they are experiencing increases in both new orders and shipments. Equally significant is the jump
in the textile mill workweek — from 40.3 hours a year ago to 42.1 currently. And, as pointed out in
previous columns, the textile inventory glut continues to fall significantly — making it
increasingly likely that new orders will be quickly translated into new production.
Zero in on individual fabrics, and the picture is also looking somewhat brighter. Thus
denim, after a very poor second half in 2001, is again moving well — helped by a growing number of
new fabric finishes. Khaki is also making a comeback with novelty looks, better quality and new
stain-resistant qualities. Dress shirt fabrics are perking up, too — as the trend toward "dressing
up" intensifies.

More Thoughts On Costs


A new DRI-WEFA study on costs also has to be regarded as quite encouraging. The big
econometric consulting firm, taking a look at the textile mill industry, finds that input costs
(including both services and materials) is now lagging year-ago levels by a percentage point or
two.
Much of this is due to the very modest labor hikes, which are now more than being offset by
productivity gains. And the picture is much the same for materials where cotton weakness has more
than compensated for some recent pickup in polyester quotes.
Moreover, all this good news is projected to continue. To be sure, the DRI-WEFA study does
see an end to cost declines.
On the other hand, its new forecast is still basically upbeat — calling for only about a
1-percent-or-so annual increase in material and service costs over the next year and a half.

A Closer Look At Overall Demand


A slowly strengthening economy would also seem to bode well for the industry. Current
consensus calls for about 3-percent GDP growth at the annual rate over the next few quarters.
This, in turn, should help make for similar rises in consumer incomes and spending levels.
Aiding gains will be such additional fillips as little or no price inflation, continuing low
interest rates, and a still-booming housing market. The latter not only is feeding demand for home
furnishings, but is also allowing homeowners to tap into home equity for spending.
Lastly, this robust home market is keeping household net worth at or near peak levels
despite a still-weak stock market.
Factor these pluses into the textile equation, and it may well explain some of the cautious
optimism being voiced by industry analysts and executives.



July 2002