Fed Rate Drops For Tenth Time

The U.S. economy in its final stretch for 2001 was still on a downtrend. On the bright side,
the Federal Reserve cut short-term rates for the 10th time in 2001, to 1.75 percent in December,
and left the door open for another 0.25-percent decline early in 2002. Congress and the
Administration recognize another fiscal stimulus package is needed for the economy to recover.
While a recovery is possible in the first quarter of this year, the speed is likely to be
modest at best. Adjustments in capital spending are difficult to justify in light of excess
capacity, and recovering losses from bad investments after 1996 is likely to take another year at
least. Strong rebounds in motor vehicle sales and production and new housing construction are
unlikely due to recent record sales of motor vehicles and a minor deceleration in housing
construction.
The jobless rate jumped to 5.7 percent in November. Nonfarm payrolls were slashed by 331,000
jobs. In the last three months, the economy lost nearly one million jobs, and losses are likely to
continue through early spring before reversing course.
The Producer Price Index for finished goods fell 0.6 percent in November, as energy prices
tumbled 3.8 percent. The core index, however, moved up 0.2 percent, following a 0.5 percent drop in
October.
The Consumer Price Index was unchanged in November. Energy prices dropped 4.4 percent, due
to curtailed demand for energy products. The core inflation rose 0.4 percent as tobacco prices
surged and prices for shelter and new motor vehicles posted large gains. From a year ago, overall
consumer prices were up only 1.9 percent, due to a 10.1 percent drop in energy prices.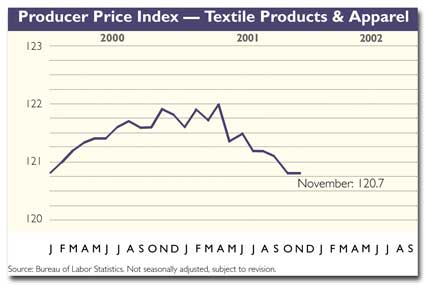 Business Sales Up, Inventories Down


Industrial production fell 0.3 percent in November following sharp declines of 0.9 percent
in October and 0.8 percent in September. With temperatures above normal levels, utility output fell
2.0 percent. On the bright side, the slide in factory output was only 0.2 percent, after falling
0.9 percent in each of the previous two months.
The operating rate eased to 74.7 percent of capacity in November from 75.0 percent in
October. This is sharply down from a revised average of 82.1 percent in 1967-2000.
Construction on new homes soared 8.2 percent in November to 1.645 million, at annual rate,
more than offsetting the 4.0-percent decline in October. Single-family units rose 3.2 percent to
1.261 million, while multi-family units shot up 28.4 percent.
The nation's trade deficit widened to $29.43 billion in October from just $19.02 billion in
September in the aftermath of September 11. Exports increased 0.7 percent to $77.32 billion, while
imports jumped to $106.75 billion from just $95.79 billion in September.
Business sales rebounded 2.7 percent in October, while inventories declined 1.4 percent. The
inventory-to-sales ratio fell to 1.39 — a positive development for future growth as production will
be geared up for inventory replenishment.

Textile Output, Shipments Rise


Textile output was in the plus column by 0.4 percent, following a 2.1 percent decline in
October. The operating rate for textiles rose to 74.3 percent from 72.9 percent in October,
according to revised data. The industry's output fell 4.8 percent in 2000.
Shipments by textile manufacturers rose 0.6 percent in October, after dropping 1.7 percent
the previous month. With inventories down 0.6 percent in October, the inventory-to-sales ratio
improved to 1.65 from 1.67 in September.
Industry payrolls declined 1.3 percent in November. Average weekly hours worked increased
0.8 percent, following a decline of 0.4 percent in October. The jobless rate for textile mill
workers, not adjusted for seasonal variation, shot up to 12.8 percent.
Consumer spending came down 3.7 percent, as sales of motor vehicles and parts retreated 11.9
percent in November following a stellar gain of 24.0 percent in October. General merchandise sales
edged down 0.1 percent. Spending on building materials eased 0.2 percent. Furniture, home
furnishings, and equipment sales surged 2.6 percent. Apparel and accessory sales slipped 0.6
percent.
Producer prices of textiles and apparel edged down 0.1 percent in November. Prices jumped
1.0 percent for carpets, rose 0.7 percent for home furnishings and inched up 0.1 percent for
finished fabrics. Prices, however, fell 0.5 percent for synthetic fibers, declined 0.9 percent for
greige fabrics and dropped 1.2 percent for processed yarns and threads.
January 2002