Jobless Rates Steady: Energy Prices Drop

The latest set of economic readings indicate that the U.S. economy is weak. On the bright
side, the Federal Reserve cut short-term interest rates by another half a point for the third time
this year. Further rate reductions would be required to overcome the negative impact of the sharp
drop in asset values on consumer spending and business investment.
The pace of hiring slowed down in February. Non-farm payrolls grew by a modest 135,000,
following a strong gain of 224,000 jobs in January. Construction jobs rose 16,000, after gaining
58,000 in January. With consumer spending still strong and low unemployment, retailers were
reluctant to let all of the seasonal workers go and added 35,000 jobs in February. Large job
reductions continued in manufacturing, which lost 94,000 jobs. The jobless rate held steady at 4.2
percent in February.
The Producer Price Index for finished goods edged up 0.1 percent in February after soaring
by 1.1 percent in January. Energy costs moved up 1.4 percent in February after skyrocketing 3.8
percent in January. The price index excluding food and energy declined 0.3 percent, as prices for
cars and light trucks fell.
Energy prices, led by natural gas prices, fell 0.2 percent after jumping 3.9 percent in
January. Excluding food and energy, inflation rose 0.3 percent in February, as in January.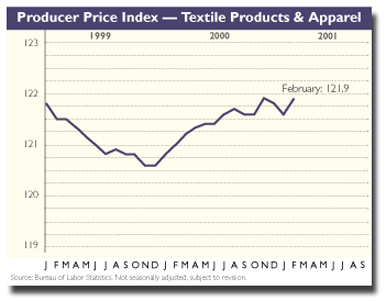 Housing Starts Still Robust Despite Slip


Industrial output declined 0.6 percent in February for the second month in a row. This was
the fifth consecutive monthly drop and the longest such string since the 1990-1991 recession.
Factory output declined 0.4 percent in February, less than the 0.6-percent drop in January. Output
for utilities fell 2.3 percent as temperatures returned to more seasonable levels. Meanwhile, the
total operating rate came down to 79.4 percent of capacity from 80.1 percent in January.
Housing starts slipped 0.4 percent in February to a still robust annual rate of 1.647
million units. With mortgage rates coming down, housing construction will remain above the 1.6
million mark.
The nation's trade deficit in goods and services was $33.26 billion in January, slightly up
from $33.20 billion in December. Exports rose 0.5 percent to $89.65 billion, led by a $1 billion
gain in capital goods, while imports grew 0.4 percent to $122.91 billion, led by a $1.3 billion
rise in consumer goods.
Business inventories rose 0.4 percent in January, the largest since October, while business
sales were flat after registering an anemic 0.1 percent gain in December. The inventory-to-sales
ratio edged up to 1.37 from 1.36.

Producer Prices Rise For Synthetic Fibers, Carpets, Greige
Fabrics


Results for textiles and apparel were disheartening. The industry's payrolls declined 1.4
percent in February, the same as in January. The volatile jobless rate for textile mill workers
jumped to 8.5 percent from 4.7 percent in January.
Shipments by textile manufacturers fell 0.4 percent in January, after edging down 0.1
percent in December. Meanwhile, inventories were drawn down by 0.2 percent. Thus, the
inventory-to-sales ratio rose to 1.71 from 1.70 in January.
Textile output dropped 1.2 percent in February and the utilization rate for textiles fell to
74.9 percent from 75.7 percent in January, the lowest level since August of 1982.
Consumer spending was strong in the first two months of 2000. Retail sales eased 0.2 percent
in February after surging 1.3 percent in January. Apparel and accessory stores sales also gained
0.3 percent in February.
Producer prices of textiles and apparel rose 0.2 percent in February. Prices shot up 2.0
percent for synthetic fibers, as energy costs surged. Prices rose 1.8 percent for carpets, 0.6
percent for home furnishings and 0.3 percent for greige fabrics. Finally, prices declined 0.1
percent for finished fabrics and declined 0.5 percent for processed yarns and threads.
April 2001