T

he latest economic reports indicate the U.S. economy is gradually slowing down.
Meanwhile, rising energy prices pushed up sharply the inflation measures, but there is no evidence
of broad-based increase in prices. With the jobless rate at the lowest level since 1970 — 3.9
percent compared with 4.1 percent in August, the Fed will continue a tightening bias. Nevertheless,
no rate hike is likely in the near future.
Total non-farm payrolls rose by 252,000 jobs in September after falling by 91,000 in August.
After factoring out the return of 75,000 striking workers, and the release of 27,000 temporary
Census workers, the September gain was 204,000 — much better than the adjusted 17,000 gain in
August. A strong dollar, higher energy costs and weakness in export markets led to a loss of 66,000
factory jobs in September on top of a 117,000 drop in August.
The lower September jobless rate rekindled fears of inflationary pressures, which unsettled
the financial markets.
The Producer Price Index for finished goods shot up 0.9 percent in September, due mostly to
increases in oil, car and truck prices and the largest gain since February. Excluding food and
energy, the price index was up 0.3 percent.
Consumer prices rose 0.5 percent in August largely driven by a 1.6-percent increase in
apparel prices and higher tobacco prices, as well as increased energy costs, which rose 3.8 percent
after falling 2.9 percent in August. Core inflation was up 0.3 percent after rising by 0.2 percent
for five consecutive months.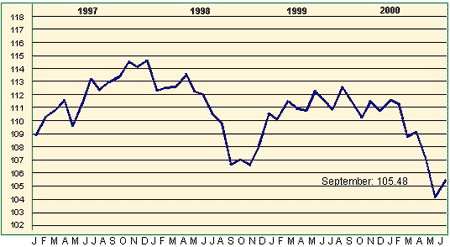 Index Of Textile Production (1992 = 100)


Factory Output On The Rise


Industrial production rose 0.2 percent in September, following a 0.4-percent gain in August
and a 0.2-percent decline in July. Factory output was up 0.3 percent despite a 2.2-percent drop for
transportation equipment. Third-quarter industrial output grew 2.8 percent at an annual rate, the
slowest gain since the first quarter of 1999 and a sign of slowing economy. The operating rate of
industrial capacity held steady at 82.2 percent in September, marginally up from the 1967-1999
average of 82.0 percent.
Housing starts rose 0.3 percent in September to an annual rate of 1.53 million units.
Single-family units were down 1.3 percent to 1.25 million. New construction was up 8.1 percent in
the Northeast and 8.6 percent in the West, but fell 2.6 percent in Midwest and 4.4 percent in the
South.
The U.S. trade deficit of goods and services narrowed in August to $29.44 billion from a
record $31.69 billion in July. Exports — led by capital goods, industrial supplies and automotive
products — shot up 3.6 percent to $93.02 billion. Imports rose 0.8 percent to $122.46 billion.
Business sales rebounded 0.5 percent in August from 0.6 percent in July, as durable goods
shipments rose 0.7 percent and non-durable sales grew 0.4 percent. Meanwhile, business inventories
grew 0.7 percent, causing the August inventory-to-sales ratio to edge up to 1.34 from 1.33 in July.

Textile Output, Utilization Rate Improve; Jobless Rate Eases


Results for textiles and apparel were mixed. Payrolls fell 0.2 percent in September after
edging up 0.1 percent in August. The volatile jobless rate for textile mill workers eased to 3.1
percent from 3.2 percent in August.
Textile output bounced up 1.4 percent in September after falling 2.9 percent in August. At
an annual rate, textile output tumbled 14.3 percent in the third quarter. The utilization rate for
textiles improved to 79.9 percent of capacity from 78.9 percent in August.

Textile shipments declined 1.0 percent in August, after falling 0.7 percent in July, while
inventories increased 0.4 percent, causing the August inventory-to-sales ratio to move up to 1.63
from 1.60.
Retail sales rose 0.9 percent in September, the largest gain since February. Motor vehicle
sales rose 1.4 percent after falling 0.4 percent in August. Sales of furniture and home furnishings
rose 0.8 percent and were up 0.2 percent for general merchandise. Sales fell 0.7 percent for
building materials and hardware. Apparel and accessory sales were up 0.4 percent.
Producer prices of textiles and apparel edged down 0.1 percent in September. Prices rose 0.2
percent for synthetic fibers and were unchanged for finished fabrics. Prices dropped 1.0 percent
for carpets, 0.7 percent for home furnishings, and 0.4 percent for greige fabrics and for processed
yarns and threads.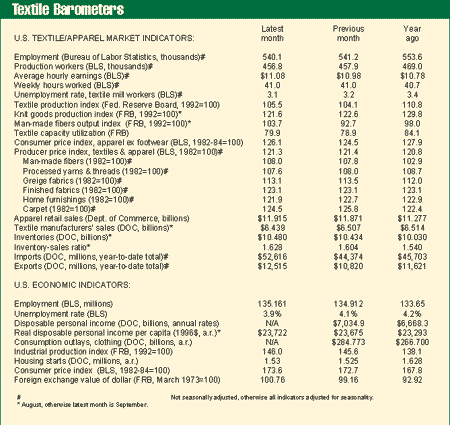 November 2000