Hurricane Floyd Reduces Utility Output; Factory Output Down After
August Rise

Industrial production declined 0.3 percent in September, as Hurricane Floyd reduced utility
output and held back motor vehicle production and other goods. But even after adjusting for the
hurricane, the industrial output gain would have been small compared to increases of 0.4 percent in
August and 0.6 percent in July.
Factory output was down 0.2 percent after rising 0.5 percent in August. In the third quarter,
industrial output grew 3.7 percent at an annual rate, nearly matching the second quarter pace. The
operating rate of industrial capacity eased to 80.3 percent in September from 80.7 percent in
August.
The U.S. trade deficit of goods and services narrowed in August to $24.10 billion from $24.89
billion in July. Exports shot up 3.7 percent to $82.03 billion, up for the third month in a row,
while imports advanced 2.0 percent to $106.12 billion.
Business sales surged 1.3 percent in August, as durable goods sales jumped 1.5 percent on top
of a 1.0-percent rise in July. Non-durable goods shipments grew 1.1 percent. Business inventories
rose 0.3 percent. As a result, the August inventory-to-sales ratio dipped to 1.32 from 1.34 in
July.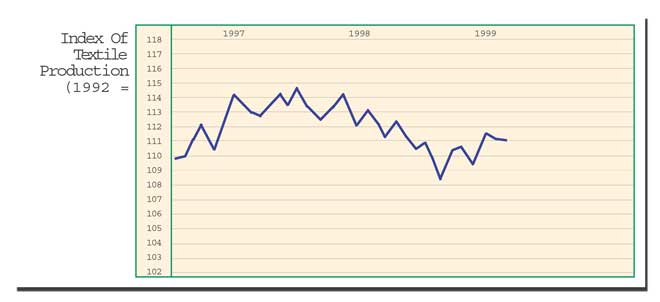 Financial Markets Are Uneasy With The Federal Reserve Leaning Toward
Further Tightening

The evidence from latest set of economic reports is that the American economy, after two
interest rate hikes, is beginning to slow down. While the latest inflation readings appear to be
excessive there is no broad-based increase in prices. Nevertheless, with the Federal Reserve
leaning toward further tightening, financial markets are uneasy.
While economic activity and hiring was disrupted by Hurricane Floyd in the East Coast, the
loss of 8,000 nonfarm payrolls in September and the creation of only 103,000 jobs in August is a
clear indication of a slowing economy.
It is estimated that without the hurricane, nonfarm employment would have risen by 50,000
jobs in September. This is a major pullback from the dizzying pace of 654,000 jobs added in June
and July. Factory jobs continued to decline in September, falling by 21,000 jobs and bringing the
loss to 532,000 in the last year and a half period. The September jobless rate at 4.2 percent was
unchanged from August.
The Producer Price Index for finished goods shot up 1.1 percent in September, the largest
gain in nine years. Excluding energy, food, tobacco and automobiles, the price index was up just
one-tenth of a percent, hardly a sign of widespread price acceleration.
Consumer prices rose 0.4 percent in August. Energy costs accounted for 1/4 of the rise. The
core inflation was 0.3 percent after rising just 0.1 percent in August.

Textile Payrolls Fall After August Increase; Output Remains Slightly
Below Last Year's Numbers

The textile industry's payrolls fell 0.3 percent in September after edging up 0.1 percent in
August. The volatile jobless rate for textile mill workers dropped to 3.4 percent from 5.2 percent
in August.
Textile output rose 0.3 percent in September. Despite strong U.S. economic activity textile
output remained slightly below the year ago level. The utilization rate for textiles improved to
82.8 percent of capacity from 82.5 percent in August. Shipments by textile producers declined 1.0
percent, giving back most of the 1.5-percent gain in July. Inventories increased 0.3 percent. The
August inventory-to-sales ratio rose to 1.55 from 1.53.
U.S. retail sales rose just 0.1 percent in September after surging 1.5 percent in August, the
largest gain in six months. Excluding autos, retail sales were strong, rising 0.6 percent. At
apparel and accessory stores, sales fell 0.9 percent. For the third quarter, total retail sales
were up by a startling 10.5 percent from a year ago.
Producer prices of textiles and apparel edged up 0.1 percent in September, reversing declines
for five straight months.
Prices moved up 0.4 percent for gray fabrics and rose 0.1 percent for finished fabrics and
carpets. Prices declined 0.2 percent for processed yarns and threads.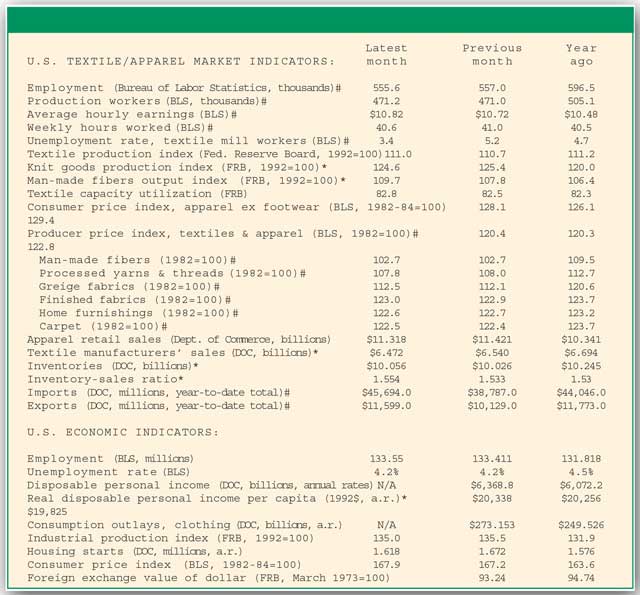 November 1999