DyStar
, Singapore, has released its third Annual Greenhouse Gas Emissions
Assessment Report, also known as the Carbon Footprint Report. The report is available at
dystar.com.
Malvern, Pa.-based
Banom has received the Frost & Sullivan 2013 North American Product Leadership
Award for its cut-resistant gloves featuring MaxPly® with the Netherlands-based
DSM Dyneema LLC's Dyneema® and TriMax® with Dyneema.
iF International Forum Design GmbH, Germany, has presented a 2013 Outdoor Industry
Award in the Products of High Ecological and Sustainable Value category to Switzerland-based
Schoeller Technologies AG for its water- and mud-repellent ecorepel® textile
finish based on biodegradable paraffin.
Rieter Holding AG, Switzerland, has published its 2012 Sustainability Report,
which is available in both German and English at rieter.com.
The Industrial Fabrics Association International (IFAI), Roseville, Minn., has
launched Advanced Textiles Source, the official website and digital publication dedicated to the
Advanced Textiles Conference & Trade Show.
Fairfield, N.J.-based
PureCare by Fabrictech has signed a multi-year agreement with Ontario-based Zucora
Inc., under which Zucora will be the exclusive distributor of PureCare® and Fabrictech
International® products in Canada.
Pawtucket, R.I.-based
Cooley Group's environmental management system has earned ISO 14001:2004
Environmental Standard Certification from TÜV SUD America.
Steamboat Springs, Colo.-based
SmartWool has relocated its European headquarters to VF Corp.'s corporate office
in Switzerland, located at Via Senago 42/E, Pazallo, Lugano 6912.
PurThread Technologies Inc., Durham, N.C. has launched an online store, located at
purthread.com, for its medical scrubs and lab coats.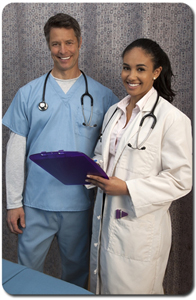 PurThread's medical scrubs and lab coats.



Laconia, N.H.-based
Madeira USA has released its 2013 Source Guide, The Commercial Embroiderers'
Complete Catalog Of Suppliers. The guide is available at madeirausa.com.
Switzerland-based

Mettler Toledo
is offering its Good Titration Practice™ (GTP®) Sensor Use and Maintenance Webinar on-demand
at mt.com/gtp-sensor.
Los Angeles-based luxury furniture and textile manufacturer

J. Robert Scott Inc.
has signed a representation agreement with Allan Knight & Associates Inc. for the Texas
market, and now will occupy approximately 2,500 square feet in Allan Knight's trade showroom.
Cincinnati-based
Cintas Corp.'s Portsmouth, Va., uniform rental facility has received Voluntary
Protection Program (VPP) Star certification from the Virginia Occupational Safety and Health
Administration.
Outlast Technologies Inc. has relocated its headquarters to 831 Pine Ridge Rd.,
Golden, Colo., 80403. Phone numbers remain the same.


Ann Arbor, Mich.-based
CIMdata Inc. has published the 2013 Product Lifecycle Management (PLM) Executive
PLM Market Report.
Research and Markets Ltd., Ireland, has published "Survey of the European Fabric
Fairs for Spring/Summer 2014"; and "Cellulose Fibers Market — Global Industry Analysis, Size,
Share, Growth, Trends and Forecast, 2013-2018."
New York City-based
Bloomsbury Publishing Inc. has published "A Cultural History of Fashion in the
20th and 21st Centuries: From Catwalk to Sidewalk," 2nd Edition, by Bonnie English.
London-based
Laurence King Publishing Ltd. has published "Textile Visionaries: Innovation and
Sustainability in Textile Design," by Bradley Quinn.
The War on Want, Students & Scholars Against Corporate Misbehavior (SACOM), Clean
Clothes Campaign and the
IHLO (International Trade Union Confederation/Global Union Federation Hong Kong Liaison
Office) have collaborated to produce the report "Breathless for Blue Jeans: Health hazards
in China's denim factories," by Dominique Muller.
August 2013