The
RFID Research Center at the
University of Arkansas, Fayetteville, Ark., has appointed Pasadena, Calif.-based
Avery Dennison Corp. to its advisory board.
Northbrook, Ill.-based
Protect-A-Bed® has acquired its United Kingdom-based distributor
Shine Capital Europe Ltd.
Textile Media Services Ltd., United Kingdom, has released "Automotive Textiles:
The Changing Landscape for Tier 1 and Tier 2 Suppliers."
Avery Weigh-Tronix, Fairmont, Minn., has introduced the Model 1080 weight
indicator/controller, a data management and process control solution.
Banner Engineering Corp., Minneapolis, has debuted the iVu Bar Code Reader, which
it reports is the first industrial touch-screen bar code reader.
New Way® Air Bearings Inc., Aston, Pa., has achieved ISO 9001:2008 certification.
The
Association of the Nonwoven Fabrics Industry (INDA), Cary, N.C., has released Air
Filtration Industry of North America, its first nonwovens statistical report on air filtration; and
China Nonwoven Industry Outlook Trends and Forecast, a report combining a history of China's
nonwovens market since 2003 with projections of its growth through 2013. INDA also is accepting
nominations until June 1 for the Lifetime Technical Achievement Award and the Lifetime Service
Award. Nomination forms are available at
www.inda.org/HallofFame/nominate.html.
Erie, Pa.-based
Eriez Manufacturing Co. has released a 14-page brochure titled "How to Choose and
Use Magnetic Separators."
New Rochelle, N.Y.-based
London Luxury LLC has been named the exclusive home textiles licensee for the
Elizabeth Arden brand.
Greenville, S.C.-based
Safety Components has named
Innovative Industrial Solutions Inc., based in Boynton, Beach, Fla., a WeatherMax
distributor.
Montreal-based
AHF Ltd., the Canadian subsidiary of Louisville, Ky.-based
Louisville Bedding Co., has formed a joint venture with India-based
Welspun Global Brands to distribute home textiles to the Canadian market.
Ireland-based
Research and Markets Ltd. has published a report titled "Product Lifecycle
Management in the Textile and Apparel Industry."
Jackson, N.J.-based
Newson Gale Inc. has released a white paper titled "Controlling Static Hazards is
Key to Preventing Combustible Cloud Explosions."
The
American Apparel and Footwear Association, Arlington, Va., has published the sixth
edition of the AAFA Restricted Substances List covering apparel, footwear and home textiles.
Finland-based
Ahlstrom Corp. has signed the United Nations Global Compact initiative and now is
registered as a participant.
Mira Loma, Calif.-based
Enduratex (China General Plastics Corp. Of America) has released Gran Reserva, a
new faux leather product that features a soft hand, subtle grain and microfiber backing, according
to the company.
Raynham, Mass.-based
METALgrommets.com has introduced the ClipShop™ CSTEP-2 Grommet Hand Press, an
inexpensive hand press for inserting solid brass grommets onto banners and posters.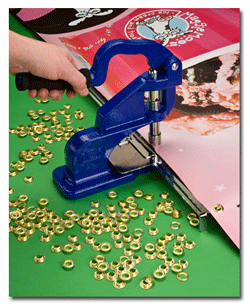 METALgrommets.com's ClipShop™ CSTEP-2 Grommet Hand Press
Carlstadt, N.J.-based
Pantone LLC has decreased the prices of PANTONE® Goe™ System specification
products. The new prices are available at
www.pantone.com.
Winston-Salem, N.C.-based
Hanesbrands Inc. has been named an Energy Star® 2010 Partner of the Year by the
U.S. Environmental Protection Agency. In other company news, Hanesbrands has
launched a national environmental advertising campaign titled "For Future Generations," along with
a new consumer website,
www.hanesgreen.com.
England-based
Mudpie Ltd. has released the trendbook "Denimhead West."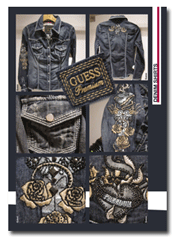 Mudpie's "Denimhead West" trendbook
Fall River, Mass.-based
Engineered Yarns Co. has changed its name to
EY Technologies.
West Conshohocken, Pa.-based
ASTM International now offers its catalogs in interactive digital format.
Natick, Mass.-based
Cognex Corp. has released VisionPro® 6.1 machine vision software with expanded
operating system coverage including support for Microsoft® Windows 7, line scan distortion
correction and ToolBlock, which simplifies vision tool management and allows faster integration.
Bunting® Magnetics Co., Newton, Kan., has debuted the Pro-Series™ Protection Plan,
a three-stage comprehensive warranty program for its Metal Detection product line.
The Netherlands-based
Control Union Certifications will formally transfer the
Global Recycle Standard to O'Donnell, Texas-based
Organic Exchange on Jan. 1, 2011.
The
Global Organic Textile Standard (GOTS) has launched a redesigned website, located
at
www.global-standard.org, which details licensing and
labeling requirements and includes a public database of GOTS-certified companies.
In recognition of Earth Day on April 22, 2010, the Fairfax, Va.-based
Specialty Graphic Imaging Association (SGIA) has launched a new website and online
sustainability workshops, located at
www.sgia.org/govt/sustainability/earthday2010/index.cfm.
Fairlawn, Ohio-based
Omnova Solutions Inc. has increased the price of styrene butadiene latex for
carpet and related markets by 4 cents per dry pound.
Martinsville, Va.-based
Nilit America will implement a 7- to 8-percent price increase effective May 3 for
all nylon filament products including yarn for intimate apparel, activewear, sportswear, legwear
and bodywear.
Charlotte-based
Polymer Group Inc. will begin implementing price increases on its products
globally, with amounts varying based on product composition.
Dallas-based
Celanese Corp. has increased the price of all 100-percent acrylic and styrene
acrylic emulsions sold to Europe, North Africa and the Middle East by 150 euros per ton.
Florham Park, N.J.-based
BASF Corp. has increased prices of its Sytrofan® carboxylated styrene-butadiene
polymers sold to the carpet industry in the United States and Canada by 4 cents per dry pound.