The Fairfax, Va.-based
Specialty Graphic Imaging Association (SGIA) has released its 2009 Industry in
Review: Annual Report, and an online version of its 2010 Who's Who Membership Directory.
West Conshohocken, Pa.-based
ASTM International's Subcommittee D13.19, part of its Committee D13 on Textiles,
has been retitled D13.19 on Industrial Fabrics and Metallic Reinforcements.
The
International Cotton Advisory Committee (ICAC), Washington, is accepting
applications until March 31 for the ICAC Researcher of the Year, 2010. Information is available at
www.icac.org.
Valentin Rius Clapers S.A., Spain, now offers detailed videos of its machinery
models on YouTube.



Pantone LLC, Carlstadt, N.J., has released the Pantone® Fashion Color Report Fall
2010.
The Hohenstein Institute, Germany, has renamed three of its companies: Hohenstein
Research Institute Prof. Dr. Jürgen Mecheels GmbH & Co. KG is now Hohenstein Laboratories GmbH
& Co. KG; Hohenstein Clothing Physiology Institute is now Hohenstein Institut für
Textilinnovation e.V.; Hohenstein Technical Academy is now Hohenstein Academy e.V.
Southbridge, Mass.-based
Hyde Tools Inc.'s Industrial Blade Solutions division has launched an enhanced
website, located at
www.hydeblades.com.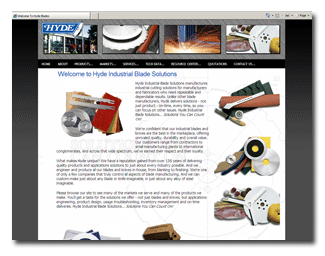 Hyde Tools Inc.'s Industrial Blade Solutions division's new website
Amacoil Inc., Aston, Pa., has introduced the Amacoil-Uhing Kinemax linear drive
for fiber/wire spooling, automation, and measuring and testing operations, among other
applications.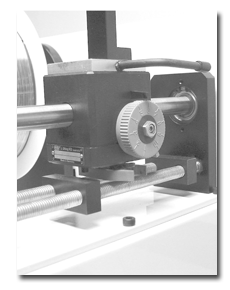 Amacoil-Uhing Kinemax linear drive
Celanese Corp., Dallas, has raised prices in North America by 6 cents per wet
pound for pure acrylic emulsions and 3 cents per wet pound for vinyl-acrylic emulsions.
Toledo, Ohio-based
Owens Corning's glass fiber veils for carpet, ceilings and flooring have been
designated Greenguard Indoor Air Quality Certified® by GREENGUARD Environmental Institute, Atlanta.
The products also received Greenguard Children & Schools
SM product emissions certification.
Cognex Corp., Natick, Mass., has introduced VisionPro® Surface, a vision software
package for inspecting the surface of materials.
Calhoun, Ga.-based
Mohawk Industries Inc.'s Mohawk Home business unit has implemented Red Bank,
N.J.-based
Log-Net Inc.'s enterprise supply chain management solution and Importer Security
Filing services.
The RFID Research Center at the
University of Arkansas, Fayetteville, Ark., has appointed Pasadena, Calif.-based
Avery Dennison Corp. to its advisory board.
Northbrook, Ill.-based
Protect-A-Bed® has acquired its United Kingdom-based distributor
Shine Capital Europe Ltd.
Textile Media Services Ltd., United Kingdom, has released "Automotive Textiles:
The Changing Landscape for Tier 1 and Tier 2 Suppliers".
Avery Weigh-Tronix, Fairmont, Minn., has introduced the Model 1080 weight
indicator/controller, a data management and process control solution.
Banner Engineering Corp., Minneapolis, has debuted the iVu Bar Code Reader, the
first industrial touch-screen bar code reader.
New Way® Air Bearings Inc., Aston, Pa., has achieved ISO 9001:2008 certification.



March/April 2010