Stafford Manufacturing Corp.
, Wilmington, Mass., has launched a range of steel and stainless steel rigid clamp-type
couplings for mating dissimilar shafts and drive components, including metric and inch sizes, and
keyed or smooth designs.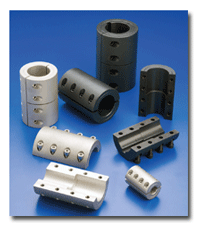 Stafford Manufacturing's rigid clamp-type couplings
The

PROFIBUS Trade Organization
, Scottsdale, Ariz., will hold free webinars and one-day training classes throughout
North America. For more information, contact (480) 483-2456; www.us.profibus.com.

HTP Connectivity
, Italy, has published a master catalog detailing its industrial cables and connectors.
The

Afghan Women's Business Federation
has developed the AfghanMark (SM) trademark certification brand label that will be
displayed on exported carpets made by Afghan women who work for women-owned or -managed carpet
producers. The label certifies Afghan women who make the carpets are paid fair wages, work in
inspected conditions with no child labor, and have access to education and health care.
The

Academy of Screen Printing Technology
, Fairfax, Va., is accepting entries for the Student Screen Printing Awards Competition.
The competition, which selects the best prints produced during the 2006-07 school year, will be
held at SGIA (Specialty Graphic Imaging Association) '07 in Orlando, Fla., Oct. 24-27, 2007.
Entries are due July 6. For more information, visit www.sgia.org/aspt.
Ireland-based

Research and Markets
has published a report profiling Indonesia's textile and clothing industry. The report
includes an overview of Indonesia's economy; industry development; man-made fiber industry; leading
companies; foreign trade; a strengths, weaknesses, opportunities and threats (SWOT) analysis; and
2010 industry targets and prospects, among other topics.

International Apparel Search Inc. (IAS)
— an executive-level search firm specializing in positions in the apparel, textile,
footwear, home furnishings and automotive industries — has opened for business at 3135 SR 580, Ste.
13, Safety Harbor, Fla. 34695; (877) 796-4955, Ext. 100; fax (727) 796-4014; wwilson@ia-search.com;
www.ia-search.com. IAS is the successor to Wilson, Correll, Friedlander & Associates.
The Intermediates Division of

BASF AG
, Germany, has released a brochure giving an overview of its strategic focus, and an
introduction to its business areas — amines, diols, polyalcohols, acids and specialties. The
brochure may be downloaded in English at www.basf.de/ CZ_Imagebrochure, and in German at
www.basf.de/ CZ_ Imagebroschuere.
Warren, R.I.-based

Royal Diversified Products
has released its Royal 2007 Catalog and price list detailing its range of perforators,
punches, precision pins and special components for dies and molds, as well as worksheet templates
for customers who would like to request custom price quotes.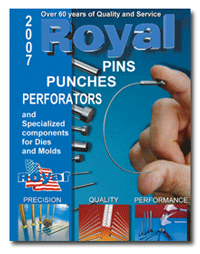 Royal Diversified Products' new catalog
Michigan City, Ind.-based

Sullair Corp.
is now an Energy Star Service and Product Provider Partner, a program of the US
Department of Energy and the US Environmental Protective Agency. In addition, the company's
facilities at 3700 East Michigan Blvd. in Michigan City have earned "Star" status in the
Occupational Safety & Health Administration's Voluntary Protection Program.

Standard Textile
, Cincinnati, has introduced Crypton® In & Out decorative fabrics. The new line is
the first guaranteed bleach-cleanable Crypton fabric with a two-year ultraviolet warranty.

International Newsletters Ltd.
, England, has published World Markets for Technical Textiles to 2012. The report
contains an inclusive set of projections to 2012 of production and consumption of technical
textiles by end use, product categories and region.

Strata Systems Inc.
, Cumming, Ga., has received ISO 9001:2000 registration.
The

Freedonia Group Inc.
, Cleveland, has published new studies covering wipes, coated fabrics and flooring in
China.

Arc-Com Fabrics
, Orangeburg, N.Y., has introduced its Woven Crypton® Moon Beam textile in a range of
colors, and the Solstice Collection of wall surface designs.
---

May/June 2007