Atlanta-based

Interface Inc.

's Interface Fabrics division's Insight™ Terratex® bio-based environmental panel fabric
for Rockville Centre, N.Y.-based Carnegie Fabrics was named one of the 2005 BuildingGreen Top-10
products by Brattleboro, Vt.-based publishers BuildingGreen Inc. Additionally, Interface's Bentley
Prince Street carpet brand has received ISO 9001 Quality Standard and 14001 Environmental Standard
certifications.

Graphic Parts International Inc.
, Chicago, has redesigned its website,
www.gpiparts.com, to feature more products, information and
photos.

The Astrup Co.
, Cleveland, has added 17 Sunbrella® brand solid color choices to its Fabric ZipStrip®
channel trim line for awnings.
New York City-based

KnollTextiles
recently became the exclusive contract distributor for Japan-based Toray Industries Inc.'s
Ultrasuede® fabrics in the United States.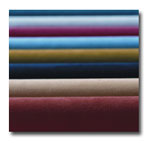 Ultrasuede® from Toray



Covington Industries Inc.
has moved its headquarters to: 386 Park Ave. South, 18th Floor, New York City, N.Y.
10016-8804. The company's main telephone and fax numbers are unchanged.
To clearly establish its identity, Gainesville, Ga.-based

Piedmont Logistics LLC
has changed its trade name to Clarity. There have been no management or ownership
changes.
Effective February 1,

Degussa Corp.
, Parsippany, N.J., has instituted a 6-percent price increase for all AEROSIL® fumed
silica grades, AEROXIDE® fumed metal oxides and AERODISP® dispersions sold in North America.

Spindelfabrik Suessen GmbH
, Germany, has launched its new homepage at www.suessen.com and
www.spindelfabrik.de.

The Textile Museum
, Washington, has unveiled TextileMuse, an on-line, searchable catalog of its Arthur D.
Jenkins Library of Textile Arts, at
www.textilemuseum.org/textilemuse.html.
West Conshohocken, Pa.-based

ASTM International
has included ASTM D5587, Standard Test Method for Tearing Strength of Fabrics by
Trapezoid Procedure, in its Textiles Proficiency Testing Program.

The Fiber Society
, Raleigh, N.C., is accepting submissions for the student research paper competition,
held in conjunction with the society's 2006 Fall Conference at the University of Tennessee,
Knoxville, Tenn., October 10-12. To submit papers, contact Dominique C. Adolphe,
dominique.adolphe@uha.fr.
The Milan-based

Association of Italian Textile Machinery Manufacturers (ACIMIT)
has updated its website, www.acimit.it, to feature association and textile industry news,
exhibition and event information, a newly refurbished members and forum area, an e-directory in
five languages of ACIMIT's member companies, and a section developed with Italy-based SACE S.p.A.
and SACE BT. The site currently is available in English and Italian and soon will be available in
Chinese.

Karl Mayer Textilmaschinenfabrik GmbH
, Germany, now offers a multiblock warp knitting training program in German and English
through its Karl Mayer Trainings Centre. Additionally, the company soon will redesign its website,
www.karlmayer.de, to offer information about the company, its products, and warp knitting and
preparation; and news about the industry, trade fairs and events.

Concept III Textiles
, Red Bank, N.J., has created a Fabric Library database with current, new and prototype
fabrics on its revamped website,
www.conceptiii.com. Users can search the library by
feature, and then print or save fabric details as a PDF or in their personal, password-protected
site area.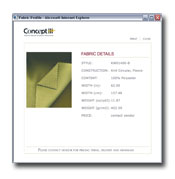 Cary, N.C.-based

Association of the Nonwoven Fabrics Industry (INDA)
has published a report titled "Analysis: North American Wipes Industry (2005-2010)."
Additionally, INDA and the International Association Serving the Nonwovens and Related Industries
(EDANA), Brussels, have teamed to create "Harmonized Standard Test Methods for the Nonwovens
Industry," a combined edition of 80-plus North American/European nonwoven test standards and
methods.
Chicago-based

Atlas Material Testing Technology LLC
's Atlas Weathering Services Group division reports it has added 10 services at no
additional cost to every test program. The services include Web-based information access, and
expert advice and data.



March/April 2006