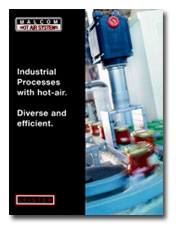 Portsmouth,
R.I.-based

Malcom Hot Air Systems

has published an 18-page catalog that describes hot air heat sources and turnkey
solutions for various process heating requirements.

Burberry Ltd.

, England, has joined the Boston-based Cashmere and Camel Hair Manufacturers Institute.
Effective December 1, Germany-based

Polyamide High Performance Inc.
has enacted a North American price increase of up to 10 percent on all air bag-grade
fiber.
West Conshohocken, Pa.-based

ASTM International
's Committee E56 on Nanotechnology is currently developing the following new standards:
WK8985, Guide for Handling Unbound Engineered Nanoparticles in Occupational Settings; WK8997,
Practice for Analysis of Hemolytic Properties of Nanoparticles; and WK8705, Measurement of Particle
Size Distribution of Nanomaterials in Suspension by Photo Correlation Spectroscopy. To contribute
to the development of these standards, contact ASTM (610) 832-9500; fax (610) 832-9555;
service@astm.org;
www.astm.org.

Generation Systems Inc.
, Issaquah, Wash., has released an updated version of its Lube-It™ industrial lubrication
planning and scheduling software. New features include enhanced data entry fields, lubricant
container information and PowerPack optional modules, among others.

Omnova Solutions Inc.
, Fairlawn, Ohio, has redesigned its website,
www.omnova.com, to include an interactive Design Center for
decorative product designers, specifiers, laminators and architects; among other features.

Resin Technology Inc.
, Fort Worth, Texas, now offers the RTi Insider, a free, quarterly newsletter containing
tips and examples of how processors may reduce resin costs, as well as economic articles. To
subscribe, send name, title, company, address, phone number and e-mail address to Debbie Burns at
dburns@resinpros.com.

Rapra Technology Ltd.
, England, has made available a " Practical Guide to Polyvinyl Chloride." The guide
provides background information on resins and additives, and properties and processing
characteristics; and discusses product design and development.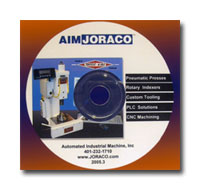 Smithfield,
R.I.-based

AIM-Joraco® Inc.

has released a new CD-ROM catalog that describes its Toggle-Aire® line of pneumatic
toggle presses, rotary indexing machines for assembly and fabrication applications, and custom
tooling engineering and fabrication.
Monee, Ill.-based

Dickson Co.

, Addison, Ill., now offers a free Temperature and Temperature/Humidity Mapping Guide at
its website, www. dicksonweb.com/article/ article_26.php.
The

International Association Serving the Nonwovens and Related Industries
(EDANA)
, Brussels, has published its first Sustainability Report: Baby diapers and incontinence
products.
Blythewood, S.C.-based

Spirax Sarco Inc.
has expanded its CAD (computer-aided design) Resource Center drawing libraries of steam
system components and applications. The library, available at the company's website,
www.spiraxsarco.com, also is available on CD-ROM.

Cognex Corp.
, Natick, Mass., offers new software products for its In-Sight® line of vision sensors. A
trial version of the soft-ware is now available at www.cognex.com/insight.

Kaeser Compressors Inc.
, Fredericksburg, Va., has published an updated 10-page clean air treatment catalog.

Uster Technologies AG
, Switzerland, has relaunched the USTER® News Bulletin.
Decatur, Ga.-based

Kliklok-Woodman
has redesigned its website,
www.klikwood.com, to enable faster and easier use than its
previous design.
Michigan City, Ind.-based

Sullair Corp.
has published a new literature series featuring its AirMetrixSM solutions.


November/December 2005