Cognex Corp.
, Natick, Mass., has made available Checker™ version 1.3 trial software free of charge atwww.cognex.com/checker.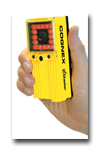 Cognex's Checker™ version 1.3 software is now available.


The European Disposables and Nonwovens Association (EDANA)
, Brussels, has issued a call for papers for its Filtrex 2006 filtration conference and
exhibition, to be held Oct. 24-26, 2006, in Munich, Germany. Abstracts, written in English, are due
no later than February 2006. For more information, contact EDANA 32 2 734 93 10; fax 32 2 733 35
18;
www.edana.org.

Lawson-Hemphill Inc.
, Central Falls, R.I., has unveiled a new website at
www.lawsonhemphill.com.

Kaeser Compressors Inc.
, Fredericksburg, Va., has made available an Air Demand Analysis program — a
comprehensive compressed air system audit that uses precision sensors and state-of-the-art data
loggers to create a detailed air usage profile for a specific facility.
A new website created by Turkey-based

Max-Com.NET
, located at
www.turkeytrader.com, offers visitors a list of
searchable Turkish companies and their website addresses. Companies may add their contact
information free of charge.
University Park, Ill.-based

Federal Signal Electrical Products Group
has redesigned its website —
www.federalsignal-indust.com — to include
Instruction Sheet and Cut Sheet Indexes, among other more user-friendly features.

ADM Tronics Unlimited Inc.
, Northvale, N.J., has published a bulletin on its new line of ADMTack™
pressure-sensitive adhesives. A copy of the bulletin may be obtained free of charge by e-mailing
sales@admtronics.com.
Blythewood, S.C.-based

Spirax Sarco Inc.
has developed the new Pivotrol® Pressure-Powered Pump Cover and Mechanism Retrofit — an
easy, in-line bolt-in upgrade for nearly every make of mechanical pump, according to the company.
The

American Association of Textile Chemists and Colorists (AATCC)
, Research Triangle Park, N.C., is now accepting entries for the Concept 2
Consumer®/Computer Integrated Textile Design Association design competition. Undergraduate and
graduate students from institutions with textile design, art, interior design or fashion
merchandising programs are eligible. Entries must be received on CD by Dec. 1, 2005. For more
information, contact Suzanne Holmes (919) 549-3537; holmes@aatcc.org;
www.aatcc.org. In other news, AATCC's Materials Interest Group
is accepting entries for its inaugural engineering design competition, which also is open to
undergraduate and graduate students. Entries must be received on CD by Dec. 1, 2005. For more
information, contact Julie Wetsch (919) 549-3544; wetschj@aatcc.org;
www.aatcc.org.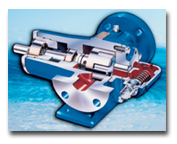 Viking Pump Inc.
, Cedar Falls, Iowa, has introduced thin liquid gear pumps that are capable of handling
low-viscosity liquids with high efficiency, according to the company. The pumps are suitable even
for non-lubricating or corrosive liquids with low viscosities.
The

Sullair Corp.
, Michigan City, Ind., recently celebrated its 40th anniversary. It also has released a
revised 12-page brochure describing its complete line of filters.
The

Freedonia Group Inc.
, Cleveland, has released a new Glass Fibers study. It also has published a Carpets &
Rugs study.

Manufacturers Chemicals LP
, Dalton, Ga., has obtained ISO 9001:2000 certification.
"How to Choose & Use Metal Detectors" — a complete guide to industrial metal detectors —
is now available from Erie, Pa.-based

Eriez Magnetics
.
England-based

International Newsletters Ltd.
has published a Smart and Interactive Textiles survey that covers the current and future
markets of these technologies, among other features.
Effective September 1, Midland, Mich.-based

Dow Chemical Co.
has increased in North America the list and off-list prices of a number of products in
its oxygenated solvents portfolio.
Madison, Ind.-based

Meese Orbitron Dunne Co.
has published literature describing its new 90PSL bulk linen truck.

September 2005