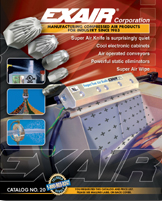 Exair
Corp.
, Cincinnati, has published Catalog 20, a full-color, 116-page catalog detailing its
blowoff and cooling products, among others.


International Newsletters Ltd.
England, has launched a website,
www.performance-materials.net. Visitors to the
site may search for information about advanced ceramics, composites, plastics and biomedical
materials; as well as access news and information services.

The Woolmark Co.
, England, has made available free of charge to spinners the Woolmark Color Trend Service
for Fall/ Winter 2006-07.
Charlotte-based

Honeywell Nylon LLC
in early spring will make available to floor covering dealers the 15-color Anso® Nylon
2005 Color Trend Palette. The company also has released its new, enhanced and redesigned Pump Up
Your Sales CD-ROM Web-enabled program. Anso Advantage Account dealers and their retail salespeople
may download the program free of charge at
www.anso4sales.com, or
www.ansoadvantage.com.
Effective March 1,

Dow Chemical Co.
, Midland, Mich., has raised the list and off-list prices in North America of certain
products in its oxygenated solvents portfolio.
Effective March 7,

Liberty Fibers Corp.,
Lowland, Tenn., has increased the price of rayon staple fiber by 5 cents per pound.
At the recent

Association of the Nonwoven Fabrics Industry (INDA)
, Vision 2005 Consumer Products Conference held in New Orleans, Cary, N.C.-based INDA
presented the 2005 Visionary Award to Nashville, Tenn.-based

BBA Fiberweb™
for its Resolution Print Media product.

Ion Industrial
Windsor Locks, Conn., has made available the Virtual ACT™ Intelligent Static Neutralizer.
The new 8003-Fieldbus controller may be added to the neutralizer to connect it to automation
equipment.

Triumph International
, Austria, is now accepting entries for its Triumph International Fashion Award 2005.
Deadline for entries is May 1. For more information, visit www.fashionoffice.org/triumph.

ADM Tronics Unlimited Inc.
, Northvale, N.J., has released Technical Bulletin ULT-12. The bulletin describes the
Unex™ LT aqueous wallcovering laminating adhesive that is used to bond polyvinyl chloride to
nonwoven structures via a wet laminating process.

Salina
Kan.-based

Premier Pneumatics Inc.
has released an updated flyer that provides details of the company's Tunnel Diverter
Valves.
The

American Association of Textile Chemists And Colorists (AATCC),
Research Triangle Park, N.C., has released the 2005 AATCC Technical Manual on CD-ROM and
in print. AATCC also has made available free of charge its Concept 2 Consumer monthly e-newsletter,
and has created an electronic, downloadable version of the monthly AATCC Review, available to
members only. The association also now offers a new $50 membership package for people in developing
nations.
Effective March 1,

Dow Reichhold Specialty Latex
, Research Triangle Park, N.C., has increased the price of nitrile butadiene latex by 5
cents per dry pound.


The Freedonia Group Inc.
, Cleveland, has published " Nanomaterials," a study that provides an overview of trends
in nanomaterials in the United States. The company also has published "World Carpets &
Flooring," a study of global trends in the carpet and flooring industries.

ASTM International
, West Conshohocken, Pa., is in the process of developing a Guide for Panelist Feedback.
More information about the guide and how to participate in its development may be found by entering
WK6965 into the website search box on the homepage at
www.astm.org.
Charlotte-based

TLV Corp.
has introduced the DR20 direct-acting reducing valve for air service. The valve has
attained a Class 4 seat leakage rating. It features a turndown ratio of 30:1 and stainless steel
construction, among other features.

March 2005