Polymer Group Inc.
, North Charleston, S.C., has relocated the headquarters of its Chicopee branded products
business to: 111 Excellence Way, Mooresville, N.C. 28115; (704) 660-6251; fax (704) 660-7333.

Meese Orbitron Dunne Co.,
Saddle Brook, N.J., has launched a website at
www.modlaundry.com to present its line of commercial
laundry products.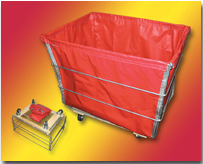 Meese Orbitron Dunne Co.'s laundry cart
Spartanburg-based

Sultex (USA) Inc.
has changed its name to

Itema America Inc.
All Sultex (USA) associates' e-mail addresses have changed to
firstname.lastname@itemausa.com.
Chapel Hill, N.C.-based

Best Practices LLC
has made available a new supply chain white paper at its website,
www3.best-in-class.com/cr124.htm.
England-based

FESPA
, formerly known as the Federation of European Screen Printers Associations, is now
accepting entries for the FESPA 2005 Premier Awards. The awards ceremony will be held at FESPA
2005, scheduled to take place May 31 through June 4, in Munich, Germany. Entry forms are due April
29. Actual entries must be submitted between April 19 and May 20. For more information, contact
Nigel Steffens 44 1737 240788; fax 44 1737 240770; frazer.chesterman@fespa.com; www.fespa2005.com.

Service Thread Manufacturing Co.,
Laurinburg, N.C., has received ISO 9001:2000 certification.

The American Association of Textile Chemists and Colorists (AATCC)
, Research Triangle Park, N.C., has expanded its test method training CD-ROM series with
the addition of a Colorfastness to Crocking program. The program includes the AATCC crockmeter
method, rotary vertical crockmeter method and textile floor coverings — AATCC crockmeter method.
AATCC also has released its 2005 technical manual, which includes 116 active test methods and eight
evaluation procedures. In other news, AATCC is now accepting abstracts for posters for its 2005
International Conference & Exhibition (IC&E), to be held October 25-27 in Boston. Deadline
for abstracts is May 6. Entries also are being accepted for the 2005 Herman and Myrtle Goldstein
Student Paper Competition, which also will take place at IC&E. For more information, visit
www.aatcc.org.
In an effort to provide visitors with answers to state-specific environmental questions, the
Fairfax, Va.-based

Specialty Graphic Imaging Association (SGIA)
now offers an interactive US map in the Environment Center on the Government Affairs Web
page at its website, www.sgia.org. SGIA also has released the results of surveys it conducted in
2004, which include an industry confidence survey, industry market survey and state-of-business
questionnaire, among others. Preliminary white papers and survey summaries are available at
www.sgia.org/snap/.
"A New World Map in Textiles and Clothing" — a book that analyzes recent developments and
challenges related to the elimination of apparel and textile quotas — is now available from the
France-based

Organization for Economic Cooperation and Development
.
The High Point, N.C.-based

International Textile Market Association
., in cooperation with the

Young Home Furnishings Professionals
, is now accepting applications for an eight-week summer internship program targeted to
college juniors and seniors. Applications are available at
www.yhfp.org.
Effective February 15, Wilmington, Del.-based

DuPont Packaging & Industrial Polymers
has increased by 10 cents per pound the price of DuPont™ Elvanol® polyvinyl alcohol.

Cognis Deutschland GmbH & Co. KG
has relocated to: Rheinpromenade Alte Freiheit 1, D-40789 Monheim, Germany.
Effective February 1,

Dow Chemical Co.
, Midland, Mich., has increased in North America the list and off-list prices of
propanol, isopropanol, propyl acetate, isopropyl acetate and Dalpad A.
The Cary, N.C.-based

Association of the Nonwoven Fabrics Industry
and the Brussels-based

European Disposables and Nonwovens Association
have published "Worldwide Outlook for the Nonwovens Industry." The report includes a
historical review of the industry; as well as raw material, end-use and investment projections
through 2009.
February 2005