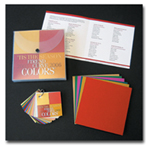 The Trend Curve
, Eden Prairie, Minn., a color and trend forecaster for the home
furnishings industry, has introduced 'Tis The Season Colors 2005-2006, featuring 27 colors and
three metallics. The color kit includes a How To Guide and a portable mini-deck on a ring.
Burlington, N.C.-based
Kudzu Enterprise LLC, a specialty warp-knit products manufacturer, has achieved
ISO 9001:2000 certification.
Effective October 25,
DAK Fibers LLC, Charlotte, has increased by 3 cents per pound the price of its
staple fiber products sold to apparel, home furnishings, industrial and fiberfill markets.
Performance and Practices of Georgia's Manufacturing Firms, a recent manufacturing survey
conducted by
Habif, Arogeti & Wynne;
Georgia State University;
The McCart Group; and the
Georgia Industry Association — all based in Atlanta — is now available free of
charge at www.hawcpa.com.
With the addition of Trade Direct AirSM to its Trade Direct Services, Atlanta-based
UPS has added air capability to its available options for moving goods imported
into the United States.
The Wayne, Pa.-based
Cordage Institute has made available International Guideline CI 2001. The 60+ page
guide provides information needed to inspect, evaluate and determine retirement criteria for used
fiber ropes.
Cuyahoga Falls, Ohio-based
Americhem Inc. has changed the name of its Dalton, Ga.-based Extruded Colors Inc.
subsidiary to Americhem Dalton Subsidiary Inc. The subsidiary recently achieved ISO 9001:2000
certification.
Spintex Yarns Ltd. and
Lanatex Yarns Ltd. have relocated to: 120 Tiffield Road, Scarborough, Ontario,
Canada M1V 5N2. The companies' phone and fax numbers remain the same.
The
American Casual Furniture Fabric Association, a special interest group of the
Roseville, Minn.-based
Industrial Fabrics Association International (IFAI), has changed its name to The
Casual Furniture Fabric Association. Also, IFAI's Market Research Services has released a 12-page
Data Textile Snapshot for the body armor market.
The
American Filtration & Separation Society has relocated to: 7608 Emerson Ave.
S, Richfield, Minn. 55423; (612) 861-1277; fax (612) 861-7959.
Carolina Finishing of NC LLC has relocated to: 220 Elmira St., Burlington, N.C.
27217; (336) 227-2770; fax (336) 227-2720; carolinafinishing@bellsouth.net.
Pearl River, New York City, has made available at www.pearlriver.com more than 75
satin brocade and cotton Chinese-style fabrics in a variety of colors.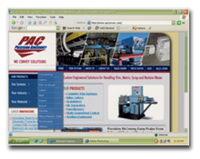 Newark, Del.-based
Precision AirConvey Corp.'s (PAC's) new website,
www.precisionairconvey.com, features full-color
cutaway illustrations; product descriptions, photos and literature; and details of PAC's auxiliary
equipment line.
Effective October 15,
Rohm and Haas Co., Philadelphia, has increased the price of acrylic emulsions,
vinyl acrylic emulsions, solution polymers, solid grade resins and additives sold to the textile
and nonwovens industries in North America.
Effective October 4,
Polymer Group Inc., North Charleston, S.C., raised prices on its products.
Concept III International has relocated to: 130 Maple Ave., Suite 7B, Red Bank,
N.J. 07701; (732) 530-1976; fax (732) 530-4969.
TKF Inc., Cincinnati, has made available a four-color brochure detailing the
features and advantages of its PosiGrip Accumulation Conveyor.
ADM Tronics Unlimited Inc., Northvale, N.J., has released Product Bulletin
ADM-103, which describes its Santel, Aqualene and Unex lines of water-based resins, coatings and
adhesive products.
Effective October 1, Midland, Mich.-based
Dow Chemical Co. raised the list and off-list prices of certain products in its
oxygenated solvents portfolio.



November 2004