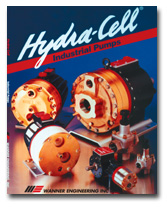 Minneapolis-based
Wanner Engineering
Inc. has made available the 2003-04 Hydra-Cell Industrial Pumps
catalog, which includes product details, installation guidelines, ordering instructions and other
information.
ASTM International, West Conshohocken, Pa., will launch the on-line Journal of
ASTM International (JAI) Jan. 1, 2004. The journal will include research and technical review
papers, technical notes and discussions. Paper submission criteria and instructions are available
at www.astm.org/JAI. In addition, ASTM has launched a Work Item Registration system at its website.
Using the system, visitors can track the development of a proposed ASTM standard, receive e-mail
notification of standards in a particular area of interest, and view a committee's jurisdiction for
a particular standard.
Wixom, Mich.-based
Acromag Inc. has made available its PS5R power supply series. The six-model series
can accommodate power requirements from 12.5 watts to 240 watts with 5-volt, 12-volt or 24-volt
direct current (DC) output to drive signal conditioners and distributed I/O modules.
The
Fasnap® Corp., Elkhart, Ind., has added plain and nickel-plated US standard sheet
metal brass grommets and neck washers to its product line.
Turck Inc., Minneapolis, has introduced the Balogh Distributed by Turck Radio
Frequency Identification wireless sensing system for all general-purpose industrial applications.
The system can be connected to control boards such as Ethernet® and DeviceNet®.
Topog-E Gasket Co., Tulsa, Okla., has made available free of charge its booklet
titled "Plain Facts about Improved Gaskets & Hints on Boiler Maintenance."
Kaeser Compressors, Fredericksburg, Va., offers a money-back Sigma Frequency
Control (SFC) Performance Guarantee, which warrants the company's SFC rotary screw compressors from
30 kilowatts (kW) to 160 kW perform according to CAGI/PNEUROP PN2CPTC2 test standards.
Cincinnati-based
Modal Shop Inc.'s K9100C Portable Vibration Calibration System uses a rechargeable
power source to calibrate vibration sensors and produce National Institute of Standards and
Technology-traceable reports that meet ISO 17025/A2LA requirements.
Danaher Motion, Mayfield Heights, Ohio, offers the Thomson MicroGuide™ in a range
of sizes for use with laboratory automation equipment, and testing and inspection equipment, among
others. The stainless steel miniature guides use a gothic arch ball groove geometry to ensure
high-precision accuracy.
Danaher Motion's Thomson MicroGuide™
The
Instrumentation, Systems and Automation Society (ISA) Training Institute, Research
Triangle Park, N.C., has released its latest course catalog. The catalog provides information on
CD-ROM, on-line and video courses, as well as instructor-led and Web-based courses scheduled
through March 2004.
Kop-Flex Inc. has opened a service center in Slovakia to produce and service its
flexible disc, diaphragm and gear couplings. The center serves Kop-Flex customers in Europe, Asia
and the Middle East.
The
Hydraulic Institute (HI), Parsippany, N.J., has chosen Ann Arbor, Mich.-based
Techstreet Inc. as its provider for secure on-line services and Web-based subscription service for
HI's ANSI-approved pump industry standards, available at www.pumps.org.
Dow Reichhold Specialty Latex LLC, Research Triangle Park, N.C., has updated its
website, www.dowreichhold.com, to offer a new "What's Next in Latex" section, additional technical
product information and new search capabilities, among other features.
The
North Carolina State University College of Textiles, Raleigh, N.C., has made
available its Textile Fundamentals course on CD-ROM. The 25-hour course teaches the entire textile
process, from fibers to yarn and fabric formation to dyeing, printing and finishing.



November 2003