The HMC-18 model of the E-Z Slide Conveyor from
Eriez Magnetics, Erie, Pa., uses a counter rotating weight drive system to convey
fragile products forward.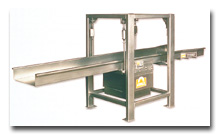 Eriez Magnetics' HMC-18 E-Z Slide Conveyor
Cleveland-based
Astrup Co.'s line of NorthStar™ back-lit awning fabrics is now offered in a
78-inch width.
The
Digital Printing & Imaging Association (DPI), Fairfax, Va., has added a
Digital Ultraviolet (UV) Printing Information Center to the members-only section of its website,
www.dpia.org. The information center keeps DPI's members informed of developments in digital UV
printing technology.
KoSa, Charlotte, has announced an 8- to 10-percent price increase on fine-denier
polyester staple fiber.
Great Lakes Chemical Corp., Indianapolis, has increased the price of its KP-140®
specialty additive by 6 cents per pound.
Hagemeyer North America, Charleston, S.C., has released new 2003-2004 maintenance
repair and operating products, and safety products catalogs.
Fairfield, Conn.-based
RBC Bearings' Nice Ball Bearings Division has released a line of ground,
semiground and unground bearing assemblies.
The
Waitex Group has relocated to 135 West 36th St., New York, N.Y. 10018; (212)
967-8100; fax (212) 967-8180.
The four-strand, light-duty, continuous lift VALU-LIFT™ vertical conveyor from
TKF Inc., Cincinnati, handles cartons and unit loads weighing up to 50 pounds at a
speed of 118 feet per minute.
The P7 drive for industrial fans and pumps from
Yaskawa, New Berlin, Wis., is equipped with a liquid crystal display screen that
can display five lines of 16 characters in any of seven optional languages. Other features include
V/f control, 110-percent overload capability, and network communication and input/output options.



October 2003